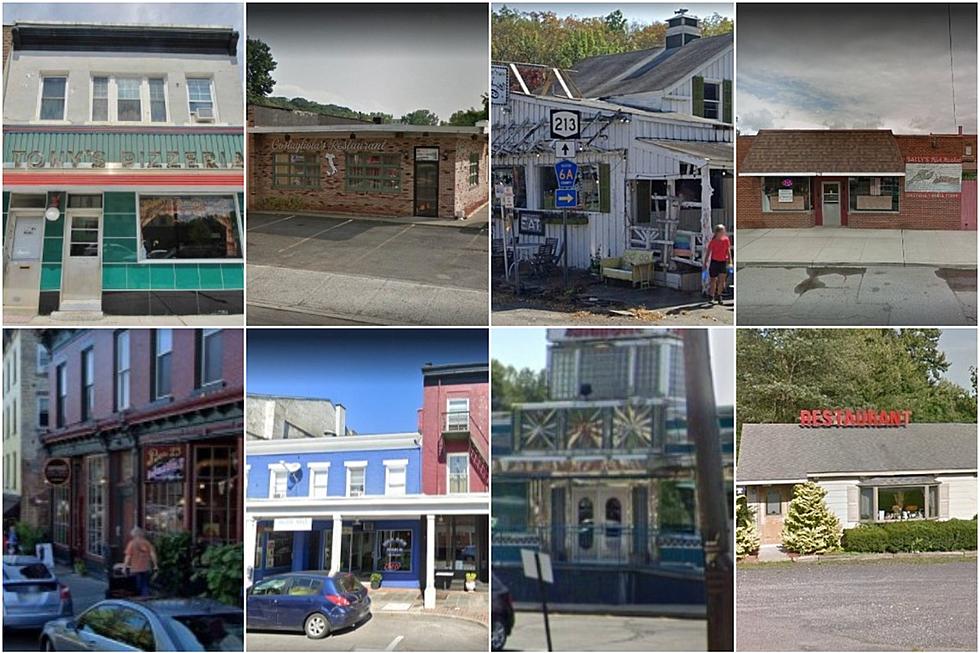 Hudson Valley Says Goodbye To Over 100 Businesses
Google
The list of popular businesses in the Hudson Valley that has recently closed sadly continues to climb.
Some that have been open for over 100 years have closed for good.
Popular restaurants have closed throughout the Hudson Valley. Including Orange, Dutchess, Ulster, Rockland, Putnam and Westchester counties.
Hudson Valley Says Goodbye To Over 100 Businesses
Rub Elbows With the Stars at 8 Celebrity Owned Businesses in New York
A number of celebrities call Upstate New York home. A small few not only own homes but businesses too. You may even run into them when you stop by for a sweet treat, overnight stay or soft skin.
Hudson Valley Shopping in 1985 Compared to Today
Never Do These 7 Things While Shopping In New York
If you are going out to pick up some groceries today, here are 7 things that drive New Yorkers crazy.
Sally's Fish Market on William Street in Newburgh has served its last customer in November 2021. The longtime family business that started selling fresh fish to Orange County residents in 1932 closed after the owner decided it was time to retire.
In late November 2021, owners of Costagliola's Little Italy, just off-Broadway in the City of Newburgh, announced they are closing their doors for good. The Italian eatery, located at 121 Washington Terrance, opened in January of 1995. Many considered this a hidden gem in Newburgh. Most who dined there said it was the best Italian food they have ever had.
A few weeks later, Pie for the People in Kingston served their last slice. A reason wasn't stated.
Just before 2022, the owner of Ginza Asian Fusion made a surprising announcement. The restaurant which opened two years ago in Saugerties is being forced to close. Owners blame the landlord for changing "his mind" adding they also can't "accept this decision."
In Jan. 2022, Bed Bath & Beyond closed many more stores. The two local stores were among the closures. The location at the Spring Valley Marketplace in Rockland County, and the Port Chester store in Westchester.
Boitson's Restaurant opened in Kingston in 2010. The owner purchased a Kingston tanning salon and turned it into a popular restaurant. The eatery which served modern American Bistro closed in Jan. 2022. The COVID pandemic is to blame.
The Sea Deli also in Kington closed its doors around the same time. The owners are ready for retirement.
The Country Goose and Highland Baskets was the destination for tourists and locals alike for over 36 years. The owner. who is from the UK, stated a desire to return home when closing in late Jan. 2022.
Tony's Pizzeria in Kingston closed after Jan. 2022. The owner listed the iconic Kingston restaurant and business for sale.
Shindig in Woodstock closed on Sunday, Feb. 6, 2022, to prepare for a new chapter at 1 Tinker Street.
The owner of the Foundry Cafe announced around Valentine's Day 2022 the cafe is closed for good. The cafe was open for 25 years in Cold Spring.
The Airmont Diner in Rockland County is closed for good just after Valentine's Day, 2022.. The diner's owner, Dino confirmed the rumors on Facebook. A reason for the closure wasn't given. The diner's Facebook page says the diner is "Suffern's Landmark Diner."
Bop to Tottom, located in Kingston, made the announcement in late Feb. that the store will be closing its doors. The owner, Karen Clark, is retiring.
Wheel and Heel says they closed in March after what they describe as "challenging circumstances." The Wappingers Falls bike shop points to Internet competition and supply disruptions for their decision to shutter the business.
Grainne at the corner of Wall Street and John Street in Uptown Kingston closed in late Feb. 2022. The eatery opened in late 2020.
Elsie's Place Restaurant in Wallkill closed on March 1, 2022. The owner said the eatery closed due to unforeseen circumstances.
Mole Mole closed its Kingston location in March 2022. The good news, Hudson Valley diners can still enjoy a delicious meal from Mole Mole. You are just gonna have to travel across the Hudson River.
El Bracero in Poughkeepsie also closed down in March 2022. The owner told us the owner sold the business and is retiring.
The Rainbow Drive-in in Ulster County closed in March 2022 after being open for 20 years. The manager confirmed with us this week that the restaurant will be shutting down for good on Friday. March 18. The restaurant's owner, Chuck Boughton has decided to move on to "something less demanding."
The Pine Ridge Dude Ranch in Kerhonkson has been sold and will close. The property will welcome its last guests to the ranch on Memorial Day weekend 2022.
Ann, the owner and operator of Kitchenette in High Falls announced she served her last meal at the small eatery in mid-March 2022. COVID, lack of staff and inflation are to blame.
Elia's BBQ Pit on Vineyard Avenue in Highland closed in late March.
We reported in early April 2022, Caffe Pazzo Italian Grille in Poughkeepsie closed. The building is now listed for rent.
More From Hudson Valley Post