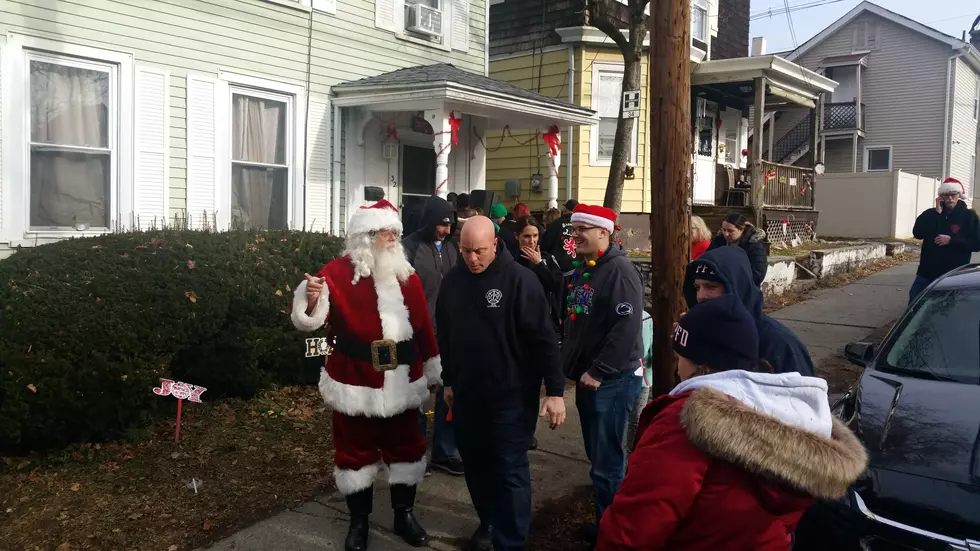 Police and Fire Department Escort Santa Making Special Deliveries
Santa made special deliveries to thirteen Poughkeepsie families today. Photo by Todd Bender
In what has become an annual tradition, City of Poughkeepsie Police and Firefighters escorted Santa Claus through the City of Poughkeepsie as he visited thirteen families in need of Christmas cheer.
Organized by City of Poughkeepsie Police Officer Karen Zirbel who serves as School Resource Officer for the city, the public safety agencies for Poughkeepsie work with several agencies including the Boy and Girl Scout troops to help answer Christmas wishes to families in need of assistance.
According to Officer Zirbel, the families are identified with the help of school officials, and then the toy drive starts.  Toys are collected at various locations and then wrapped at a wrapping party" where firefighters, police officers, and several volunteers gather to sort the gifts according to the lists provided by the families.  Gifts are wrapped and grouped until Santa and his band of merry volunteers deliver them the day before Christmas in Poughkeepsie.
Traveling on the City of Poughkeepsie Fire Department's Rescue rig, Santa arrives at  the predetermined houses with the assistance of City of Poughkeepsie cops and a group of volunteers to deliver the presents and holiday cheer. This year, one young child in a wheelchair received a ramp so that getting in and out of the house will be a little easier.
Asked how the Santa run originated Zirbel said "we decided to make a tradition of giving back to the community we serve." In addition to the toys that are earmarked for delivery to the families Zirbel said that the extra toys are collected so when neighboring children come out to see Santa, he has a gift to give them as well.
More From Hudson Valley Post