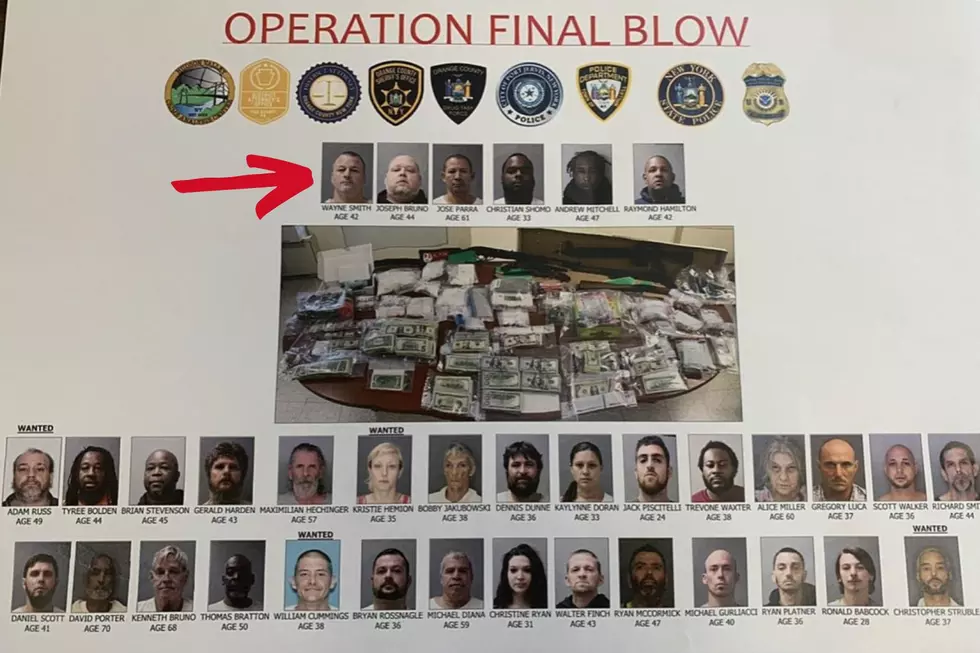 Conspiracy & Criminal Possession: Guilty Plea In Goshen 'Operation Final Blow' Arrest
Orange County District Attorney, Canva
There is an update in the case of a local 'widespread criminal organization' that was dismantled in 2022 for selling what was referenced as a staggering amount of drugs, yielding three dozen arrests.
'Operation Final Blow,' a four-month long investigation centering around major narcotics trafficking locally in Port Jervis, as well as Pike County, Pennsylvania and Vernon, New Jersey, led to the arrest of 36, including one Hudson Valley school teacher.
Now, one of the individuals charged back in September has pled guilty to Conspiracy and Possession of a Controlled Substance.
Port Jervis Man Enters Guilty Plea In 'Operation Final Blow' Case
In an official statement on January 19th, the Orange County District Attorney David M. Hoovler announced that 43-year-old Wayne Smith of Port Jervis pled guilty in Orange County Court to Conspiracy in the Second Degree and Criminal Possession of a Controlled Substance in the Second Degree.
Reports indicate that based on the plea agreement, Smith could face a total of ten years for the Criminal Possession charge, plus a concurrent term of up to six to twelve years for the Conspiracy charge, for a total of ten to twelve years in state prison here in NY.  Additionally,
The parties to the plea agreement noted that although Smith is being investigated for additional narcotic related crimes in the Commonwealth of Pennsylvania, this agreement would not be affected by whatever happens in those matters.

More On 'Operation Final Blow'
'Operation Final Blow,' which originated in Orange County, over a four month span included assistance from the City of Port Jervis Police Department, the Orange County Drug Task Force, the New York State Police Violent Gang and Narcotics Enforcement Team, the Pike County Criminal Investigations Division of the Pike County District Attorney's Office, and the Orange County District Attorney's Office.
In addition, aid in the investigation was provided by the Town of Deerpark Police Department, the City of Middletown Police Department, the Town of Wallkill Police Department, the Pennsylvania State Police, the New Jersey State Police, the Sullivan County Sheriff's Office, the Sussex County Guns, Gang and Narcotics Taskforce, and the Sussex County Prosecutor's Office.
Federally, Homeland Security Investigations ("HSI"), the FBI's Safe Streets Taskforce and the United States Marshall's Service Fugitive Task Force also played a role in dismantling this major drug trafficking organization.
The investigation itself included the use of court ordered eavesdropping and the execution of 17 search warrants that resulted in the seizure of 'approximately two kilograms of cocaine, 74 grams of heroin, 165 grams of fentanyl, 1,600 ecstasy pills and 235 pills containing oxycodone, as well as seven illegally possessed firearms and $153,690. Eleven automobiles, four motorcycles and two ATVs were also taken into evidence.'
The District Attorney applauded the work of the various law enforcement agencies that aided in the arrest and conviction of Smith.
Cops Dismantle 'Local Criminal Enterprise' at Hudson Valley Deli
Six were arrested for allegedly selling drugs and more at a Hudson Valley deli.
More From Hudson Valley Post