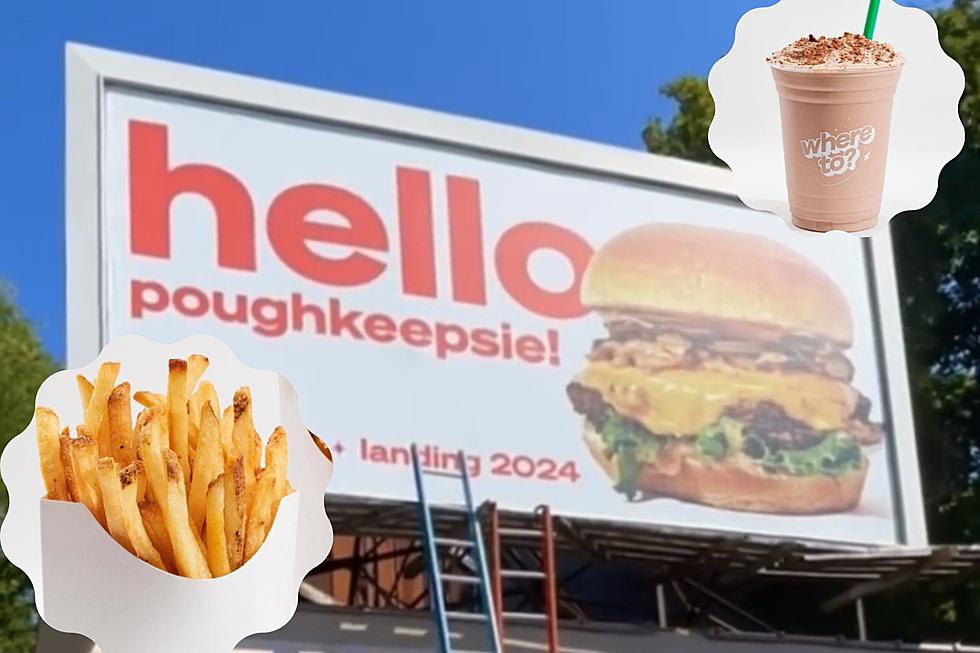 'One-Of-A-Kind' Burger Joint Opening in Poughkeepsie, New York
Ross Thomas/Instagram/Moonburger
A brand new burger joint set to open in Poughkeepsie is hiding a delicious secret.
It's rare when the announcement of a fast food restaurant opening generates as much excitement as one that was just revealed this week. On Thursday, a huge billboard was spotted in Poughkeepsie celebrating the launch of a new burger restaurant that is getting rave reviews at its other locations.
The billboard simply says "Hello, Poughkeepsie!" next to a photo of a mouthwatering cheeseburger.
The sign is announcing that Moonburger will be opening its very first Dutchess County location in 2024.
Moonburger launched its very first Hudson Valley location in 2021. The restaurant introduced an innovative concept born out of the pandemic, opting to forgo a dining room or counter service and concentrate solely on drive-thru customers. Moonburger was an instant success and led to the opening of its second location in New Paltz in April of 2023 without a drive-thru window, but the convenience of counter service and a few stools for those who want to eat on site.
The new Poughkeepsie Moonburger plans to combine the best parts of its Kingston and New Paltz locations, offering a drive-thru, counter service and a full dining room.
What makes the new Moonburger location unique is that it will located somewhere that you usually don't think of headed to for dinner -- a gas station. The restaurant's Instagram explained their concept for the new Poughkeepsie moonburger.
Get ready to walk into Chestnut Market on Rt. 9 and instead of a Dunkin inside, you see MB -- a full magical restaurant world within! Walk through the neon MB arch and you'll timewarp to a totally wild, immersive space with seating for dining in... at a GAS STATION... and easy pickup and delivery... and a BIG drive-thru for your on-the-go moments! Yea, catch us going out for date night at... a GAS STATION
The new Moonburger is being built inside the Poughkeepsie Chestnut Mobil on Route 9 across from T.J. Maxx. The location is directly next to a new shopping area that includes Jersey Mike's and Smoothie King.
Customers have been flocking to Moonburger for their tasty burgers, many of them unaware that the restaurant is actually hiding a secret. That's right, these juicy, mouthwatering burgers aren't what they appear to be. They're actually plant-based. The concept has blown the minds of many loyal customers who would have never thought of eating a meatless burger before.
While most meatless restaurants make that their main focus of advertising, Moonburger has concentrated more on the flavor of their food, which many say is just as good, if not better than any other burger they've eaten.
And shhh here's a secret: all of our burgers are made with Impossible meat, together with real American cheese and all the other good stuff you expect. Truth is, we love the taste of beef -- but we love our burgers even more. Why? Because the most exciting, most premium burger you can eat in 2022 is made with a plant-based patty. Love beef? You'll love our burgers (cuz we designed them for you). Beef's not for you? You'll love our burgers (cuz they're not beef).
Those tasty burgers along with perfectly cooked fries and a decadent shake are enough to make us want to camp out at the Chestnut Mobil and wait for our first order.
One of a Kind Burger Drive-Thru with a Twist Open in Kingston
Some of the Food Items at Moonburger
13 Things Invented in the Hudson Valley
The Hudson Valley is known for many things, but not many people are aware that some of the world's most iconic inventions were made right here in our area.
More From Hudson Valley Post