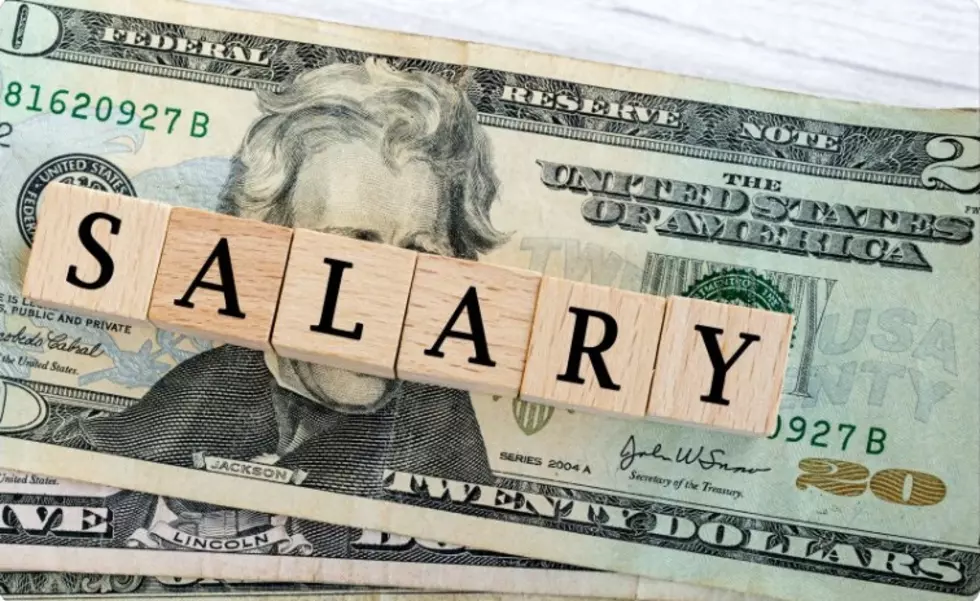 Many Upstate New York Workers Are Getting a Pay Raise, Are You?
Canva
New York officials have ordered employers to give many employees a raise.
Some workers in our area will see a bump in their paychecks.
Kathy Hochul Increases Minimum Wage
Gov. Kathy Hochul announced that New York State will continue with the $15.00 minimum hourly wage phase-in for upstate counties.
"With inflation and a national labor shortage impacting our state's economy, my team is doing everything possible to put money in New Yorkers' pockets and address the rising cost of living," Hochul said. "Fair, competitive wages are essential for helping families thrive and attracting top talent to our state, and our administration remains committed to using every tool at our disposal to move New York's economy forward."
The measure includes all of the Hudson Valley, besides Westchester County, as well as counties across New York State above Westchester.
200,000 New Yorkers Living In Upstate New York Getting Pay Raise
Hochul's office believes around 200,000 New Yorkers in upstate New York counties will benefit from the pay raise.
Of the 200,000, 44 percent work full-time and nearly 25 percent of those full-time workers making minimum wage support children under the age of 18, officials say.
For all the news that the Hudson Valley is sharing make sure to follow Hudson Valley Post on Facebook, download the Hudson Valley Post Mobile App and sign up for the Hudson Valley Post Newsletter.
110,000 New York Women Impacted
Hochul's office also believes this will help 110,000 New York women.
"In addition, this increase will help to close the gender pay gap, providing an estimated 110,000 women with greater financial stability," Hochul's office stated in a press release.
Minimum Wage In Upstate New York Increases By $1
Workers outside of New York City, Long Island and Westchester County will see an increase of $1.00 per hour, from $13.20 to $14.20.
"By raising the minimum wage, we are helping to lift up our neighbors across New York State. Advancing the multi-year increases has helped businesses adjust to the steady changes while providing low-wage workers the ability to better support themselves and their families," New York State Department of Labor Commissioner Roberta Reardon said.
The pay raise went into effect on Dec. 31, 2022.
Workers in New York City, Long Island, and Westchester County currently make the $15.00 minimum hourly wage.
New York Home Care Aids Also Getting Raise
The minimum wage for home care aides will also increase by $1.00 to $16.20 per hour in counties in upstate New York, officials say.
That pay raise took effect on October 1, 2022.
LOOK: Here's where people in every state are moving to most
Greatest 1-Day Snowfall Amounts In New York State History
New York gets hammered with what we believe to be historic snowstorms all the time. What are some of New York's highest one-day snowfall amounts? Here's a look by county thanks to the
National Centers for Environmental Information
:
Did You Know? Over 100 Fun Facts About the Hudson Valley
Did you know that Lucille Ball made her stage debut in the Hudson Valley? How about Philadelphia Cream Cheese wasn't invented in Philadelphia, but in Orange County? Or that a mansion in Dutchess County inspired the expression "keeping up with the Joneses?" Find out about those and over 100 other fun facts about the Hudson Valley.
11 Ghost Towns In New York State You've Never Heard Of
Did you know that New York State is home to 11 different ghost towns? Here' everything you need to know about them.
Gypsy Moth 'Accidentally' Released Causing 'Nightmares' in New York
After 10 to 15 years a gypsy moth that was once "accidentally" released has returned and is causing "nightmares" in New York.
Award-Winning Actor Selling Hudson Valley Mountaintop Masterpiece
An award-winning actor is selling "mountaintop masterpiece" in Napanoch, Ulster County. Check out all of the photos of this impressive "mountaintop masterpiece" below:
More From Hudson Valley Post