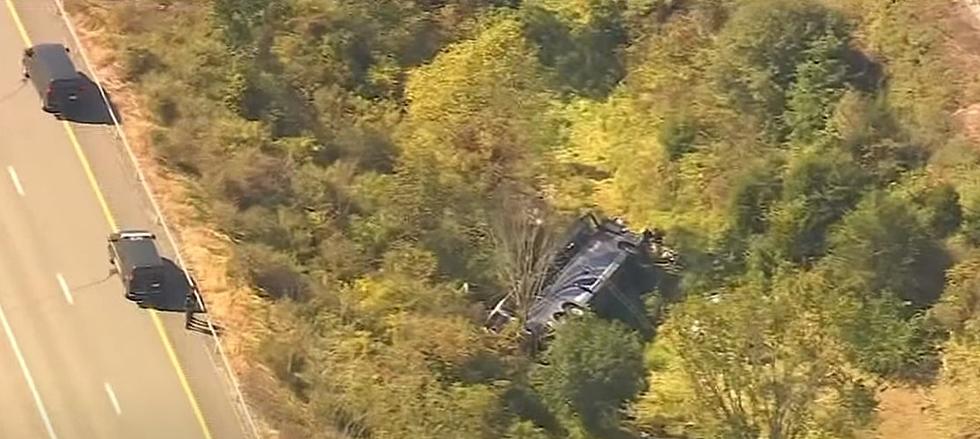 LI Bus Company In Fatal Crash Deemed 'Unacceptable' By New York State
Eyewitness News ABC7NY /YouTube
The driver of the fatal bus crash in the Hudson Valley was identified and we learned an alarming fact about the bus company.
The crash happened last Thursday on I-84 in Orange County. 
Long Island Community Deals With Tragedy In Orange County, New York
Bus Driver Identified From Centereach, New York
On Tuesday, New York State Police and the bus company, Regency Transportation, identified the bus driver as 59-year-old Lisa Schaffer of Centereach, New York.
Regency Transportation was recently rated an unacceptable operator by New York State, CBS reports.
Long Island Bus Company Deemed 'Unacceptable'
Bus companies are rated as "unacceptable" if the company has buses with a 25 percent or higher out-of-service rate or vehicles that fail inspection.
Regency Transportation's rate was 33 percent, according to CNN. 
Bus companies rated as unacceptable operators can still operate but face tougher inspections.
The bus that crashed recently passed two inspections.
NTSB Is Investigating In Orange County
Officials are still looking into a faulty front tire for potentially causing the accident.
For all the news that the Hudson Valley is sharing make sure to follow Hudson Valley Post on Facebook, download the Hudson Valley Post Mobile
Update On Injured Farmingdale, New York Students
The Farmingdale School District Superintendent announced that three of the five students who were in critical condition at Westchester County Medical Center have been upgraded to fair condition.
New York State Police confirmed the five students who were listed in critical condition are "all recovering and downgraded to less critical care."
Emergency officials believe they could have gotten to the accident sooner if a special access road for emergency vehicles, called a crash gate, was located near the scene.
Nearly 50 Children Have Recently Gone Missing From New York State
In just a few months around 50 children from New York State and the Hudson Valley went missing
If You See Purple Paint in New York You Need To Leave Right Away
Do you know what to do if you see purple paint in New York State? The easiest advice, run. Here's why.
20 Worst Places to Live in New York State
A list highlights the worst places a New York resident can call home. A number of places in the Hudson Valley made the list, including one that was ranked the worst place to live.
More From Hudson Valley Post