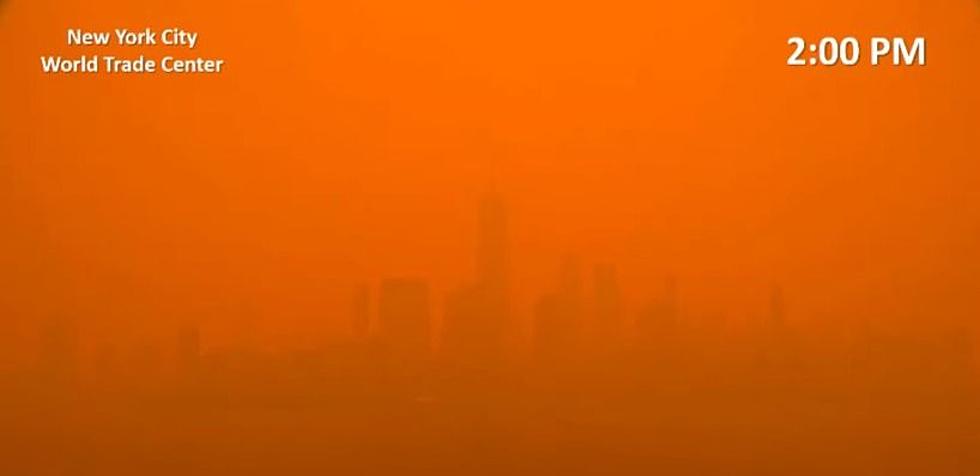 Incredible Time-Lapse Shows Parts Of New York State Vanish
US National Weather Service New York NY
We have footage of an incredible time-lapse that shows part of New York practically disappearing.
On Wednesday, the National Weather Service shared an "unbelievable" time-lapse of the World Trade Center and New York City skyline getting consumed by wildlife smoke coming from Canada.
Unbelievable Time-Lapse of Wildfire Smoke Consuming New York City
Unbelievable Time-Lapse of Wildfire Smoke Consuming New York City
"Check out this almost unbelievable time-lapse of wildfire smoke consuming the World Trade Center and the New York City skyline," the National Weather Service state while sharing the timelapse. " Stay indoors, if possible, particularly if you have respiratory concerns or other health problems. Children and seniors are also particularly susceptible."
You can see the full video below:
For all the news that the Hudson Valley is sharing make sure to follow Hudson Valley Post on Facebook, download the Hudson Valley Post Mobile App and sign up for the Hudson Valley Post Newsletter.
Air Quality Health Advisory Remain For Most Of New York State
Air quality alerts remain in effect for most of New York State on Thursday as thick haze and smoke from Canadian wildfires continue to drift into the Empire State.
The New York State Department of Health says residents should limit their outdoor activities and avoid any long-term exposure to smoke. If you do go outside, health officials say you should wear an N95 mask to protect yourself from particulates and chemicals.
Unhealthy Air For Hudson Valley, NYC Metro, Long Island, Eastern Lake Ontario, Central Western New York
An Air Quality Health Advisory remains for all of New York State except the Adirondacks
The air quality is forecasted to reach 'Unhealthy' AQI levels in the Hudson Valley, NYC Metro, Long Island, Eastern Lake Ontario, and Central & Western New York, according to the DEC.
Thursday may bring some slightly improved air conditions in New York State. However, New Yorkers are told to expect to deal with more "unhealthy" air and some experts say the air quality could "worsen" on Thursday.
10 Tips To Prevent Wildfires
Smokey The Bear said it best, "only you can prevent wildfires." Well, it's a lot easier said than done, Smokey. Great name for a bear trying to warn us about fire hazards, by the way.
In order to prevent wildfires, you have to first know how they can be prevented. Here are 10 tips provided by the Department Of Interior that will help you in your every day life, so you can enjoy being outside, camping, and having bonfires without it turning into a problem.
Here are their 10 tips, along with some simplified explanations from me.
These Counties Have The Most Food Stamp Recipients Per Capita In New York
SNAP usage has increased across the state since the start of the pandemic
Chick-Fil-A Opens Surprise Free Pop-Up In Mid-Hudson Valley
Massive World-Class Dinosaur Theme Park Planned For Hudson Valley
Another Hudson Valley hometown is in the running to be the site of a massive world-class dinosaur theme park.
More From Hudson Valley Post