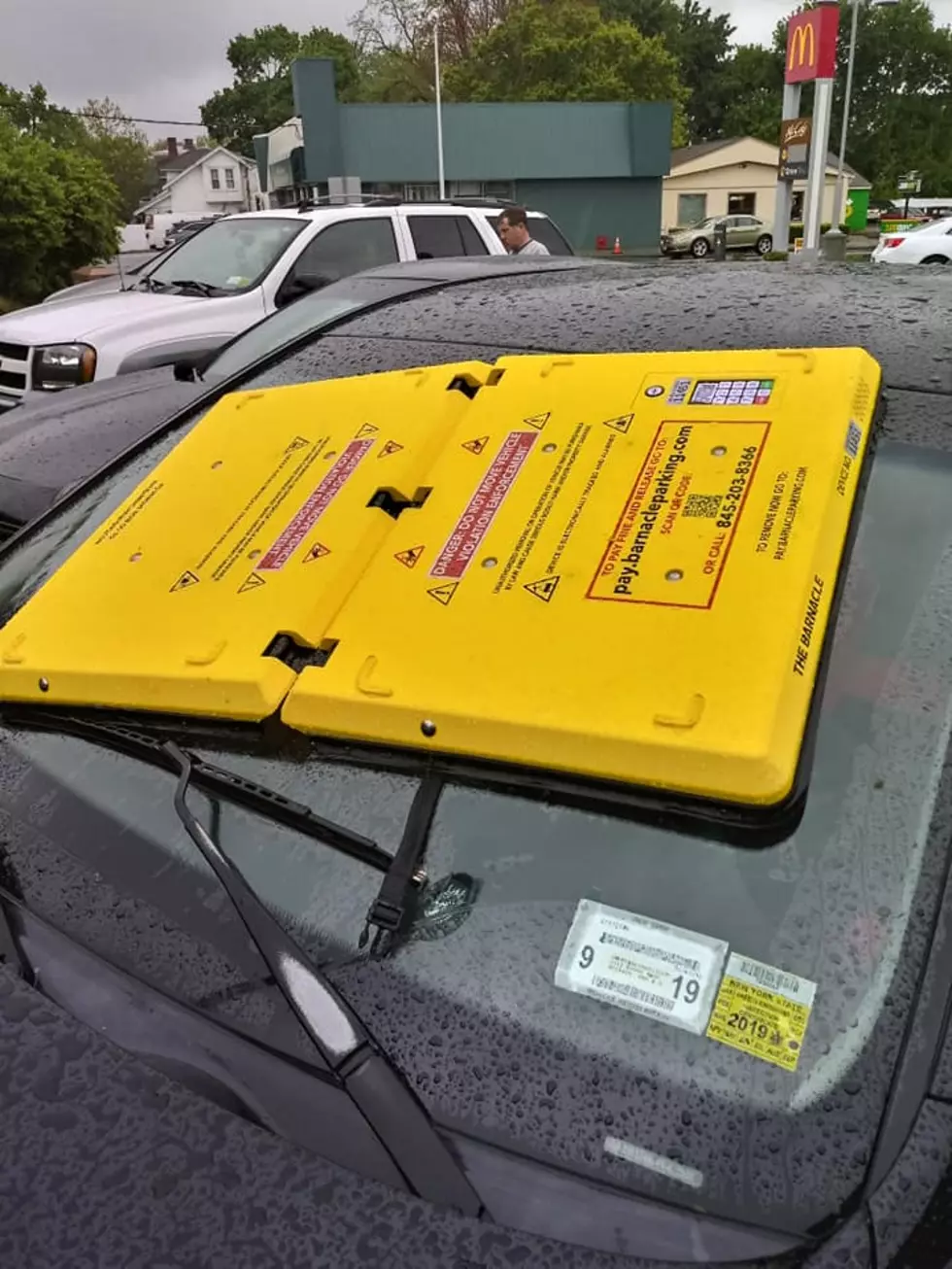 Hudson Valley McDonald's Accused of Scamming Customers
Selena Lenore/Facebook
Update: 3 p.m.: This article has been updated to include comments from the owner of Bobby's Auto Repair & Collison
A Hudson Valley McDonald's is accused of running an expensive scam that's taking advantage of local residents.
According to a Facebook post that is going viral, if you park at the McDonald's on Main Street in Poughkeepsie and step off the property, even if you purchased items at the fast food eatery, a local towing company is placing a yellow boot device on your windshield.
"There are multiple businesses in the vicinity, gas station, subway, Chinese and if you walk away to any other establishment you will receive a grave surprise," Selena Lenore wrote on Facebook.
It costs $475 to remove the yellow boot device, with the price rising $50 every 30 minutes until you pay, or have your car get impounded, according to the Facebook post.
Update: The owner of Bobby's Auto Repair & Collision Inc says the final price is $275, after a $200 deposit is returned if the boot isn't damaged. 
Lenore says she noticed someone park at McDonald's and walk to a nearby store to buy some cigarettes, before buying food inside McDonald's. Prior to walking inside the restaurant, the driver noticed the big yellow device on the driver's car windshield.
Lenore says she noticed three more people walk off the McDonald's property and get the big yellow device placed on the car's windshield.
The yellow devices are being placed onto vehicles by Bobby's Auto Repair & Collision Inc., according to the Facebook post. According to Lenore, Bobby's Auto Repair & Collision Inc was hired to place the yellow device on all cars if the driver walks off McDonald's property.
The owner confirmed to Hudson Valley Post he's been hired by McDonald's and other local businesses.
"We don't boot or tow anyone who patronizes McDonald's. Only the ones who park and walk off the property. The signs are posted all over, no trespassing patron's only," the owner of Bobby's Auto Repair & Collison told Hudson Valley Post over the phone. "If there are 10 spots in the parking lot and five are taken up by people not patronizing McDonald's then customers of McDonald's drive off when they can't find a parking spot, causing business to be lost."
The owner tells us he's gotten glowing recommendations from McDonald's and other local businesses that hire him.
"We have been told by McDonald's reps that the drug issue, people shooting up in the parking lot and loitering has reduced tremendously," he said.
Multiple phone calls to the McDonald's in Poughkeepsie elicited only busy signals or what appeared to be fax machine noises. The number dialed was the number listed for the Poughkeepsie McDonald's on the McDonald's website.
An email to McDonald's corporate wasn't returned as of this writing. Lenore says she was told by the manager at the McDonald's he can do what he wants because it's "private property."
More From Hudson Valley Post