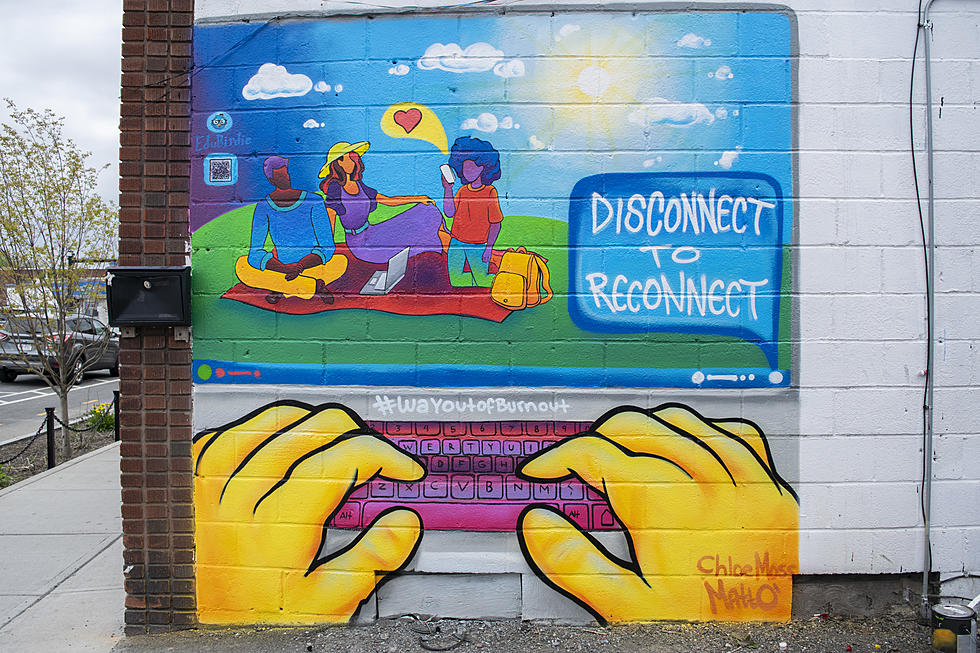 Dutchess & Ulster Co. Murals Bring Attention to Academic Burnout
Victoria Bongiovanni for EduBirdie, Lady Pink
EduBirdie, an all-in-one website for students' needs, teamed up with Lady Pink, who is regarded as the "first lady of graffiti, to create a series of murals that bring attention to issue of academic burnout. Murals have been unveiled in Kingston and Poughkeepsie, New York as part of their #wayoutofburnout movement.
Meet EduBirdie
EduBirdie is an all-in-one website for all student needs. They believe that education is fueled by passion, and students should have the freedom to manage their spare time as they will, not as they are allowed. Their goal is for students to achieve their academic goals while also living real life.
83% of Students Reported Feeling Stressed Due to Academic Demands
Millions of American each year struggle with stress, burnout and exhaustion. These "adult" issues are not limited to just adults. Whether you are a student, or you were recently a student, you know that the stresses of the classroom can come with a harsh toll. I was just talking with a friend of mine about how we would pull all-nighters preparing for our 8am classes.
This problem is often overlooked, despite alarming numbers: 1 in 10 college students in the US admit to injuring themselves due to severe stress while 1 in 7 are feeling "on edge." Personally, from my time in college, I would've assumed those numbers to be much higher. May is time for finals for college classes, and high schools will be following shortly in June. Each class is making their last push to finish any final assignments or exams that need to get crammed into the year.
EduBirdie conducted a survey and gathered over 5,000 responses from college students. The survey results were concerning: 83% of respondents reported feeling stressed due to academic demands at least once in the past year. Meanwhile, stress impacts everything from sleep and appetite to time management and relationships.
Other figures from the study include:
89% lack quality time for studies and feel overwhelmed
61% had experienced anxiety and sleep problems due to academic stress
48% missed classes or pretended to be sick because of academic stress
31% said academic stress hurt their relationships with family and friends
14% felt "being on edge," and 9% intentionally injured themselves.
"Disconnect to Reconnect"
To help shed some light on this issue, EduBirdie has joined up with graffiti artist Lady Pink to create a series of murals that bring attention to the issue of academic burnout. One of the murals can be found at 688 Broadway, Kingston, NY, while another is located on 464 Main Street, Poughkeepsie, 12601.
With the powerful slogan "Disconnect to Reconnect," the mural encourages people to disconnect from devices and embrace real social connections to prevent and beat academic and digital burnout. This message is not just reserved for students, but for everyone who finds themselves tethered to the digital plain.
The Poughkeepsie Mural boasts, "Don't drown in the Academic Ocean, ride the wave." While dealing with a constant wave of academics crashing down on you, you find yourself running, aiming, achieving, and so on. But with the right mindset and professional help, you can hop on one of the ocean waves and ride it to your dream "success" destination.
The mural in Kingston preaches, "Ask for help before there is no way out." An academic journey can feel like a maze. You likely find yourself delving deeper and deeper into it. The burden of grades and the pressure of parents and society turn you off your route and lead to wrong turns. Forge your paths by thinking outside the box and leading you down the success. Ask for help before help asks for you!
Avery Morgan, Chief Communications Officer at EduBirdie, commented:
"Over three-quarters of college students have experienced struggles in the past years and while alarming, it's not surprising. Imagine trying to handle that never-ending pile of papers with the stress of a recession and ever-growing student debt hanging over you. Then there's digital burnout — the mental exhaustion and anxiety that results from being glued to technology 24/7, writing essays, studying for exams and watching others enjoy their lives through social media… We attend college to expand our minds, not to overburden them. Students, such struggle is not normal, but talking to someone is! If your workload is weighing you down, talk to your friends, your parents, your professor, or your counselor.

 
"At EduBirdie, we've set ourselves an important assignment: Drawing attention to the issue of academic burnout and encouraging change to ensure every student has time to study, sleep and socialize during what should be the best years of their lives. Throughout April and May, together with "the first lady of graffiti" Lady Pink, we will be painting murals throughout New York Area, with a final piece to appear in NYC to draw attention to an issue that can have devastating consequences — and is too often overlooked."
Born in Ecuador and raised in New York City, Lady Pink currently resides in the countryside north of the city. Lady Pink began writing graffiti in 1979 and soon was well known as the only female capable of competing with the boys in the graffiti subculture.
Lady Pink painted subway trains from 1979 to 1985. Perhaps you may have seen the 1982 movie Wild Style. Lady Pink had a starring role which helped her become a cult figure in the hip-hop subculture.
Lady Pink had her first solo art show at the Moore College of Art when she was 21. Since then, Lady Pink's art as been featured in important art collections in the Whitney Museum, the MET in NYC, the Brooklyn Museum, the Museum of Fine Art in Boston and the Groningen Museum of Holland. She has established herself in the fine arts world, and her paintings are highly prized by collectors.
Today, Lady Pink continues to create new paintings on canvas that express her unique personal vision. She also shares her 30 years of experience with teens by holding mural workshops and actively lecturing to college students throughout the world.
Hudson Valley Tattoo Company Empowers Students w/ Hallway Mural
Hudson Valley Tattoo Company and Poughkeepsie High School joined forces to create an extravagant one-of-a-kind hallway mural to inspire and empower students.
Revolutionary War Time Capsule: The Odell House/Rochambeau Headquarters
This historic home, originally built in 1732, played host to George Washington and was headquarters for French General Rochambeau
Fantastic Local New York Artists You Need to Know
In honor of all the local Hudson Valley artists that I've covered at Townsquare, I want to highlight all the musicians that I've had the privilege to interview!
More From Hudson Valley Post