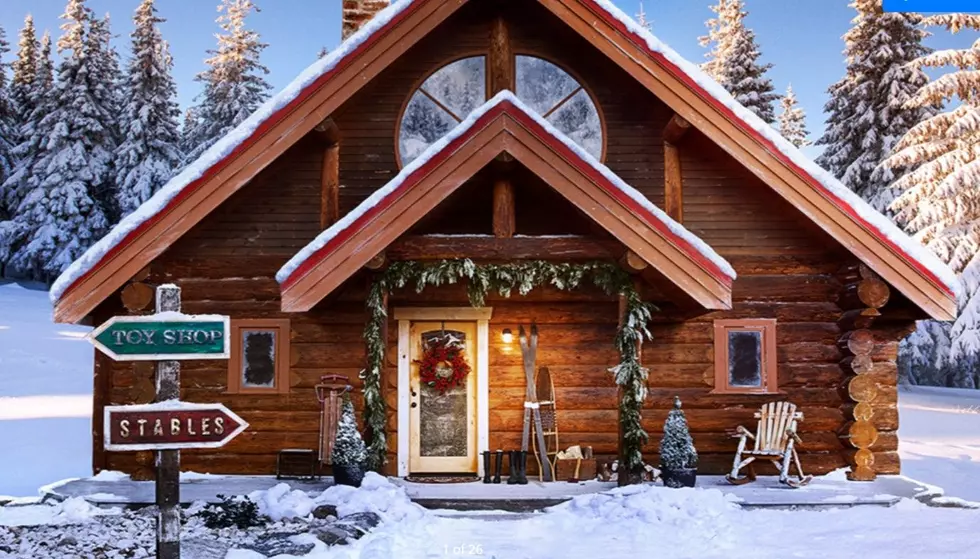 Santa Claus's Home Is On Zillow And It Is Amazing [PICTURES]
Photo Credit: Zillow
This week is going to be a busy week for one man. Santa Claus
Along with the big man, all the elves will be working overtime at the North Pole to make sure that all the presents and gifts are ready to be delivered on Saturday night.
But is it not always work, work, work with Santa? Outside of one VERY busy day on Christmas Eve, he has lots of time to chill and hang out with the misses at home.

So how does Santa live? Like a king!. Recently his home was featured on Zillow.com and it is pretty amazing.
The home is valued at $1.1 million dollars and has everything you think Santa would need to make sure every good boy and girl gets a present on Christmas Day.
The home sits on 25 acres of land which is perfect for letting all the reindeer play and even has its own area for the elves.
The home itself is a 3 bedroom, 2 bathroom log cabin style home that offers 2500 square feet of living space. One of the major features is the floor-to-ceiling fireplace which is made of river stone and is perfect for roasting chestnuts.
The kitchen is a baker's dream and features an oven with 12 different cookie settings. The cookies are placed automatically at the table right next to the hot cocoa tap.
Don't worry about too many guests in the house either. All the elves have their own private living quarters in their own village on the property, so there is plenty of space and privacy for Santa and Mrs. Claus.
Check out some photos of Santa's home.
Santa's House Is On Zillow
Take a peek inside Santa's home.
New York's Most Expensive Home Just Hit The Market
New York's most expensive home just hit the market and is amazing.
Cheapest Home For Sale In East Amherst Is Shocking [PHOTOS]
Real Estate is all about location and some things you have to get the worst house to be in the best neighborhood.
More From Hudson Valley Post