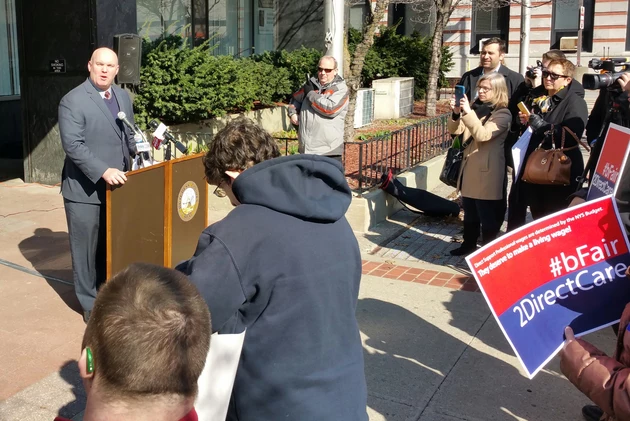 Hudson Valley Assemblyman Calls for $15 Per Hour Wage for Direct Care Workers
Todd Bender for Townsquare Media of the Hudson Valley
At a press conference in Poughkeepsie on Monday, New York Assemblyman Kieran Lalor of Hopewell Junction stood with other elected officials and representatives of direct care agencies such as ARC of Dutchess, Gateway Community Industries, and Greystone to call on Gov. Andrew Cuomo to add $45 million dollars to the proposed $152 billion dollar spending plan to pay direct care workers more than the $9.70/hour minimum wage.
According to Lalor, the direct care workers are skilled laborers that work with society's most vulnerable; those with developmental disabilities and they need to be compensated as such.
Lalor echoed the sentiments of many of the agencies by saying that the direct care workers are being forced to choose a job that they enjoy that pays very little or work in another field that doesn't require special skills yet pays more.
Lalor explained that the direct care workers are employed by the various agencies but the funding for their salaries comes from NYS in the form of Medicaid reimbursement which he claims are artificially low. He, along with Hudson Valley lawmakers Assemblyman Skartados and state Sen. Sue Serino are working with the various agencies to get the starting salary raised to $15/hour.
According to Fred Apers, the executive director of the Cardinal Hayes Home for Children, there is a 10 percent job vacancy factor in the direct care field along with a 23 percent annual turnover rate due to the lack of a living wage.
When asked where the $45 million would come from, Lalor said, "one option is to reduce the Film Tax Credit, which is currently $420 million per year, by a mere 11 percent. Hollywood moguls will understand that their taxpayer-funded subsidy to make movies and television shows had to be reduced so we can do what is right for our direct care workers and the developmentally disabled New Yorkers they care for."
No Hollywood moguls attended the press conference to refute Lalor's assertion.
According to Skartados, who could not attend the event, "direct care workers give their all to make life better for those who need help getting through everyday challenges - they deserve to be paid as the heroes they are!"
The lawmakers have vowed to continue fighting in order to get the funding added to the NYS budget.
More From Hudson Valley Post