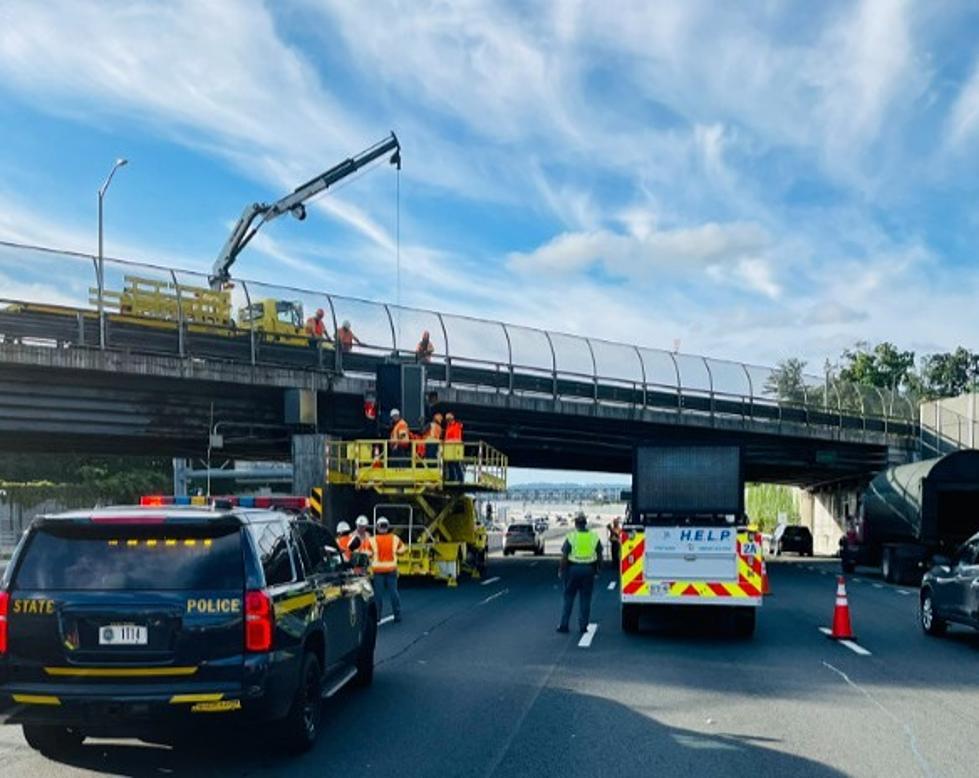 Traffic Nightmare: Parts Of New York State Thruway Closed For At Least 16 Hours
NYSP
New York drivers are being told to avoid parts of I-87 due to full closures for emergency repairs.
The New York State Thruway Authority is advising New York State drivers about an upcoming closure on the Thruway and the Cuomo Bridge.
Parts Of New York State Thruway In Rockland, Westchester To Close, Including Mario Cuomo Bridge
The New York State Thruway Authority announced that the southbound lanes of the Thruway (I-87/I-287) from exit 12 in West Nyack to exit 9 in Tarrytown, including the Governor Mario M. Cuomo Bridge will fully shut down to traffic early Saturday morning.
"Motorists are strongly advised to avoid the area beginning Friday night and take alternate routes on Saturday," the New York State Thruway Authority states.
For all the news that the Hudson Valley is sharing make sure to follow Hudson Valley Post on Facebook, download the Hudson Valley Post Mobile
The closure to safely remove a severely damaged portion of the South Broadway overpass in South Nyack, which was struck by an over-height tractor-trailer on August 31.
An over-height tractor-trailer transporting large pipes struck the South Broadway overpass, according to New York State Police.
"The overpass is currently closed to vehicle traffic. Following multiple inspections this week, Thruway and consulting engineers determined that two damaged girders should be removed and other work completed to stabilize the overpass," the Thruway Authority adds.
Parts Of I-87 To Close For At Least 16 Hours In Hudson Valley
All southbound lanes south of exit 12 (West Nyack - NY Route 303 - Palisades Center Drive) and over the bridge will close at midnight on Saturday, Sept. 9. Officials confirm closures will last until late Saturday afternoon or early Saturday evening, depending on how long repairs take.
"The southbound lanes will reopen after Thruway engineers determine the overpass is safe," officials note. "Variable Message Signs on the Thruway and surrounding highways are advising motorists to avoid the area."
Officials expect the closures will last at least "16 hours."
What To Expect Friday Night And Saturday On The New York State Thruway
At 8 p.m. Friday, one southbound lane near exit 10 (Nyack - South Nyack - US Route 9W) will be closed, leaving three travel lanes.
At 11 p.m. Friday, three southbound lanes near exit 10 will be closed, leaving only one travel lane open. Traffic delays will be significant.
After 11 p.m. Friday, the entrance ramps to the southbound Thruway at exits 10, 11 (Nyack), 12 and 13 (Palisades Interstate Parkway) will begin to close.
After 12:01 a.m. Saturday, all southbound lanes will be closed and all traffic will be diverted to exit 12 in West Nyack.
All day Saturday – work will continue on the overpass and highway below followed by the cleanup.
Travel lanes will open as soon as safely possible.
Travel lanes in the northbound direction will remain open throughout the work; the northbound left lane near the work zone will be closed.
"The Authority is working with state, county and local authorities on this operation, which will take place rain or shine," the Thruway Authority concluded in its press release.
LOOK: Best Counties to Raise a Family in New York
Stacker
compiled a list of the best counties to raise a family in New York.
20 Worst Places to Live in New York State
A list highlights the worst places a New York resident can call home. A number of places in the Hudson Valley made the list, including one that was ranked the worst place to live.
Giant Horror Plant
A "giant horror plant" that can cause blindness and severe burns is still in New York State, despite the best efforts from New York officials.
The 10 Best Counties To Live In New York State
Is your hometown's county considered by
Niche
one of the best in New York State?
More From Hudson Valley Post