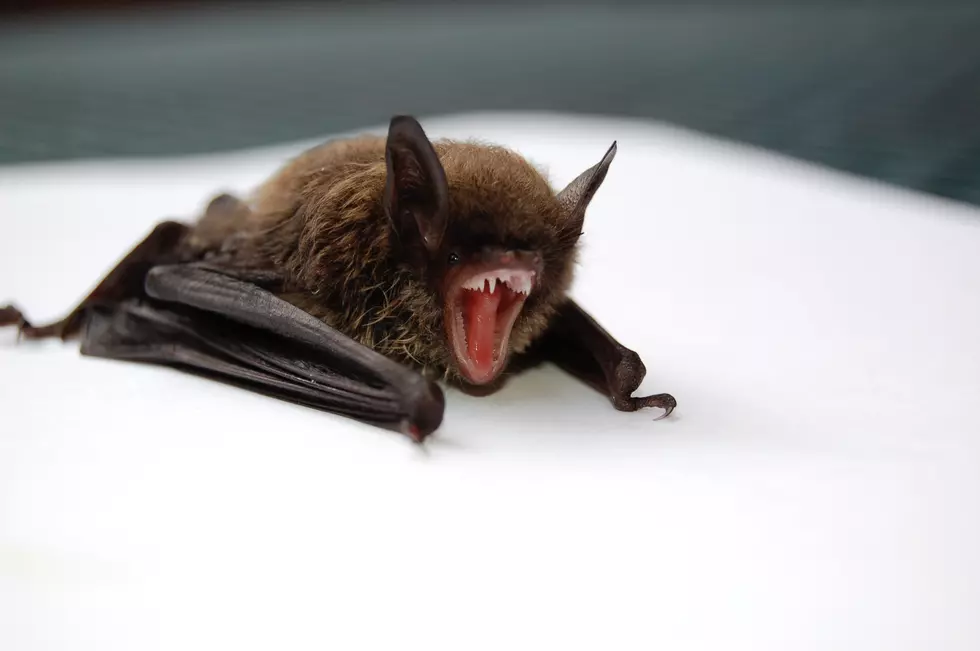 New York Residents Accidentally Letting Rabid Bats 'Enter Home'
Photo by Todd Cravens on Unsplash
New York State residents need to know these simple steps to avoid being attacked by rabid bats. Officials say bat encounters are on the rise and will increase.
The Dutchess County Department of Behavioral & Community Health is warning Hudson Valley residents about rabid bats that may easily enter their homes.
Keep Bats Out to Prevent Rabies In New York State
"With summer weather here, residents are opening their windows and installing air conditioners to beat the heat. However, they may inadvertently be inviting bats, which are known to carry rabies, into their home. The Dutchess County Department of Behavioral & Community Health (DBCH) reminds residents to take steps to avoid bats in their homes," DBCH Communications Director Colleen Pillus stated in a press release.
Bats play a vital role in helping the environment by helping to control the insect populations. Bats are typically not aggressive by nature, but they are a "rabies vector species" and can spread the disease to humans, health officials say.
"Due to their small size, bats can easily squeeze into very small gaps (1/2 inch), such as in between the upper and lower sashes of open windows. When a window is opened to install an air conditioner, it creates a gap between the upper and lower window sashes. Bats may gain entry to a house through these gaps," Dutchess County Health Officials state.
Dutchess County officials say each year there is a large increase in human-to-bat exposures from May through September. All require rabies case investigations.
As of this writing, there has been 28 bat exposure investigation in Dutchess County. Eight in May and 20 in June, officials say.
For all the news that the Hudson Valley is sharing make sure to follow Hudson Valley Post on Facebook, download the Hudson Valley Post Mobile App and sign up for the Hudson Valley Post Newsletter.
That number is expected to continue to increase through September.
"Now that we are full swing into summer, it's important to remain vigilant of bats in or around your home. I strongly encourage all residents to follow some simple steps to prevent bats from getting into their home to keep their families safe from rabies exposure," DBCH Commissioner Dr. Livia Santiago-Rosado said.
Tips To Prevent Bats From Entering Homes In New York State
The Dutchess County Department of Behavioral & Community Health released the following simple tips so all New York State residents can try to prevent bats from entering their homes:
Read More: Why New York State Residents May Get Emergency Cell Phone Alerts
Seal any gaps between window sashes with a cloth or other suitable material. Check that no gaps exist on the sides and bottom of the unit. Check to make sure the upper window sash stays in place. Brace it up if needed.
Be sure open windows have tight-fitting and intact screens. Ensure entry doors have a self-closing screen door.
When placing a fan in a window, be sure the screen remains in place.
Keep garage doors and other doors closed when not in use.
Make sure chimney dampers are closed. Seal all unused openings from the house into the chimney.
Keep access points to non-habitable spaces, such as the interior attic access door, closed and properly sealed.
1 Million People Buried On New York's Island Of the Dead
These Counties Have The Most Food Stamp Recipients Per Capita In New York
SNAP usage has increased across the state since the start of the pandemic
Chick-Fil-A Opens Surprise Free Pop-Up In Mid-Hudson Valley
Massive World-Class Dinosaur Theme Park Planned For Hudson Valley
Another Hudson Valley hometown is in the running to be the site of a massive world-class dinosaur theme park.
More From Hudson Valley Post