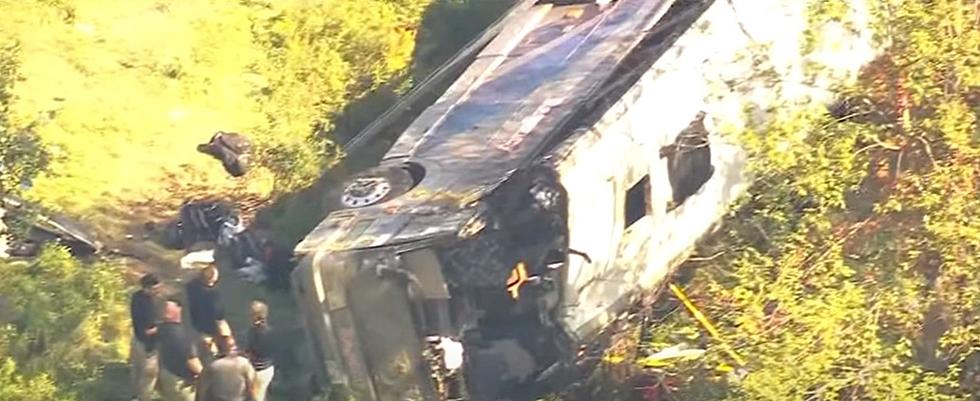 Latest On Horrific Bus Crash In Hudson Valley, 2 From New York Killed
Eyewitness News ABC7NY /YouTube
We continue to learn more information about the horrific bus crash in the Hudson Valley that killed two educators and injured many students.
The crash happened Thursday on I-84 in Orange County
Long Island Community Deals With Tragedy In Orange County, New York
For all the news that the Hudson Valley is sharing make sure to follow Hudson Valley Post on Facebook, download the Hudson Valley Post Mobile
Update On Injured Farmingdale, New York Students
The Farmingdale School District Superintendent announced that three of the five students who were in critical condition at Westchester County Medical Center have been upgraded to fair condition.
However, all five remain in the hospital. An update wasn't provided about the other two students in critical condition or the other injured students.
NTSB Is Investigating In Orange County
The National Transportation Safety Board is now investigating the bus crash. The NTSB is helping New York State Police and will be on the scene on I-84 in Orange County for five to seven days, officials say.
The NTSB will also conduct a toxicology test on the female bus driver and officials will also be looking into whether students were wearing seatbelts.
Help The FBI Solve These Eight Open Investigations in New York State
The FBI Albany Field Office has a number of on-going investigations currently happening in the State Capital, and some of the details of the crimes are chilling.
Nearly 50 Children Have Recently Gone Missing From New York State
In just a few months around 50 children from New York State and the Hudson Valley went missing
If You See Purple Paint in New York You Need To Leave Right Away
Do you know what to do if you see purple paint in New York State? The easiest advice, run. Here's why.
More From Hudson Valley Post