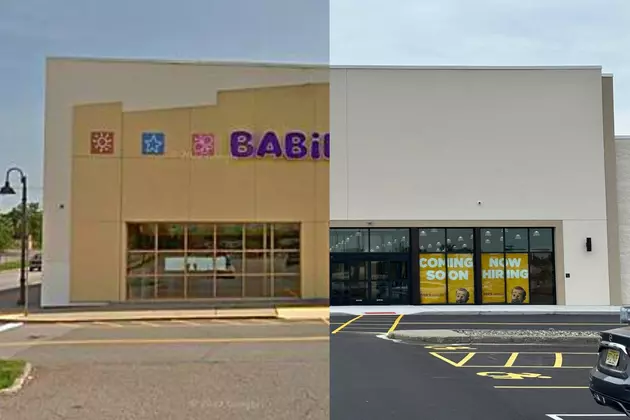 Former Middletown Babies 'R Us Sets Opening Date For New Business
Google Images/A. Boris
A new business is ready to open at the former Babies 'R Us location in Middletown, New York.
Construction crews have been hard at work at the abandoned building in the Dunning Farms Shopping Center. Work started this spring on transforming the former Babies 'R Us by completely gutting the interior, adding new windows and doors and repairing the crumbling sidewalk and parking lot out front.
The store, located next to a closed Toys 'R Us will soon repoen as the Hudson Valley's second Bob's Discount Furniture location. Previously, the only Bob's was located in the Shoppes at South Hills in Poughkeepsie.
When will the new store open?
According to the owners, the new Bob's Discount Furniture store is slated to open its doors on September 1, just in time for Labor Day Weekend. With just a few weeks to go, it appears that most of the construction is complete. It will take some time, however, to set up the showroom and get it ready for customers.
More than just furniture
Bob's is famous for its low-priced furniture, but what sets it apart from similar stores is its shopping experience. All of their stores include an "on the house" cafe where customers can take a break from browsing furniture and grab a complimentary gourmet coffee, ice cream, fresh-baked cookies and handfuls of candy.
What's moving next door?
The new Bob's Discount Furniture Store is located in the Dunning Farm Shopping Center along with PetSmart, HomeGoods, Michael's and T.J. Maxx. As of now, the former Toys 'R Us next to Bob's is still empty. There is no word if any interested parties have come forward with a plan to take over that space.
Iconic Middletown Department Store Demolished
Playtogs Plaza in Middletown Demolition Pictures
The 10 Best Pizza Places in Middletown, New York
Here are the top 10 most reviewed pizzerias in Middletown, New York according to Yelp.
More From Hudson Valley Post