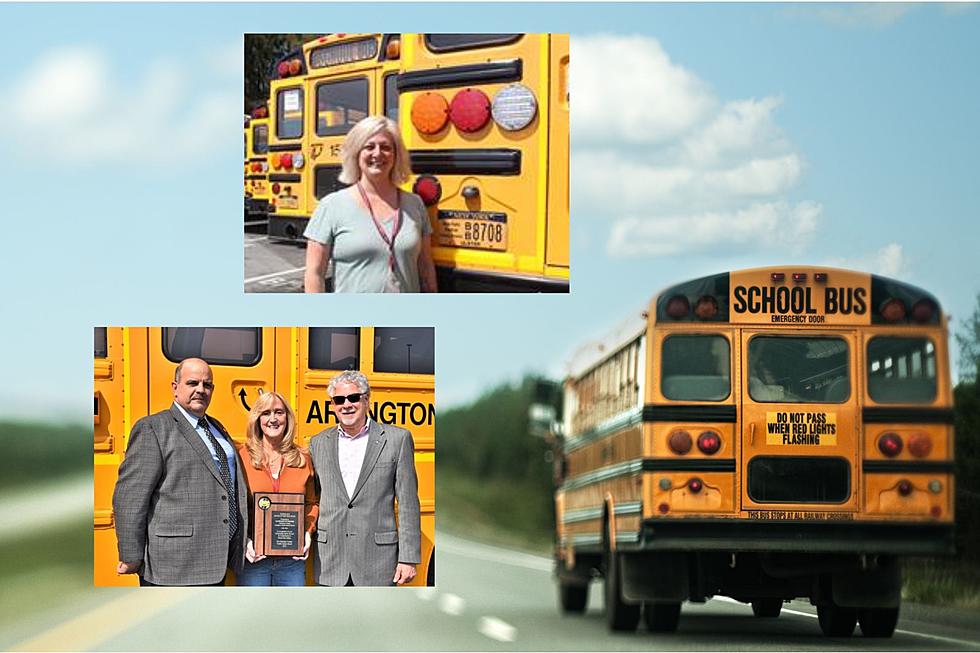 Dutchess & Ulster County School Bus Drivers of the Year
New Paltz Central School District/Dutchess Government/Canva
Congratulations to the recently announced 2023 Ulster and Dutchess County School Bus Drivers of the Year!
One of the most underrated and underappreciated professions anywhere is the job of a bus driver. When most people think of school and great work done with children, most think of the great work of teachers and administrators. That's well deserved but what about the men and women they get them safely to and from school?
Hudson Valley Bus Drivers
If you spend any time during the week driving in the Hudson Valley, the odds say that at some point you will see a school bus driving kids to or from school. Depending on the time of day you might see 3 or 4 on your way to work. Every once and a while while I'm waiting behind a bus I wonder what it would be like to have to deal with other drivers and a busload of kids every day. It has to be a tough job, right? With that in mind, it is exciting to see that bus drivers in Ulster and Dutchess Counties are getting the recognition they deserve!
Bus Driver of the Year Awards
Each year the Mid-Hudson Transportation Supervisors Association announces winners of this award which factors in many things including professionalism, punctuality, dependability, caring for children, attention to safety, community service, sports roster volunteerism, and more. The award also recognizes drivers' service and safety records and is awarded in conjunction with "Operation Safe STOP" which most counties in the Hudson Valley are participating in to make sure all vehicles come to a stop when a school bus's red lights are on.
Ulster County Bus Driver of the Year
The Mid-Hudson Transportation Supervisors Association has announced that New Paltz Central School District (NPCSD) bus driver Tersa Faso has been named the 2023 Ulster County School Bus Driver of the Year. Faso has been a driver for the NPCSD for thirteen years according to the school's website and when she was asked to describe herself she said she likes to think she is a "role model for students to trust with the good, bad and ugly situations." She also said that "respect" and "Be Kind" are two mandates on her bus and
"Watching the children grow from the first day of school until the last day is absolutely amazing, I will have many more years before I retire as a bus driver and am looking forward to watching them all grow and succeed. Being nominated for bus driver of the year is an honor."
Dutchess County Bus Driver of the Year
Dutchess County Executive William F.X. O'Neil announced online recently that Arlington Central School District (ACSD) driver Kathleen O'Connor is the 2023 recipient of the 20th Dutchess County School Bus Driver of the Year Award. The award recognizes her exemplary service and safety record in transporting students to and from school and is part of the Dutchess County Traffic Safety Board's efforts to promote school bus safety. O'Connor, who has driven for the ACSD for the past 25 years said this about driving
"Being a bus driver has never been just a job to me, I truly enjoy waking up every day to see the smiling faces of my students and ensure that they get to school safely. … In a very unpredictable world, I try and make sure that my bus is a safe place for my students to simply be themselves. I continuously try and make sure that I go above and beyond to not only drive my students to school safely, but to be there for them as a mentor and a friend."
"Bus Driver of the Year" awards are given out each year in conjunction with the launch of the annual Operation Safe Stop Project supported by the New York Governor's Traffic Safety Committee.
9 Dutchess County School Districts Ranked Best to Worst
These are 9 school Dutchess County district rankings based on data and reviews from Niche.com.
12 of the Hudson Valley's Favorite Places for Breakfast
12 of the best places to grab breakfast according to Hudson Valley "Foodies".
More From Hudson Valley Post