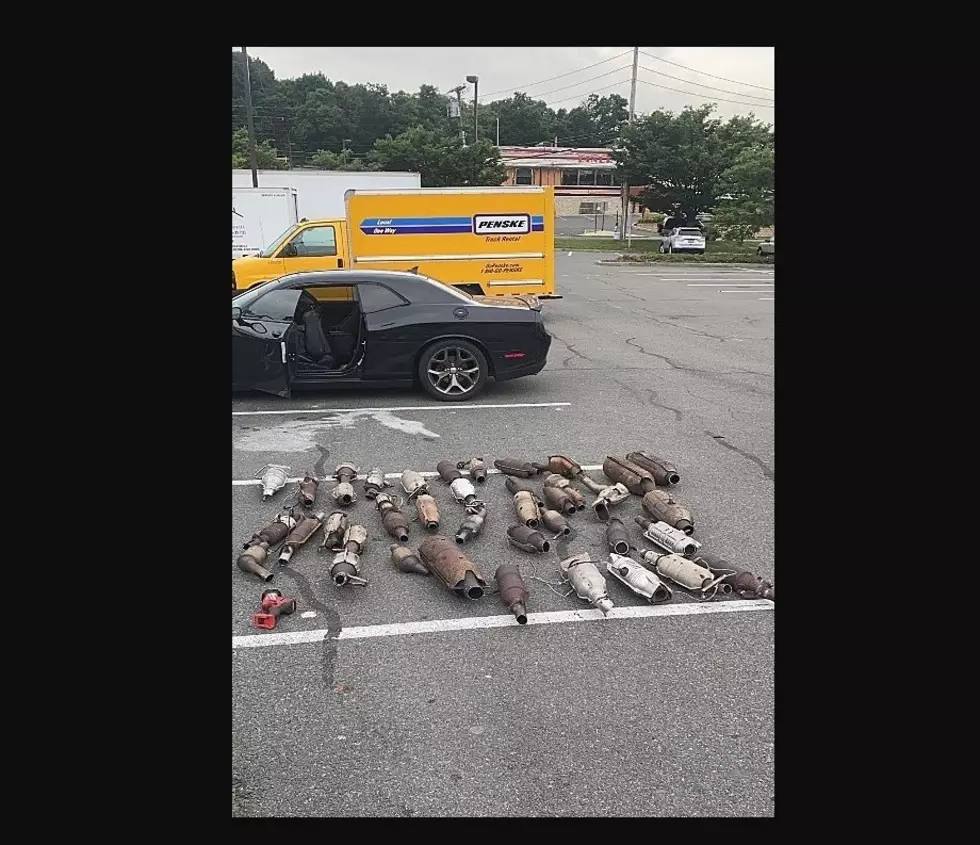 DA: 5 Men Stole 'Most Valuable Metal On The Planet' In HV, New York
NRPD
Five men are accused of stealing the "most valuable metal on the planet" in the Hudson Valley 56 times!
Westchester County District Attorney Miriam E. Rocah recently announced a 24-count indictment of five men in connection with the countywide theft of 56 van and bus catalytic converters with a fair market value of more than $50,000, officials say.
Catalytic Converter "Stealing Spree" In Westchester County, New York
Five men are accused of stealing 56 catalytic converters in Westchester County during a 5-month "stealing spree."
"This case sends a clear message that Westchester County is cracking down on catalytic converter thefts, a nationwide scourge plaguing car owners with thousands of dollars in replacement costs and damages," Roach said.
Officials note 13 law enforcement agencies helped in the investigation.
Police allege Timothy Jimenez, 24, Christian Ancrum, 23, and Jason Vargas, 19, all of New Rochelle, and Joealen Garcia, 31, of Orlando, Florida, as the individuals who allegedly participated in the theft of a total of 56 catalytic converters from Ford Econoline vans, Royal Coach Lines buses, and school buses in Briarcliff, Greenburgh, Peekskill, Pelham, and Yonkers on 11 different occasions between November 21, 2021 and March 28, 2022.
At least 42 of the stolen catalytic converters were recovered in a Bronx scrap yard, officials say.
"Stolen catalytic converters carry a resale value averaging $300 each at scrap yards, and up to $1,000 on the black market, for the precious metals they contain, such as palladium, platinum and rhodium. Larger vehicles, trucks and SUVs are often targeted because the larger-sized catalytic converters carry higher values, and because the height of the vehicle from the ground allows for easier access to steal the catalytic converters," officials note.
Why Catalytic Converters Called The "Most Valuable Metal" On Earth
The metal found in Catalytic converters is called "the most valuable metal on the planet."
"More valuable than silver, gold, platinum, or even jewelry," Andrew Robinson continues in the Scientific American article. "Rhodium is a key ingredient in every car sold in the United States since around 1975. It's part of a system that cleans out pollutants and prevents them from entering the atmosphere. And it's also the reason why thieves across the U.S. are sawing off catalytic converters in order to get their hands on a few precious grams of the world's most valuable metal."
Searches about why the metal in a catalytic converter is valuable saw a 5,000 percent increase in the past year, according to Scientific American.
More valuable than silver, gold, platinum, or even jewelr
For all the news that the Hudson Valley is sharing make sure to follow Hudson Valley Post on Facebook, download the Hudson Valley Post Mobile App and sign up for the Hudson Valley Post Newsletter.
In 1970, Congress passed the "Clean Air Act." The act called for a 90 percent reduction in automobile emissions. That's when researchers developed what is the modern three-way catalytic converter.
"The converter itself sits just behind the exhaust manifold and before the muffler. Its purpose: to reduce 3 harmful types of emission: carbon monoxide, hydrocarbons (or unburned fuel), and nitrous oxides. The converter on regular fuel vehicles is simple: a stainless steel shell surrounds a ceramic honeycomb monolith— that monolith is coated with three important precious metals: platinum, palladium, and rhodium," Robinson adds.
LOOK: See how much gasoline cost the year you started driving
To find out more about how has the price of gas changed throughout the years, Stacker ran the numbers on the cost of a gallon of gasoline for each of the last 84 years. Using
data from the Bureau of Labor Statistics
(released in April 2020), we analyzed the average price for a gallon of unleaded regular gasoline from 1976 to 2020 along with the Consumer Price Index (CPI) for unleaded regular gasoline from 1937 to 1976, including the absolute and inflation-adjusted prices for each year.
Read on to explore the cost of gas over time and rediscover just how much a gallon was when you first started driving.
Nearly 50 Children Have Recently Gone Missing From New York State
Close to 50 children from New York State and the Hudson Valley have recently gone missing. You can help a New York family get reunited with a missing loved one.
Resorts World Hudson Valley Opens Doors In Newburgh
The grand opening for Resorts World Hudson Valley, located in the Newburgh Mall on Rt. 300 in Newburgh, took place on Wednesday December 28th at 10:00am.
Did You Know? Over 100 Fun Facts About the Hudson Valley
Did you know that Lucille Ball made her stage debut in the Hudson Valley? How about Philadelphia Cream Cheese wasn't invented in Philadelphia, but in Orange County? Or that a mansion in Dutchess County inspired the expression "keeping up with the Joneses?" Find out about those and over 100 other fun facts about the Hudson Valley.
Gypsy Moth 'Accidentally' Released Causing 'Nightmares' in New York
After 10 to 15 years a gypsy moth that was once "accidentally" released has returned and is causing "nightmares" in New York.
More From Hudson Valley Post