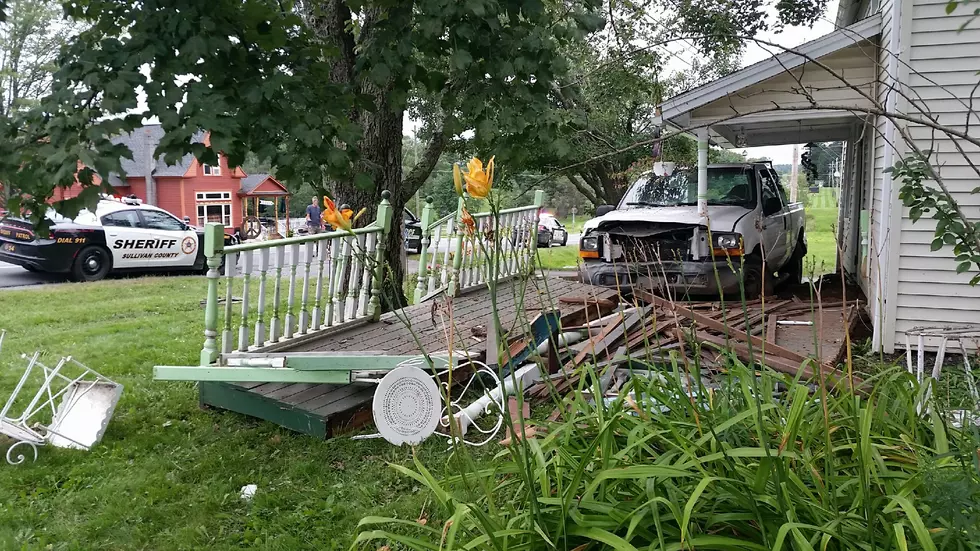 2 Arrested After Truck Drives Into Hudson Valley Home
Sullivan County Sheriff's Office
An Iowa couple moving to the Hudson Valley for work were arrested after their truck crashed into a home.
On Friday at around 6 a.m., the Sullivan County Sheriff's Office responded to a report of a vehicle colliding with a house on State Route 17B, just east of Hurd Road in the Town of Bethel.
Upon arriving at the home, police found a white 1990 Ford pickup truck that crashed into the front porch of the home, which is the site of the Stray Cat Art Gallery.
The vehicle, which had been traveling eastbound toward Monticello, ran off the road and struck with such force that it ripped the porch away from the building, police say.
The truck's two occupants are accused of fleeing the scene on foot but were followed by a witness who pointed them out to responding officers.
While trying to free, the pair allegedly dropped 2 pouches near another home. Deputies recovered the pouches and say they contain approximately 9 grams of methamphetamine.
The driver, 50-year-old Ronald L. Martin, and passenger, 40-year-old Jessica L. Rife, were both arrested. The Iowa couple were heading to Ellenville where Martin was going to work a construction job, according to police.
The pickup truck was unregistered and uninsured, police say.
Martin was charged with driving while ability impaired by drugs, leaving the scene of a motor vehicle accident, criminal possession of a controlled substance, criminal mischief and tampering with evidence. Rife was charged with criminal possession of a controlled substance and tampering with evidence.
Both were sent to Sullivan County Jail on $50,000 bail.
More From Hudson Valley Post