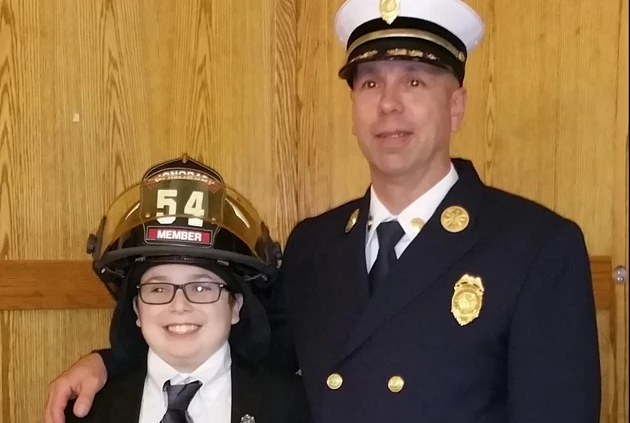 Pawling Teen Made Honorary Firefighter
Todd Bender for Townsquare Media of the Hudson Valley
The volunteer fire service is a very serious business. Men and women of all walks of life make a commitment to help their neighbors in times of need with little recognition and no compensation. In Pawling, 13-year-old Joshua Brennan is one of those individuals who has answered the call to help his community and on March 4, his dedication to the Pawling Fire Department was recognized by District Chief Everett White.
Joshua started hanging around the Pawling Firehouse at the age of eight, joining his father Tom, a Pawling firefighter, at every event he could. He showed up to help wash the trucks, clean the firehouse, and help in the kitchen.
According to Chief White, Joshua does as much for the fire district as men three times his age. While too young to become a firefighter, Joshua does everything he can to help because he enjoys serving others.
Joshua's devotion and selfless dedication to the Pawling Fire District were recognized at the installation dinner when Chief Everett White presented the aspiring member of the Pawling Fire Police with the title of Honorary Firefighter, a moniker that is rarely bestowed on individuals of any age.
Joshua was presented with his own helmet and a plaque recognizing his service which led to a standing ovation of the approximately 165 people in attendance.
According to Joshua, the new title will not change him. He still plans to work in the kitchen at the firehouse where he enjoys cooking and serving others.
More From Hudson Valley Post