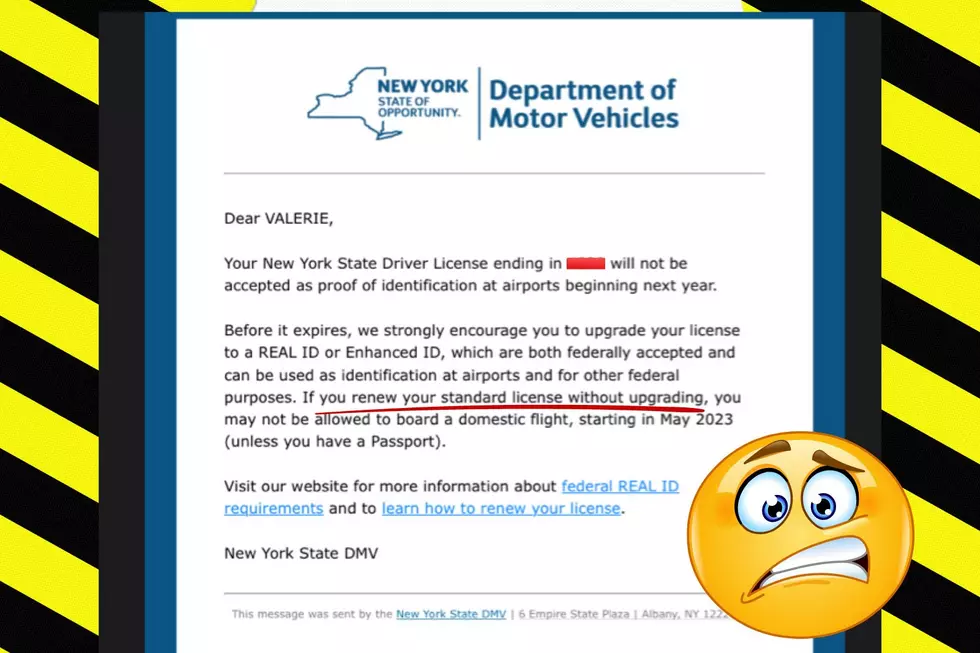 Do As I Didn't: Watch Your New York State License Expiration Date Closely
V.Turco, Canva
Some days I surprise myself with this whole adulting thing - being responsible not only for myself, but my 7-year-old daughter, our two cats, our home, my two jobs, and all that comes along with these things.
Other days, my biggest accomplishment is getting into my car wearing two of the same shoes - balance, right?
Over the weekend I learned just how absent-minded I can be, and how this truly innocent mistake could have landed me in major trouble.

I Didn't Realize My New York State License Had Expired
Just as everyone else in the world, I get way too much stuff in the mail. I'm typically pretty good with at least opening everything that looks important (aka, not junk), and glancing it over before it hits the shred pile.
I received something in the mail AND an email informing me that I was eligible for the NYS enhanced license, in fact, I actually wrote up a story about the differences between REAL and enhanced along with some timeline updates. I filed it away with my important documents for when the time came that I needed to upgrade, and went along with my life.
What I did NOT realize was that this letter, in addition to letting me know about upgrading, was also a note that my actual, regular, every day New York State license was expiring on my birthday.
My Shocking Discovery At Resorts World Hudson Valley
While visiting Resorts World Hudson Valley on Saturday with my dad (where we watched someone win $10,000), I went to sign up for a players club card and was denied because of my expired license.
Me? Expired? When?
After walking away, mortified with my mistake, and getting the death glare from my very Italian father, I looked at my license and realized that I had made a pretty big mistake. I couldn't understand how I didn't realize this before now, and how I managed to get on not one, but two flights when I recently took my daughter on the trip of a lifetime to Disney World.
How often do you actually look at your license and check the expiration date? That email from and the one letter in the mail (both that I thought were telling me to get an enhanced ID) clearly wasn't enough to make me step up my responsibility game. That and I had just did the whole new license thing in 2018 when I moved back to NY from MA, but apparently when you come from out of state back to NY, you need to renew sooner than the usual eight years.
Moral of the story, I am VERY lucky, and for a number of things. Lucky I didn't get into an accident or get pulled over, lucky that I managed to pull off our vacation, and lucky my dad managed to control his anger and disappointment in me.
The great thing that came out of this experience, though, was learning how easy it was to get this done with the appointment process they have at the DMV these days. I made the first possible appointment I could get, had all my documents ready, and was in and out with my new, up to date, LEGAL New York State license in under 10 minutes. I never even had to sit in the waiting room...a huge difference from 'the old days' - right?
Don't make the same mistake as me - read those emails and letters carefully if you get something from the state about updating your license...or not letting it expire.
17 New Laws in New York You Should Know
The New Year brings with it a host of new laws for Empire State residents. Here are nearly 20 that may impact you in 2022.
14 Laws in New York People Break Most Often
We're all guilty. Some more than others. How many of the 14 most broken laws are you guilty of?
More From Hudson Valley Post