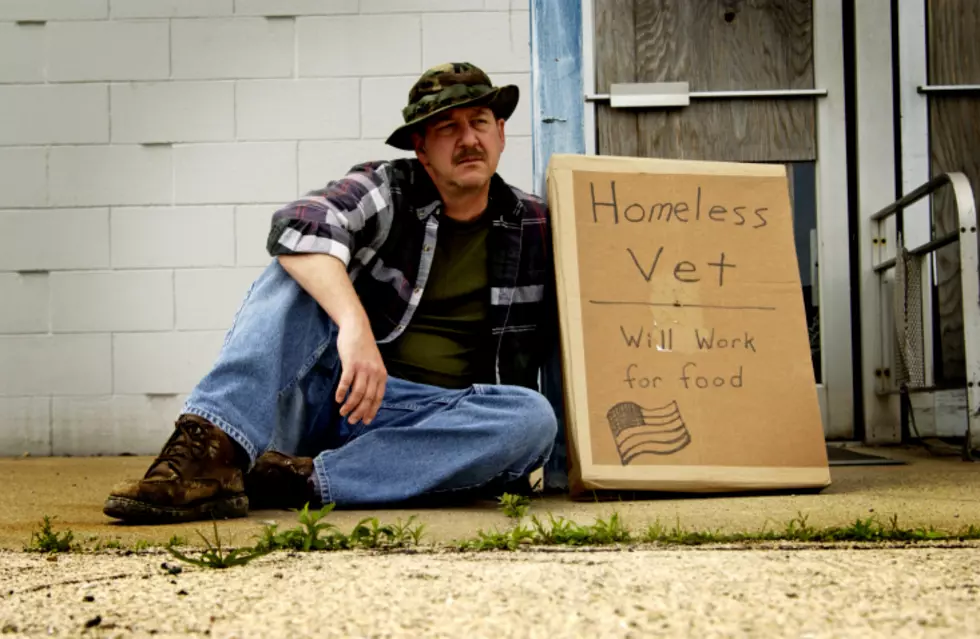 NYS Budget Doesn't Include Crucial Funding For Veterans
Vstock LLC/ThinkStock
No funding was included in Gov. Andrew Cuomo's budget proposal for a program that's saving the lives of many New York veterans.
Enter your number to get our free mobile app
Around 20 veterans commit suicide each day. Over the past four years, the Department of Veterans Affairs estimate on the number of veterans who take their own life has gone down from 22 a day to 17.
However, military officials say the rate is actually higher because the latest Veterans Affairs report removed servicemembers, as well as former National Guard and Reserve members who were never federally activated, from its count, Stripes reports. According to the Military Times, veterans are 1.5 times more likely to die from suicide than Americans who didn't serve.
The Joseph P. Dwyer Veterans Peer-to-Peer Support Program (Vet2Vet) started in 2012. It's now available in 27 counties across New York, including a number of counties in the Hudson Valley. Since the program started no veteran that has enrolled has committed suicide, officials confirmed to Hudson Valley Post.
"It's completely unheard of it. It just shows how much this program is needed," Mental Health America of Dutchess County Vet2Vet Program Manager Adam Roche told Hudson Valley Post. "We help so many veterans from suicide situations from their complete lowest. We talk to them. We talk them out of it. And now they aren't living they are thriving. That's what this program provides."
While the program is crucial to veterans, it was left out of Gov. Andrew Cuomo's Executive Budget Proposal, according to Sue Serino, New York Senate District 41.
"Our program has played a major role for the veterans who need us. The governor isn't backing them up when they really need him. It's a shame for these men and women who made the ultimate sacrifice," Roche said. This program is vital for veterans."
The Joseph P. Dwyer Veterans Peer-to-Peer Support Program (Vet2Vet) was named for an Iraq War Veteran who lost his life as a result of his struggle with PTSD. The program was initially launched in 2012 in four New York counties. It uses a unique and confidential peer-to-peer counseling approach to empower veterans and their families and to create a local network of support for our servicemen and women. The program has been so successful it has expanded across the state.
"Vet2Vet saves lives," Serino said. "That's reason enough to ensure that it is funded by the state consistently. Our servicemen and women have made tremendous sacrifices for all of us, and they shouldn't have to schlep up to Albany each and every year to fight for this critically important funding. This program works, and funding it should always be a top priority. I urge my colleagues to come together to not only fully fund the program, but to work towards expanding it statewide."
Cuomo's Executive Budget Proposal includes $5 million to help provide housing for homeless veterans and $1 million to support suicide prevention efforts among veterans and first responders, but no funding was expressly included to support the Dwyer Program," according to Serino.
"If the state has $5 million to dedicate to extending the state fair for a few days, we have the $4.4 million it would take to maintain and expand the Dwyer Program. I govern by listening and our veterans are telling us that the Dwyer Program is indispensable. These new programs will be great additions to the services we currently offer, but they cannot come at the expense of a program that we know is needed and successful," Serino said.
Vet2Vet is funded by the Joseph P. Dwyer Veterans' Peer Services Project. Services for veterans include:
Support groups
Social activities
Assistance in finding housing and/or employment for homeless veterans
Advocacy for benefits
Emotional support
Educational information
Referrals to useful services
Information around Support Groups, and Social Events
Short-term care management
"The VA hasn't been attentive enough to help the veteran's enough. This is just common sense. You are helping too many people. Helping people who served this country," Mental Health America of Dutchess County CEO Andrew O'Grady told Hudson Valley Post." "The Vet2Vet program engages veterans right away. It's a great program. The numbers speak for themselves."
According to the governor's office, under this administration, New York has enacted the nation's largest fund for service-disabled veteran-owned businesses, certifying over 600 businesses to date; convened the State's first-ever Summit on Veterans and Military Families; launched the Justice for Heroes Initiative to fund legal clinics at law schools that provide assistance to veterans; provided funding for nonprofits that offer peer-to-peer support for veterans and their families; promoting the Ambassador Carl Spielvogel Fund to boost education opportunities for thousands of military students and their dependents at SUNY campuses and waived the application fee for veterans taking Civil Service exams. Governor Cuomo's efforts have made New York the most veteran-friendly state in America.
These programs are traditionally added by the Legislature each year during the budget process and included in the final enacted budget signed by the Governor. The Governor's office has no opposition to including these programs in the final budget, as it has been included for the last several years.
"Political grandstanding and scare tactics like this are a disservice to New York's veterans, and shame on those who use them instead of better understanding the budget process and working together to help these heroes. Governor Cuomo has been a champion for New York's veterans, consistently advancing important initiatives to support their mental health, education, housing, business and overall quality of life. In his 2020 State of the State address, the Governor proposed expanding affordable housing to address veteran homelessness, investing in suicide prevention efforts, and providing free college courses to veterans; and last year, the Governor signed more than a dozen bills enhancing services and bolstering protections for veterans, Jason Conwall, spokesman for Gov. Cuomo, told Hudson Valley Post."
Disclosure: Mental Health America of Dutchess County is a sponsor of the WPDH Vets Who Rock program. Hudson Valley Post and WPDH are both owned and operated by Townsquare Media of the Hudson Valley.