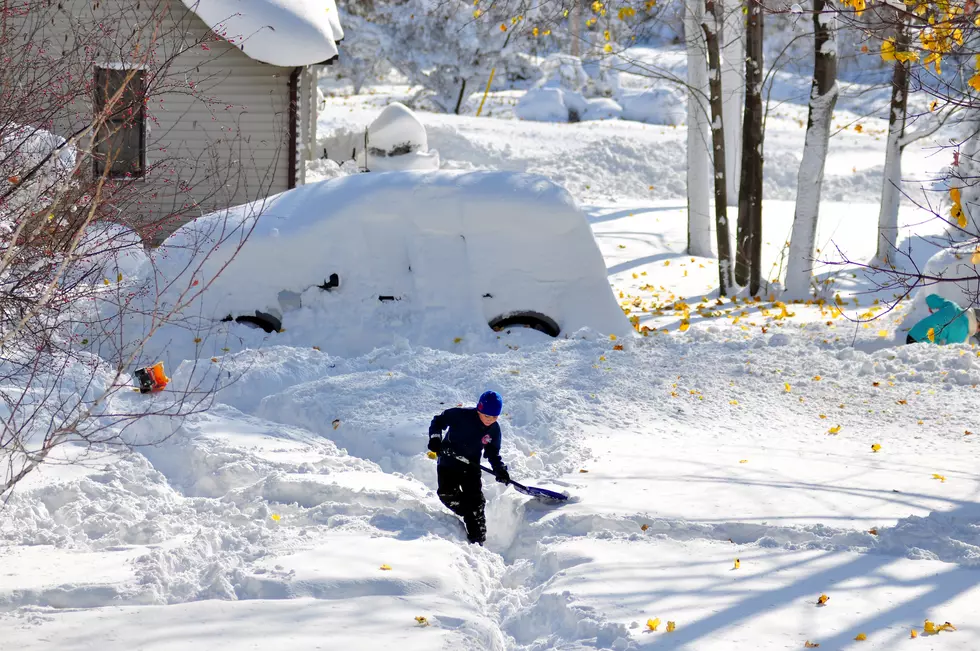 Nor'easter Snowfall Totals For Hudson Valley, Upstate New York
Getty Images
The Nor'easter was a boom-or-bust storm. Depending on where you lived you received up to 3 feet of snow or very little.
For all the news that the Hudson Valley is sharing make sure to follow Hudson Valley Post on Facebook, download the Hudson Valley Post Mobile App and sign up for the Hudson Valley Post Newsletter.
Weather experts reported this week's Nor'easter could bring anywhere from 2 to over 30 inches of snow to the Hudson Valley.
It turns out they nailed it. Below are Hudson Valley Weather's final snowfall predictions.
Eastern Catskills
Catskills & Upper Hudson Valley
Mid & Lower Hudson Valley
Central/Lower Ulster County
Extreme Lower Hudson Valley
Below are the unofficial snow totals from the National Weather Service:
COLUMBIA COUNTY
N AUSTERLITZ 31.0
AUSTERLITZ 20.5
HILLSDALE 20.3
CANAAN 18.0
CHATHAM 14.5
TAGHKANIC 13.2
DUTCHESS COUNTY
MILLBROOK 13.0
BEEKMAN 12.0
LAGRANGEVILLE 10.8
HOPEWELL JUNCTION 10.6
FISHKILL 10.5
LAGRANGE 10.0
POUGHKEEPSIE 7.5
ORANGE COUNTY
MONROE 15.5
CHESTER 9.4 IN
PORT JERVIS 8.5 IN
GREENWOOD LAKE 6.5 IN
SALISBURY MILLS 6.1 IN
PINE BUSH 5.0 IN
WALDEN 2.2 IN
GREENE COUNTY
PALENVILLE 36.0
HUNTER 32.3
WEST KILL 32.0
EAST JEWETT 28.0
HALCOTT CENTER 22.0
LEXINGTON 20.0
GREENVILLE 18.0
CAIRO 9.0
CATSKILL 5.5
ATHENS 3.4
PUTNAM COUNTY
FAHNESTOCK STATE PARK 17.0 IN
CARMEL 12.0 IN
PUTNAM VALLEY 11.9 IN
COLD SPRING 10.5 IN
MAHOPAC 6.4 IN
ROCKLAND COUNTY
CHESTNUT RIDGE 2.0 IN
NEW HEMPSTEAD 1.4 IN
STONY POINT 1.1 IN
WESTCHESTER COUNTY
NORTH CASTLE 7.1 IN
PEEKSKILL 7.0 IN
SHRUB OAK 4.0 IN
SOMERS 4.0 IN
ARMONK 3.5 IN
OSSINING 1.5 IN
SOUTH SALEM 1.3 IN
ALBANY COUNTY
RENSSELAERVILL 25.4
KNOX 24.5
ALTAMONT 15.5
ALBANY 13.0
DELMAR 10.5
COLONIE 8.6
ULSTER COUNTY
ULSTER PARK 5.5
HIGHLAND 4.9
KERHONKSON 4.3
WEST SHOKAN 4.0
SAUGERTIES 0.1
FULTON COUNTY
GLOVERSVILLE 7NW 14.9
NORTHVILLE 9.5
HAMILTON COUNTY
INDIAN LAKE 32.3
LAKE PLEASANT 30.1
PISECO 27.0
HERKIMER COUNTY
SALISBURY CENTER 15.5
WEST WINFIELD 12.0
MONTGOMERY COUNTY
RENSSELAER COUNTY
PETERSBURGH 31.0
BERLIN 26.0
AVERILL PARK 26.0
POESTENKILL 25.3
TROY 20.9
VALLEY FALLS 19.5
WEST SAND LAKE 19.5
SPEIGLETOWN 18.0
GREENBUSH 18.0
TROY 17.2
EAST GREENBUSH 17.0
 VALLEY FALLS 15.7
BUSKIRK 15.0
HOOSICK FALLS 14.5
EAST SCHODACK 13.5
SCHAGHTICOKE 13.0
SARATOGA COUNTY
LAKE DESOLATION 26.0
ROCK CITY FALL 22.2
CORINTH 16.0
SARATOGA SPRINGS 14.3
SACANDAGA LAKE 14.0
GALWAY 13.6
CLIFTON PARK 12.5
HALFMOON 11.5
SCHENECTADY COUNTY
DELANSON 16.0
AQUEDUCT 9.5
NISKAYUNA 8.6
SCHENECTADY 8.0
SCHOHARIE COUNTY
MIDDLEBURGH 30.0
JEFFERSON 28.0
RICHMONDVILLE 24.0
GILBOA 23.0
SCHOHARIE 21.0
CHARLOTTEVILLE 16.0
WASHINGTON COUNTY
GRANVILLE 24.0
HARTFORD 22.5
HEBRON 18.0
SALEM 15.5
Upstate New York Cop, Hudson Valley School Employee Accused Of Quadruple Murder
WARREN COUNTY
STONY CREEK 36.0
BRANT LAKE 31.0
WARRENSBURG 17.1
LAKE LUZERNE 15.5
LAKE GEORGE 13.8
GLENS FALLS 9.5
These 10 Cities In New York Have The Highest Divorce Rates
Almost 50 percent of all marriages in the United States will end in divorce or separation. With odds like that, where are the highest divorce rates in New York State?
Did You Know? Over 100 Fun Facts About the Hudson Valley
Did you know that Lucille Ball made her stage debut in the Hudson Valley? How about Philadelphia Cream Cheese wasn't invented in Philadelphia, but in Orange County? Or that a mansion in Dutchess County inspired the expression "keeping up with the Joneses?" Find out about those and over 100 other fun facts about the Hudson Valley.
Nearly 50 Children Have Recently Gone Missing From New York State
Close to 50 children from New York State and the Hudson Valley have recently gone missing. You can help a New York family get reunited with a missing loved one.
KEEP READING: See the richest person in every state
More From Hudson Valley Post