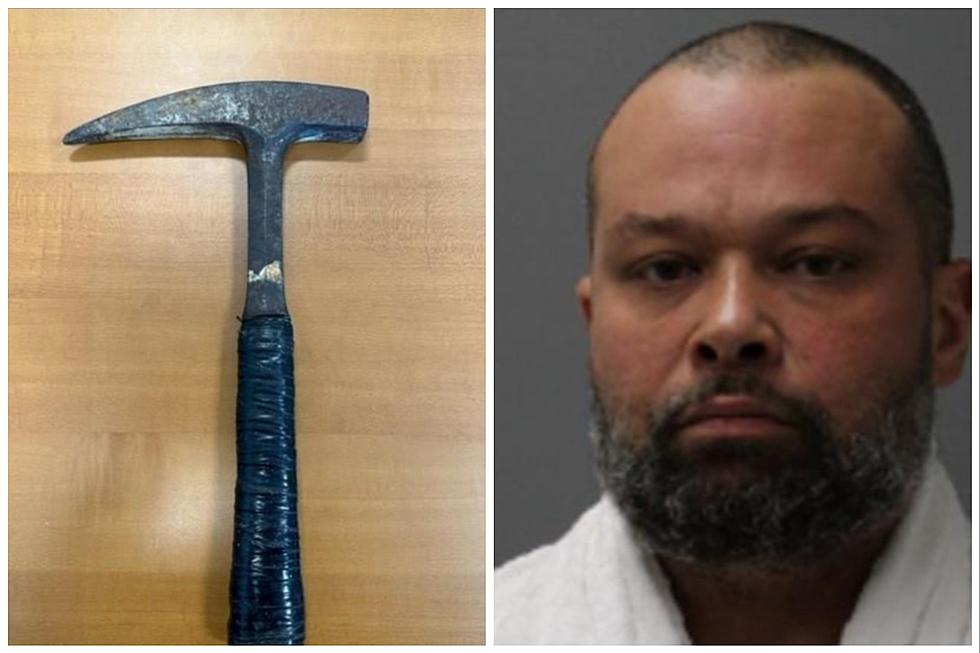 New York Man Nearly Kills Mom, Son With Hammer In Hudson Valley
OCDA
A mother and son were nearly killed inside their Hudson Valley home by a man with a hammer. Their attacker was just "punished for his horrific actions."
On Tuesday, Orange County District Attorney David M. Hoovler announced that 43-year-old Shawn Beach, age 43, of Port Jervis, was sentenced in the Orange County Court
Sentencing In Orange County Court
Beach was sentenced to an aggregate term of 30 years in prison to be followed by five years of post-release supervision.
Beach was convicted in August of two counts of attempted murder in the second degree and assault in the first degree after a jury trial.
For all the news that the Hudson Valley is sharing make sure to follow Hudson Valley Post on Facebook, download the Hudson Valley Post Mobile
Beach had a prior violent felony conviction from 2003.
Details Of Attempted Murder Case In Port Jervis, New York
On Dec. 11, 2022, Beach swung a hammer in the direction of a woman in a Port Jervis, New York home. The woman's 18-year-old son was home.
The son heard his mom screaming and rushed downstairs to help. Beach then hit the teen in the head with the hammer, fracturing his skull.
The 18-year-old nearly died, officials say. He was treated for life-threatening injuries at Westchester Medical Center.
"This violent recidivist was appropriately punished for his horrific actions," said District Attorney David M. Hoovler. "Domestic violence has life-changing consequences and the victims in this case are to be praised for their bravery in coming forward."
9 Of New York State's Most Wanted Criminals- October 2023
Below are individuals wanted by the New York State Department of Corrections and Community Supervision's (DOCCS) Office of Special Investigations who have been designated as its
Most Wanted Fugitives
. They should be considered armed and dangerous. This list is current as of 10/01/2023:
NEVER attempt to apprehend a fugitive yourself. If you have information on the location of any of these fugitives, you can contact OSI 24 hours a day / 7 days a week to report it. All leads and tips are treated as confidential information.
If an immediate response is necessary, such as you see the wanted person at a location, please call "911" and report it to the police.
Gallery Credit: Dave Wheeler
Nearly 50 Children Have Recently Gone Missing From New York State
In just a few months around 50 children from New York State and the Hudson Valley went missing
If You See Purple Paint in New York You Need To Leave Right Away
Do you know what to do if you see purple paint in New York State? The easiest advice, run. Here's why.
More From Hudson Valley Post