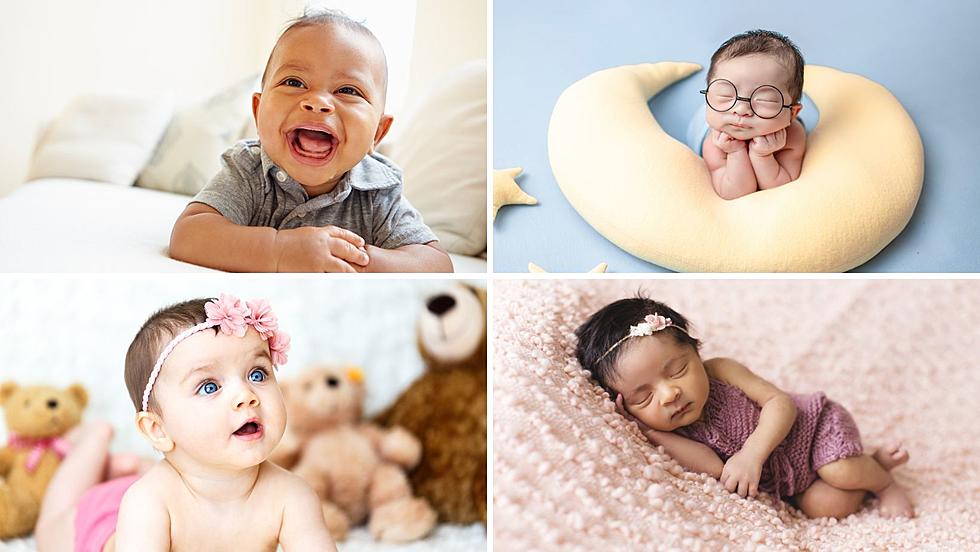 Need a Baby Name? These are the top 20 Baby Names in New York for 2023
Canva
If you're having a baby in New York in 2023 and are having difficult time narrowing down a baby name, we may be able to help.
Top Baby Names of 2023 So Far...
Names.Org has been tracking the popular name trends across the United State so far in 2023 and breaks down the top names in each state. The folks at Names.org have a method to their madness, on they site they explain in depth writing:
Each year, the Social Security Administration publishes the totals for the first names from all Social Security card applications for births that occurred in the US since 1880.
They add that the  "publication is the most complete record of first name usage in the United States." Since Social Security can take time to collect baby name data each year, Names.org "used data on the actual births in recent years to predict the most popular baby names of 2023." Their formula takes the 5 most recent years worth of data  from Social Security Administration to detect any trends.
Popular Name or Unique Name?
While the website breaks down the top 50 male and female names so far, the list begs the bigger question: Do you really want to use one of the most popular names or go with something more unique?
If you're having trouble landing on a name then the list can be a vessel of inspiration and maybe start a conversation that will get you to a completely different name.
Take a look below at the Top 10 Girl and Boy names in New York for 2023 below. Did your name make the list?
10 Most Popular Girl Names in New York in 2023
Having a baby girl in New York this year and need a little help narrowing down your name list? We got you covered!
10 Most Popular Boy Names in New York in 2023
Having a baby boy this year? Need help picking out a name? We got you!
Adorable Pics from "Baby Animal Days" at Indian Ladder Farms
We couldn't have asked for a better day to hang out at the baby barn at Indian Ladder Farms in Altamont and full disclosure, I was tempted to sneak home a baby lamb. Thankfully, I resisted the urge, but man these goats, piglets, lambs, and calves were too dang cute.
Saturday's weather provided the perfect backdrop for a day of family fun on the farm as Brian and Chrissy hosted the annual event announcing the new names of the super-cute babies added to the barn.
Guests were invited to submit their best suggestions, and in all,12 babies got new names!
See pics of the sweet, furry animals (with their exciting new names) as well as a bunch of other pics taken throughout the fun day we had at Indian Ladder Farms in Altamont.
More From Hudson Valley Post