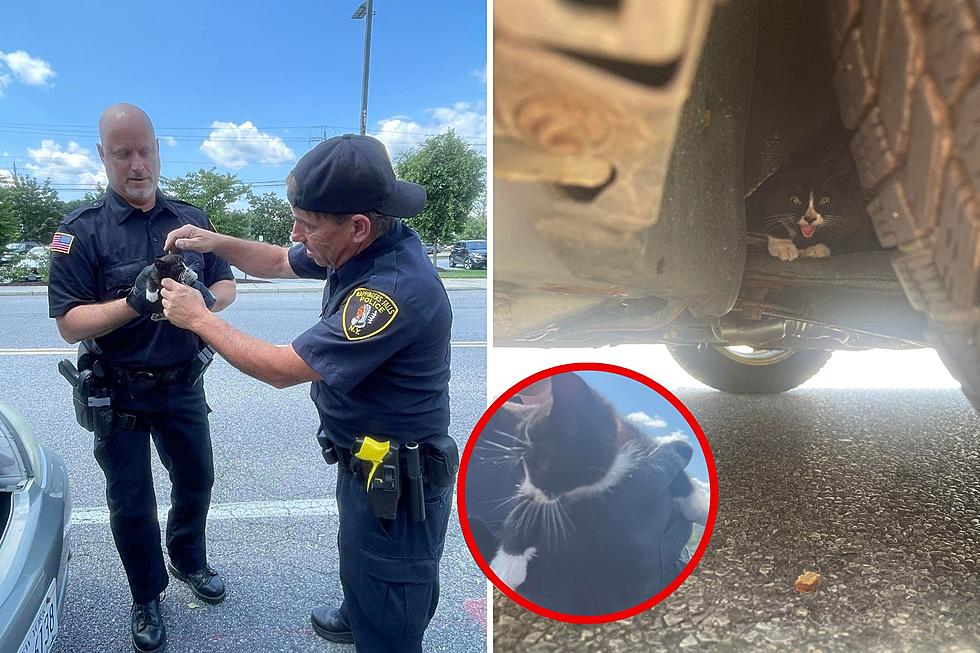 Wappingers PD Helps Rescue Kitten From Car Engine; Meet 'Toyota'
N.Sapienza, canva
Just another day in the neighborhood in Wappingers Falls, and all in a day's work for local law enforcement that responded to a call regarding a baby kitten stuck inside a car's engine compartment.
Kitten Gets Stuck Inside Hood of Car in Wappingers Falls
On Monday, July 31st, Nicole and Angelina Sapienza were headed into the Planet Fitness gym parking lot just off Route 9 in Wappingers Falls when they approached a stop sign and spotted what appeared to be a kitten running back and forth.

Nicole, in describing the incident shared that her daughter was driving at the time, and immediately stopped the car when the kitten ran towards the car.
She put the car in park and turned it off. I got out to see where it was, and a passing car said it went behind her front tire. I looked under the car to find the kitten and I couldn't see it. By this time several people stopped to help.
Once they popped the hood open, they found the little kitten in the engine compartment sitting on the control arm. They spent about 20 minutes attempting to reach the kitten or lure it out, but were unsuccessful and ended up calling 911.
Officer Wilson and Officer Reggero from the Village of Wappingers Police Department responded to the scene and ended up having to jack the car up. Even the officer's attempts were unsuccessful, as the tiny kitten kept running from one side to the other while officers tried to get him out.
Finally he went into the front bumper where one office lying on the ground was able to get a hold on him and the other officer pulled him out. We instantly called him Toyota after her car.
CARE of DC Takes in 'Toyota' The Cat
Following his rescue by Wappingers PD, Toyota was turned over to CARE of DC, a local rescue out of Wappingers who have had him checked out and placed him with a foster family while he recovers.
In speaking with Karen LeCain who runs CARE of DC, she shared that Toyota is doing great!
We want to thank everyone involved in the rescue of Toyota. This is a great example of how teamwork can save lives. Thank you to the driver, the officers and the people that foster. Toyota has already been examined by Dr. Rebecca Rider and he was found to be in good health other than a small burn on his nose.
Toyota will be available for adoption in about three weeks, and those interested can apply to adopt him at careofdc.org.
Meet the 19 Beagle Pups Saved By CARE of DC in Wappingers Falls, NY
4,000 beagels were recently saved from terrible conditions at a breeding facility in Virginia. 19 of them are up for adoption through CARE of DC in Wappingers Falls, NY.
State of The Art 'Smart Apartments' Available For Rent in Wappingers Falls, NY
Amazing views and decked out in smart appliances, the West Main Lofts in Wappingers Falls will be the hottest spot to live in Dutchess County.
More From Hudson Valley Post