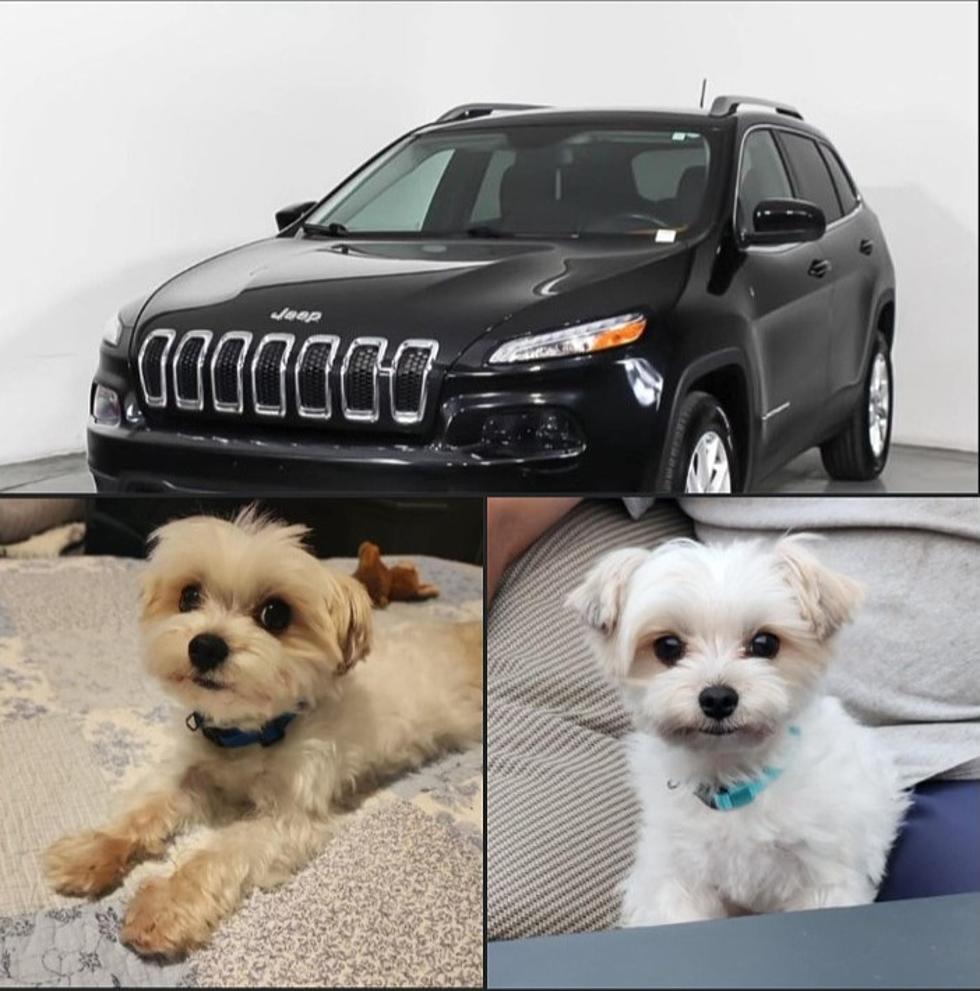 Jeep Stolen In Upstate New York With Beloved Pet Inside
NYSP
A family shopping in Upstate New York dealt with a nightmare. Their Jeep was stolen with their dog inside.
On Saturday New York State Police asked for the public's help after a vehicle was stolen with a beloved pet inside.
Jeep Stole Near Waterloo, New York With Dog Inside
New York State Police in Waterloo asked for the public's help in finding the stolen Jeep. Police said the Jeep was stolen from the Waterloo Outlets with the owner's dog inside.
It's unclear when on Saturday the Jeep was stolen, but New York State Police posted for help on Saturday just after 8 p.m.
For all the news that the Hudson Valley is sharing make sure to follow Hudson Valley Post on Facebook, download the Hudson Valley Post Mobile
Beloved Pet Inside Jeep Stolen From Seneca County, New York
A 6-year-old male Morkie, a Maltese poodle Yorkie mix, named Glenn was inside a black 2015 Jeep Cherokee Latitude with a PA plate JWK2417.
Glenn weighs about 3.5 pounds.
"Anyone with information, please contact the New York State Police at (585) 398-4100," New York State Police stated.
New York State residents did what they could to help find Glenn and the stolen Jeep. New York State Police's post about the stolen dog and Jeep was shared by nearly 9,000.
Stolen Jeep With Pet Inside Recovered In Upstate New York
This story thankfully has a happy ending. On Monday, New York State Police announced that the Jeep and pet were found. The dog wasn't harmed.
"The vehicle and the dog have been recovered. Glenn is healthy and unharmed," New York State Police said.
It's unclear why Glenn was left in the Jeep or who took the Jeep, but Glenn's owner, Jaime Rhinehart, thanked the police and everyone for helping.
"GLENN IS HOME SAFE! A VERY SPECIAL THANK YOU TO THE AMAZING & DEDICATED NEW YORK STATE TROOPERS FOR ALL OF THEIR HARD WORK ♥️ & TO ALL OF THE PEOPLE WHO SHARED THE POSTS & MESSAGED US. ❤️ WE ARE BEYOND APPRECIATIVE! 😀," Rhinehart wrote on Facebook. "Thank You Again So Much!!"
The Top 10 Most Stolen Cars In New York State
Nearly 50 Children Have Recently Gone Missing From New York State
In just a few months around 50 children from New York State and the Hudson Valley went missing
If You See Purple Paint in New York You Need To Leave Right Away
Do you know what to do if you see purple paint in New York State? The easiest advice, run. Here's why.
More From Hudson Valley Post