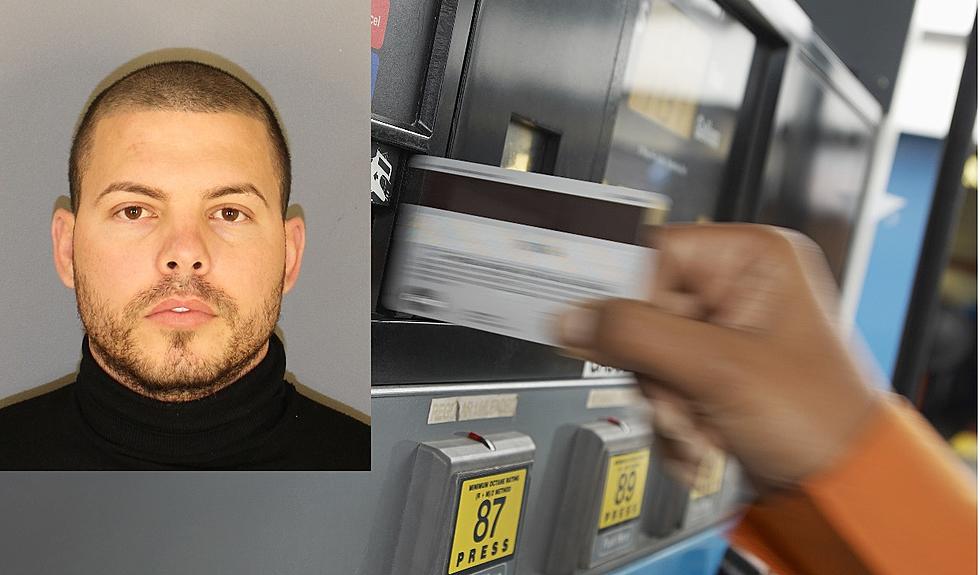 Thousands Of Gallons Of Gas Stolen In Upstate New York Sold On Black Market
IPGGutenbergUKLtd/SCSO
Police from the Hudson Valley uncovered a "wide-ranging" credit card gas scheme.
On Monday, the Sullivan County Sheriff's Office announced a New Jersey man was arrested "in connection with a wide-ranging credit card fraud scheme."
Wide-Ranging Credit Card Scheme Uncovered In Sullivan County, New York
On Jan. 18, a Parksville resident contacted the Sullivan County Sheriff's Office to report that a fraudulent $296 charge for fuel was made to his credit card at a Mirabito gas station in Norwich, New York.
Working with the Chenango County Sheriff, the Madison County Sheriff and New York State Police, deputies were able to identify a man driving a red Volvo tractor-trailer with a disguised tank mounted in the bed of the semi-trailer, police say.
Police also learned that the caller's credit card number was allegedly copied in the Liberty, New York area and then re-written to a gift card that was used by the thief.
Police: Gas Stolen In Hudson Valley Sold On Black Market
Police identified the suspect as 30-year-old Yosiel R. Linares of Union, New Jersey.
"The suspect would go to gas stations that did not yet have chip readers on their pumps and swipe the counterfeit cards containing the stolen credit card numbers using the card's magnetic stripe. The suspect reportedly pumped thousands of gallons of diesel fuel which was then transported to the state of New Jersey where it was apparently sold on the black market," the Sullivan County Sheriff's Office stated.
For all the news that the Hudson Valley is sharing make sure to follow Hudson Valley Post on Facebook, download the Hudson Valley Post Mobile App and sign up for the Hudson Valley Post Newsletter.
Last month, Sullivan County detectives identified the suspect as Linares and obtained a warrant for his arrest.
He was arrested in New Jersey and brought back to Sullivan County in early March.
Suspect Released Due To "New York Bail Reform"
He was released under the New York bail reform, police note.
"Under the New York bail reform laws, Yosiel Linares was released on his own recognizance pending a future court date. The Sheriff's Office is working with the other law enforcement agencies to identify other suspects that may be involved in this case. The investigation is continuing," the Sullivan County Sheriff's Office stated.
How to Keep Your Pets Safe in the Snow
5 ways to keep your pet safe in the snow according to
mass.gov
.
Nearly 50 Children Have Recently Gone Missing From New York State
Close to 50 children from New York State and the Hudson Valley have recently gone missing. You can help a New York family get reunited with a missing loved one.
Did You Know? Over 100 Fun Facts About the Hudson Valley
Did you know that Lucille Ball made her stage debut in the Hudson Valley? How about Philadelphia Cream Cheese wasn't invented in Philadelphia, but in Orange County? Or that a mansion in Dutchess County inspired the expression "keeping up with the Joneses?" Find out about those and over 100 other fun facts about the Hudson Valley.
KEEP READING: See the richest person in every state
More From Hudson Valley Post