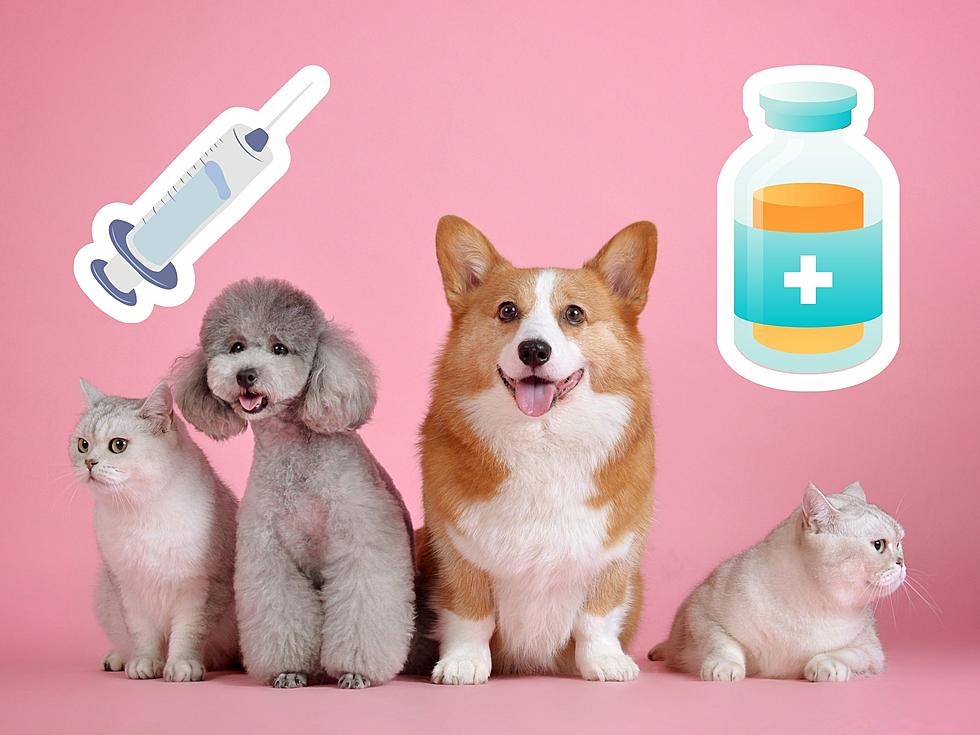 Important Tip to Protect Your Pets From Rabies in Dutchess County
Canva, Conor
It's Spring, and that means hibernation season is well over. It's great to see the wildlife flourishing, but you have to be weary about what is around you and your furry friends. To prevent rabies cases from spiking this spring and summer, take action to protect your pets.
Dutchess County Offers Free Rabies Vaccination Clinic
Dutchess County Government is making it very easy for residents to protect their pets. The Dutchess County Department of Behavioral & Community Health in partnership with the Dutchess County SPCA will be holding a Free Rabies Vaccination Clinic. The event will be held on Sunday, June 4th from 8am to 12pm, and will be at the Town Center Park Pavilion (71 Town Center Boulevard, Hopewell, New York. Dutchess County invites pet owners to bring their dog, cat, or domestic ferret that are 3 months of age or older to receive their rabies vaccine. Vaccinations will be good for three years for pets with proper proof of prior immunization. For those without proof, the vaccine will be good for one year.
Though the event is free, they are not taking walk-ins. You must register for the FREE Rabies Vaccination Clinic. One can register for the clinic by going to the DCSPA website. Proof of residency is required. Non-residents will be charged a fee of $10 per each pet vaccinated, which, to be honest, doesn't sound that bad! While there, all dogs must be on a leash, and cats and domesticated ferrets must be in carriers.
According to the Dutchess County Government website:
Rabies vaccinations are important to protecting the health and well-being of a pet. If an animal that is unvaccinated or not up to date on its rabies vaccination fights with a rabid or suspect-rabid animal, the pet must be promptly destroyed or placed in quarantine for six months to protect other animals and people in case the pet develops rabies. These mandates do not apply to a vaccinated pet in the same situation. In such cases, only a booster dose of rabies vaccine would be given within five days to treat the pet.
For more information, you can visit the event page on the Dutchess Government website.
Celebrate National Pet Day at These Fun and Fantastic Upstate New York Pet Stores
There are many celebratory pet days in the month of April for all kinds of pets. April 11 is the first one to come up (National Pet Day), and while this day celebrates all pets, we are shining the spotlight on a dozen great places for your doggie to revel in. These pet stores and dog boutiques, scattered all around Upstate New York, are awesome! And cat lovers relax, we will celebrate kitties later in the month of April!
Celebrate National Pet Day with These Pet Friendly Trails in New York
Show your furry friend some appreciation by taking them out for a hike or a bike ride along these New York trails, as reported by
Johnathan Hall
and
Suzanne Huwe
from CDPHP.
More From Hudson Valley Post