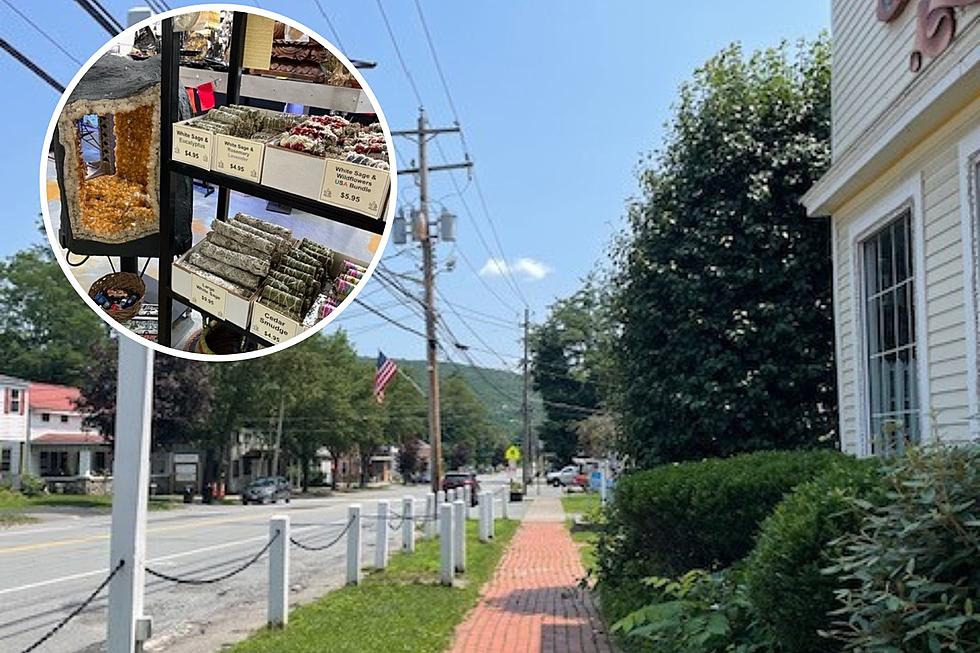 The Best Way To Spend a Day In Wurtsboro, NY
Canva, Allison Kay
Looking to take a day trip in the Hudson Valley? This is something that I did recently and enjoyed my time in Wurtsboro, NY.
Wurtsboro is a village located in Sullivan County, NY. It's filled with small businesses, friendly locals and plenty of places to explore.
The Village of Wurtsboro shared,
"For decades, Wurtsboro was one of Upstate New York's major transportation hubs, traversed by the Delaware & Hudson Canal from 1850 to 1942, and later the Ontario & Western Railroad."

"As people and goods were shuttled to and from New York City, the village thrived, and shops and restaurants sprang up to accommodate visitors. In the mid to late twentieth century, Wurtsboro's proximity to Route 17 made it a favorite stop for downstate urbanites bound for the popular resorts for which Sullivan County was then famous."

 
How Can Wurtsboro, NY Be Described Today?
According to The Village of Wurtsboro,
"Wurtsboro's storefronts draw traffic from across the Hudson Valley region, and as environmental stewardship becomes a priority for many, the village's scenic parks, preserves, and hiking trails attract ecotourists from throughout the New York metropolitan area"
Wurtsboro, NY is the home to a huge crystal shop in an old church, a two century old country themed store and Custer's last stand.
Here Are The Top 4 Things To Do In Wurtsboro, NY
1.) Crystal Connection
116 Sullivan St, Wurtsboro, NY 12790
This popular crystal shop is known for being "One of the largest Crystal & Mineral destinations on the Northeast".
Crystal Connection is located in an 1890 Methodist Church in the village of Wurtsboro, NY. It can be described as a hidden gem filled with more gems, sage, jewelry and more.
When I arrived at Crystal Connection, I was impressed by the number of crystals outside, the beautiful church setting and all of the crystals that live inside. They have unique gift options, events and more. This is a crystal lovers dream come true.
2.) Canal Towne Emporium
107 Sullivan St, Wurtsboro, NY 12790
History lives on at Canal Towne Emporium in Wurtsboro, NY. It's a "restored 1840's general store that was originally a trading post for the D&H Canal."
Canal Towne Emporium feels cozy, rustic and almost nostalgic. I came across candy that I bought as a child, unique gifts and something for everyone when I visited. They have handcrafted goodies, country food options, jewelry and Christmas items.
Christmas lovers would enjoy Canal Towne Emporium all year round. 
3.) Sullivan Catskills Dove Trail
Village of Wurtsboro, NY
I came across the Sullivan County Dove Trail in Wurtsboro, NY and followed it. 
 The dove sign on site, is part of a collection of 50 fiberglass doves. These doves are throughout Sullivan Catskills and represent the 50th anniversary of the 1969 Woodstock Festival.
That dove sign was created by artist Kim Simons and can be found in the Village of Wurtsboro. Each dove is hand painted by local and professional artists who were inspired by love at Woodstock in 1969.
4.) Custer's Last Stand
176 Kingston Ave, Wurtsboro, NY 12790
History buffs will enjoy visiting Custer's Last Stand in the Village of Wurtsboro, NY. In a prime location, there is a gas station, shops and restaurants nearby this Hudson Valley ice cream stand.
This popular ice cream had over 705 likes and 717+ followers on their older Facebook account. Now under, "Custer's last stand" on Facebook, they post pictures of their delicious ice cream options available.
There are food options available at Custer's Last Stand. Some fan favorite ice cream flavors consist of cotton candy, blueberry cheesecake along with Italian ice options such as blue hawaiian.
Humans aren't the only ones who can stop by Custer's Last Stand for some mouth watering goodies. There are frozen doggie treats available for our furry friends that we love so much.
When will you visit Wurtsboro, NY? Have you been there before? Tell us below what you enjoyed the most.
Eat Your Way Through The Hudson Valley With The Best Ice Cream
I have always enjoyed stopping by my favorite local ice cream shops and choosing a new flavor. Whether it's a hot fudge sundae, chocolate peanut butter ice cream in a cone, or an ice cream sandwich, count me in.
The Hudson Valley has
strange ice cream flavors.
From lemon poppyseed to thai iced tea and barn boots, there aren't any boring flavors in our area.
A 'Premiere' Hudson Valley
treat shop
was expanding their space during the winter months to prepare for a busy summer season.
Thankfully, we have a large selection of local ice cream shops to visit in the Hudson Valley.
Take This Fascinating History Crawl Through Hyde Park, NY
Hyde Park, NY is located in Dutchess County, NY. It is the home to several prominent figures that played a role in how the world was once formed. Even though these members of society have passed on, their stories and legacies continue in our area.
I have had the chance to visit these historical sites and will always remember what each one meant to me, what I learned on the tours and how guests can continue to visit in 2023.
More From Hudson Valley Post