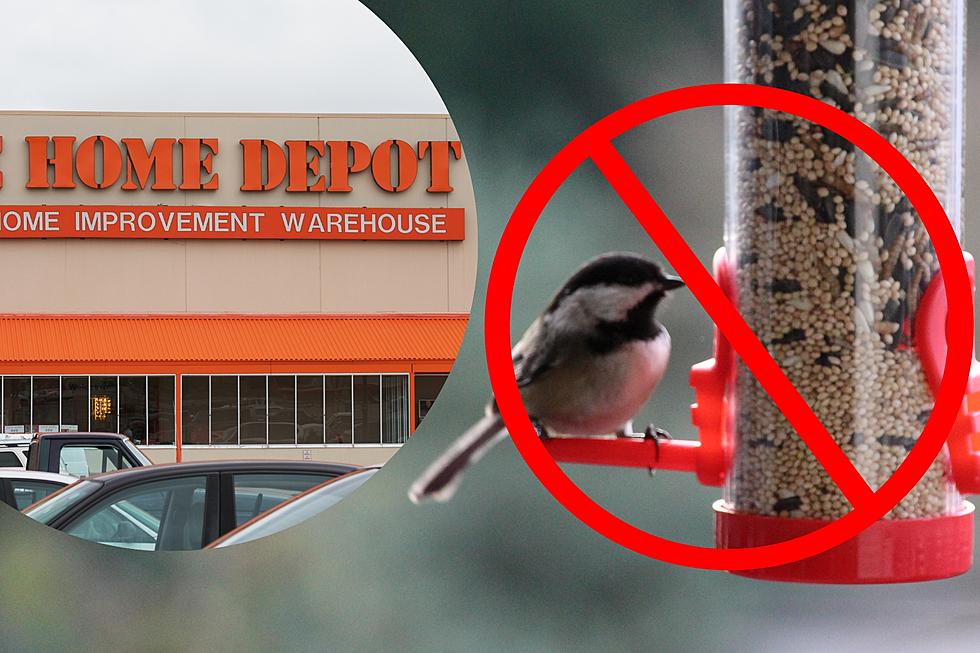 Why One Hudson Valley Home Depot is Refusing to Sell Birdseed
Canva
If you're shopping for birdseed, there's one Home Depot location in the Hudson Valley that you should probably avoid.
When it comes to home improvement stores, The Home Depot is usually my first choice. Nothing against Lowes, but I just like that workin' man vibe the Depot gives off. That thin layer of dirt that covers every single item in the store (seriously, where does that come from?) makes me feel like I'm getting ready to do an honest day's work.
This week I was shopping for some garden supplies at the Wappingers Falls Home Depot when I remembered that I was running low on birdseed. After checking the usual spots, I became confused after not being able to locate any bags of seed. Because an employee is never around when you need one (and always there when you get the urge to jump on a tractor and try it out), I popped open the store's website to find out what aisle the birdseed was moved to.
According to the site, the store had 18 bags of birdseed but there was no indication as to what aisle they were located in. After making several loops around the store I stumbled across what appeared to be two managers speaking with an employee in the garden section.
I approached one of them and asked where I could find the birdseed and they immediately cut me off, explaining that there was no birdseed in the entire store. As I tried to explain that the website would allow me to order some for immediate pickup, he assured me that there was no birdseed anywhere at the Wappingers Falls Home Depot because of a rodent issue. As soon as he said it, the other manager shot him a look and nervously laughed, telling him he didn't need to give the customers all of the details.
Now, if this was a supermarket or restaurant I probably would have been grossed out, but seeing as anything I would buy in the garden section of the Home Depot is going to go outside my house where plenty of mice already live, it didn't really bother me at all. And as someone who's had the same problem of mice finding the bag of birdseed in my shed, the problem was completely understandable. I was surprised, however, that instead of coming up with a different storage solution the store had just decided to stop carrying birdseed altogether.
So, if you're in the market for birdseed you probably shouldn't waste a trip to the Wappingers Falls Home Depot. I was assured by the manager, however, that they were the only Home Depot store in the Hudson Valley with this policy. So if I wanted birdseed I could just visit one of their other locations. Instead, I just drove up the road to Lowes which had plenty of seed in stock. But you can be certain I carefully shook the bag and made lots of loud noise while picking it up just in case there were some critters enjoying a snack.
How to Make a Pumpkin Bird Feeder
I can't take credit for inventing this clever fall-themed bird feeder. I actually saw it first posted by the Farmer's Almanac. This is the Pumpkin BIrdfeeder I made this weekend with a Hudson Valley pumpkin and some birdseed grown in the USA. Nature arts and crafts at my house this weekend turned out to be really easy and fun to watch once the squirrels and chipmunks found it.
Stunning Photos Capture Falcon Tearing into Another Bird Along Hudson
More From Hudson Valley Post