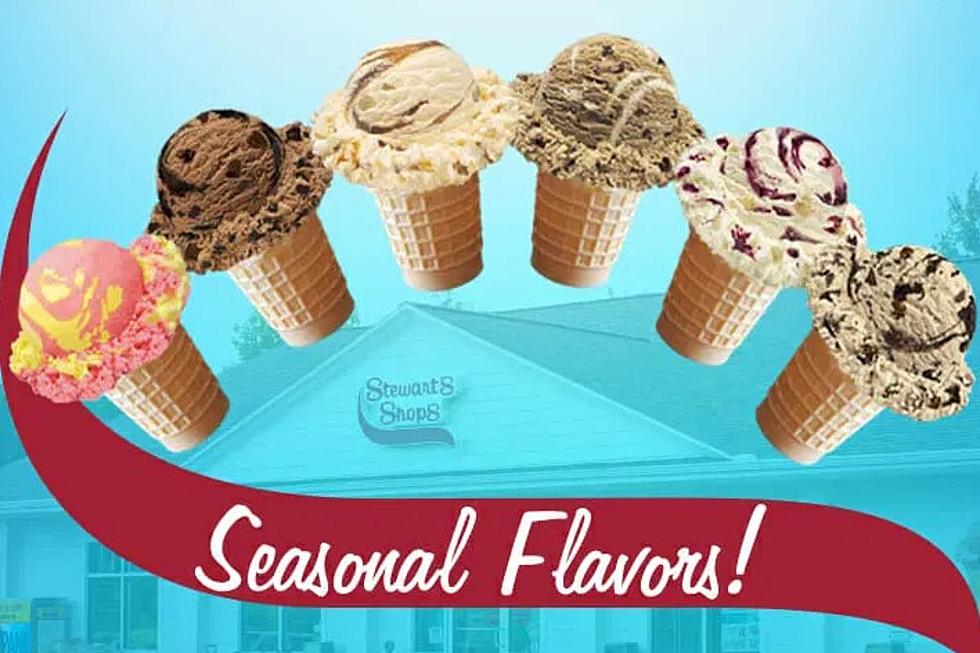 Stewart's Releasing Five New Ice Cream Flavors
Stewarts.com
Spring and summer will be here before you know it and one popular ice cream shop is planning on adding five new choices to its ice cream menu and bringing back a fan favorite.
If you are one of the thousands of ice cream fans in the Hudson Valley and you like to try new things, get ready for some amazing news from one of the area's favorite places to grab an ice cream.
Stewart's Shop for Ice Cream
Stewarts Shops have store locations all across the Hudson Valley with stores in Hopewell Junction, Poughkeepsie, Kingston, & Red Hook to name a few. Most of us already know that Stewarts is a must-visit for ice cream in the warmer months with some of the best flavors anywhere. They have already made flavors like "Crumbs Along the Mohawk", "Peanut Butter Pandemonium" and "Death by Chocolate" super famous in the Hudson Valley and are ready to expand their menu.
Stewart's Shop Adds Five New Flavors
The flavor expansion to the menu at the ice cream counter at your local Stewarts has already started as the first new flavor rollout began on March 6th with the addition of Strawberry Sunrise Sherbet. This brand-new flavor is a refreshing pairing of lemonade and strawberry sherbet swirls and some might call it the perfect combination of delicate sweet and sour.
The new flavors will continue to be released one at a time, week by week during spring at Stewart's shops all across the Hudson Valley according to their website.
The next new flavor at the ice cream counter will have brownie fans screaming!! It's called "Brownie Points" and is made up of rich brownie batter ice cream with chocolate cookie crumb swirl and decadent brownie pieces.
Stewart's Brings Back Fan-Favorite Flavor
Stewart's did a similar flavor release last year and once ice cream season ended, they announced that the most popular flavor according to fans was "Salted Caramel Cheesecake". It was so popular that Stewart's is bringing it back this year for a limited time. If you haven't tried it yet it's made up of salted caramel cheesecake ice cream and has a salted caramel swirl and cheesecake pieces.
New Ice Cream Flavors at Stewarts
The final three flavors will be "Peanut Butter Pie" which is made up of peanut butter flavored ice cream with a chocolate cookie crumb swirl and peanut butter cups followed by "Very Berry Shortcake" which is a mascarpone ice cream with a mixed berry swirl and pound cake pieces. The final flavor is "Daily Grind" which is made special for coffee lovers as it's made up of premium coffee ice cream ribboned with a marshmallow swirl and fudge-coated espresso pieces.
6 Things to Try the Next Time You Visit a Stewart's Shop
Six of our favorite things found at Stewart's Shops
6 of the Best Milk Flavors Only Found at Stewart's
Milk flavors found at Stewart's Shops
Stewart's Shops Release New Hoodies, T-Shirts and More in Online Store
You're not a Stewart's Shop fan unless you're rockin' their merch!
More From Hudson Valley Post