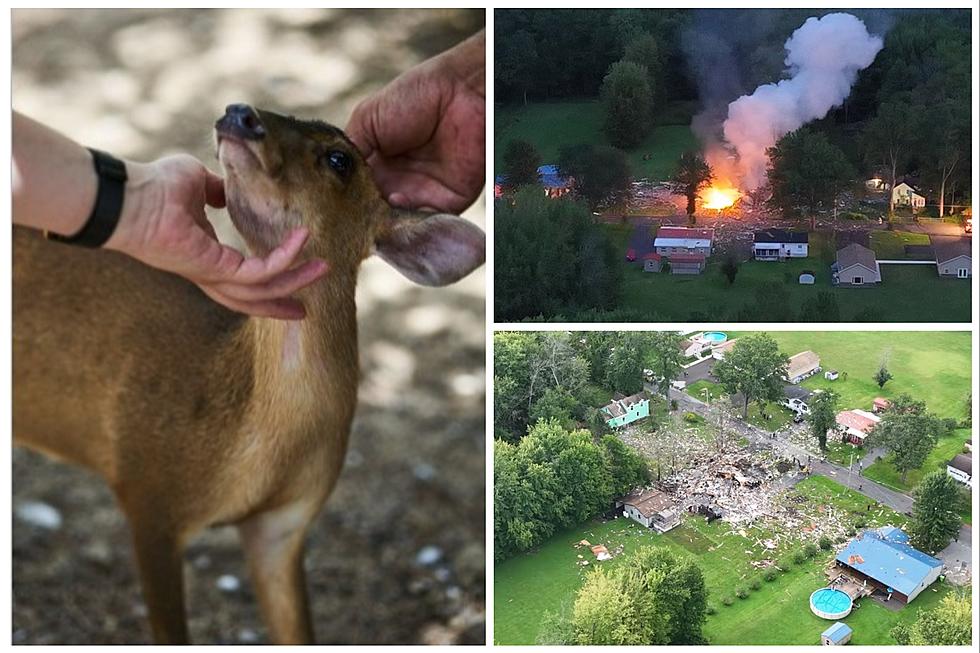 Deer Found In Dog Crate After Home Explosion In Upstate New York
Jasson Obomsawin/FB/Canva
This is so Upstate New York. After a stolen car crashed into a home, causing that home to explode, police found a neighbor keeping a deer as a pet.
In this week's "Environmental Conservation Police on Patrol" report the New York State Department of Environmental Conservation announced illegal sales of fish in the Hudson Valley and a "bizarre discovery" in Upstate New York.
Bizarre Discovery, Madison County, New York
On Saturday, ECO Burdick received a call for help from police in Madison County regarding a massive house explosion on West Elm Street in the city of Oneida.
Police told the DEC a stolen car crashed into the home and severed the gas line into the house, causing the home to explode.
For all the news that the Hudson Valley is sharing make sure to follow Hudson Valley Post on Facebook, download the Hudson Valley Post Mobile
Thankfully no injuries were reported from the blast. However, police and the DEC evacuated many neighboring homes as a precaution.
Deer Found In Dog Crate In Oneida, New York
During the evacuation process, officers discovered a six-point, white-tailed deer being kept inside a dog crate, according to the DEC.
ECO Burdick responded to the home to help safely remove the deer from the home.
The homeowner was illegally rehabbing the deer and refused to release it after helping it recover from undisclosed injuries.
The homeowner was keeping the deer as a pet, the DEC reports.
"Charges are pending and the investigation is ongoing," the DEC states.
10 Exotic Animals You Can Legally Have as Pets In New York
Looking for an exotic pet in New York State? Here are 8 animals you can legally have.
Nearly 50 Children Have Recently Gone Missing From New York State
In just a few months around 50 children from New York State and the Hudson Valley went missing
If You See Purple Paint in New York You Need To Leave Right Away
Do you know what to do if you see purple paint in New York State? The easiest advice, run. Here's why.
More From Hudson Valley Post