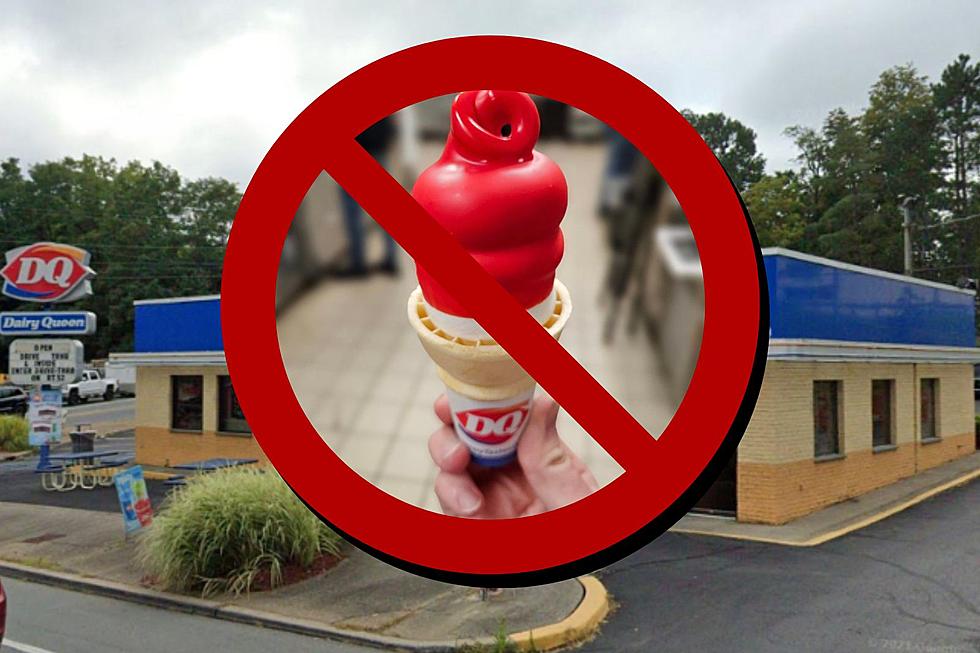 Just Dumb: Cherry Dip Vanishing From HV Dairy Queens
Google/Canva/Dairy Queen Grill & Chill (715 2nd St, Manchester, NH) via Facebook
I'm not one to rouse a pitchfork militia, but something needs to be done about what's happening at local Hudson Valley Dairy Queens.
To be fair, it's not only local Dairy Queens who are suffering this unimaginable fate, but disaster has already struck the Hyde Park location. Here's everything we know about America's favorite ice cream dip disappearing from our most famous dessert franchise.
"Cherry Dip is going to temporarily discontinued... In it's place, Butterscotch Dip will be returning. We are unsure when it will switch back", came a post from a Northeast Diary Queen location. "Some will love this, many will hate it, but it is out of our hands. We have secured our last case of Cherry Dip and will hold out as long as we can". We reached out to three local Dairy Queen stores to see if the news has affected local ice cream fans.
Dairy Queen in Hyde Park, NY
Hyde Park, NY residents may already be in on this news, but the Dairy Queen at 4164 Albany Post Road has been out of cherry dip since last summer. As the previous location stated, the supply chain for cherry is out of employee and manager control, and they have no news on the future fate of the cherry-flavored dip. But what about further south in Dutchess County?
Dairy Queen in Wappingers Falls, NY
Good news for patrons of the Wappingers Falls DQ Grill & Chill at 1585 Route 9: the location still has cherry dip! While the manager confirmed that they do not have any news on when they could expect new cherry dip shipments, the store specifically tried to stock up on product, and they will serve it as long as they have product. On to Newburgh!
Similarly to the Wappingers Falls DQ Grill & Chill, the Newburgh Dairy Queen (find out the difference between "Dairy Queen" and "DQ Grill & Chill" locations here) also have cherry dip, but as far as they can tell, there's no plans for a resupply. In its place, chocolate and butterscotch dips. So where can you find cherry dip when they run out?

The good news is that while cherry dip is disappearing from local DQs, nearly every local ice cream stand still carries the good stuff. Cherry Top Dairy Bar, for example, has a wide array of dip flavors. Check out more awesome local ice cream spots below.
Eat Your Way Through The Hudson Valley With The Best Ice Cream
I have always enjoyed stopping by my favorite local ice cream shops and choosing a new flavor. Whether it's a hot fudge sundae, chocolate peanut butter ice cream in a cone, or an ice cream sandwich, count me in.
The Hudson Valley has
strange ice cream flavors.
From lemon poppyseed to thai iced tea and barn boots, there aren't any boring flavors in our area.
A 'Premiere' Hudson Valley
treat shop
was expanding their space during the winter months to prepare for a busy summer season.
Thankfully, we have a large selection of local ice cream shops to visit in the Hudson Valley.
10 Hudson Valley Ice Cream Shops Still Open in the Middle of Winter
Here are the brave ice cream shops in the Hudson Valley that stay open all year... even in the cold months of winter
More From Hudson Valley Post