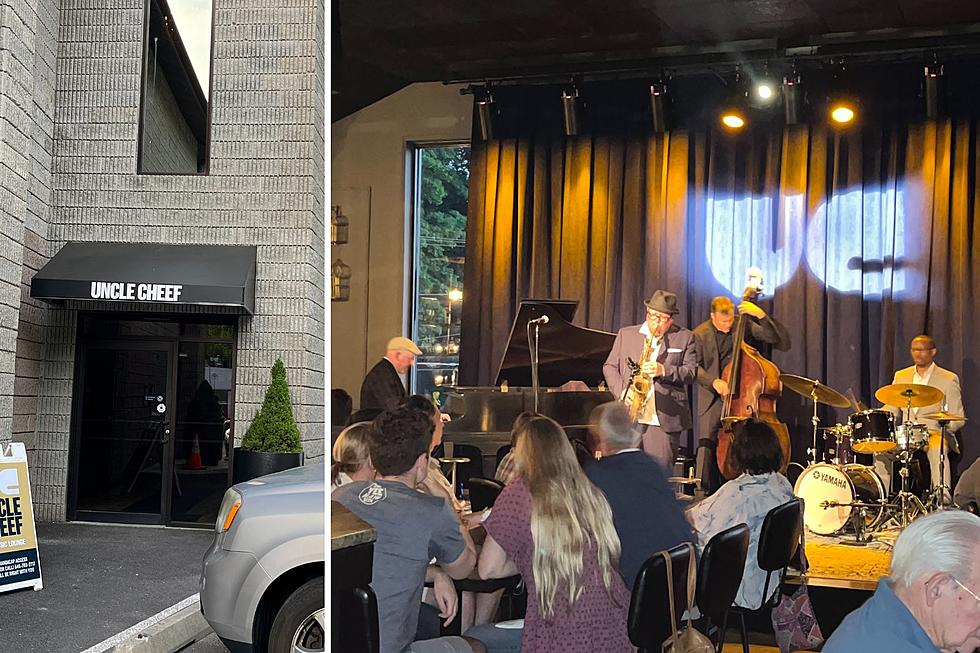 A Peek Inside Uncle Cheef – The Hudson Valley's New Live Music Lounge
V.Turco
As we reported late last week, an extremely talented and well-known Grammy-award winning musician just announced the opening of a live music lounge in Brewster, New York.
Ian Hendrickson-Smith's new 'destination' - Uncle Cheef - a home to exciting live music, a menu full of tapas-style shared plates, craft cocktails, a hefty wine list and 'an emphasis on tequilas & mezcals, all served lovingly in a warm, magical space.'
I had the opportunity to visit Uncle Cheef on Saturday evening, and not only check out Hendrickson-Smith perform, but actually had the chance to chat with him for a bit about the concept, future plans regarding the venue, and so on.
Ian Hendrickson-Smith Plays to Sold Out Crowd at Uncle Cheef, Brewster
A sold out Saturday night crowd marked a week of operation for Uncle Cheef in Brewster, a new live music lounge with great vibes, tasty foods, and an awesome selection of drinks.
Projections of the logo for Uncle Cheef, which is actually owner Ian Hendrickson-Smith's longtime nickname, were projected onto the curtain behind the stage and branded throughout the space.
(L to R - Rick Germanson: piano, Ian Hendrickson-Smith: saxophone, Neal Miner: acoustic bass, Willie Jones iii: drums)
A Look Inside Uncle Cheef, Brewster
The walls of the room are adorned with posters of musical influencers, Hendrickson-Smith's awards, and some personalized decor that included a number of clocks, all set to 10:30pm. During his first set, Hendrickson-Smith explained a bit more about the space and why it was designed and decorated the way it was.  With regard to the clocks specifically, he shared the following:
Back in college, I changed all the clocks to 10:30pm to get everyone to hang out and stay later...now, the clocks remind me not to lose sight of that young man who was so naively optimistic.
In speaking with Hendrickson-Smith between the first and second sets, he shared a bit more about putting everything together, even the fact that his wife and co-owner of Uncle Cheef, Jenny, had hand crafted many of the things inside the space by hand including the shelving, table tops and the wooden lighting fixture above the bar.
You can even check out the official Uncle Cheef instagram for a sneak peek inside the process of creating some of the carpentry aspects of the venue as they prepared to open.
Visitors will also notice a number of bird cages and stained glass birds.
The cages and birds are a humble and quiet tribute to the late, great, Charlie Parker.
In addition to the time I spent with Hendrickson-Smith talking about how incredible the concept was, and how cool the vibe was, I also connected with a number of local musicians and follow music industry professionals who all shared the same sentiment - the Hudson Valley needed a space like this!
I can't wait to visit again to enjoy another night of beautiful music in a space that was curated by an incredibly talented Hudson Valley resident and musician. Thank you, Ian Hendrickson-Smith, for sharing your talent with the Hudson Valley, and for the kindness and hospitality you showed me during a very busy weekend!
6 Ways To Know It's Spring In The Hudson Valley
I always know that spring has started when I first hear the sound of spring peepers. This may also consist of flowers start to blossom, the greenery throughout mother nature and return of several wildlife critters.
Others may also agree and share their opinions too.
As we are different people, we notice things differently as well. While someone takes an interest in a woodpecker in the tree on a soothing morning, someone else may notice a lawnmower humming noise during their breakfast.
On WRRV, a Facebook post asked local residents to share their opinion.
The question stated:
"Tell me it's spring in the Hudson Valley without telling me it's spring in the Hudson Valley, GO!"
Hudson Valley residents were not shy when it came to answering this question. Let's take a look at ways we can notice that it's spring in the Hudson Valley from all age groups and different locations.
Here Are 6 Ways To Know It's Spring In The Hudson Valley
Northern Lights Captured Lighting Up Hudson Valley Skies
The rumors were true and the Northern Lights showed up across the Hudson Valley. Thankfully, we're home to some skilled photographers who were able to capture the stunning event.
More From Hudson Valley Post