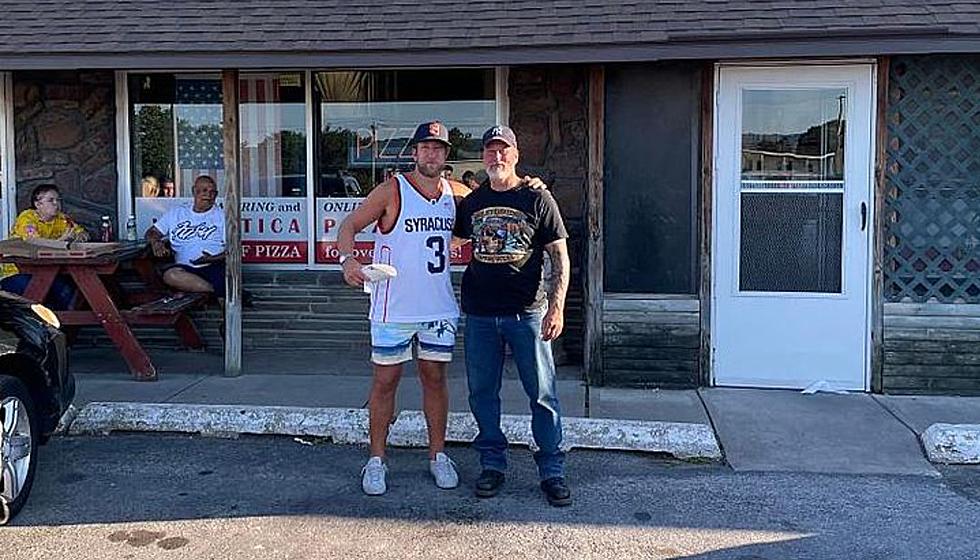 Upstate New York City Just Named The Best Bar Town In America
O'SCUGNIZZO PIZZERIA via Facebook
If you're looking for the Best Bar Town in America, look no further than Central New York and Upstate.
Barstool Sports founder Dave Portnoy is returning to Syracuse to celebrate the fact Syracuse New York was just named the "Best Bar Town" in America by Barstool in a March Madness-style online competition for 2023.
The competition was between 64 towns and cities across the U.S. The winner of each bracket was determined by total points from social media where people were encouraged to post their town's unique hashtag (#SyracuseBBT) on Twitter, TikTok or Instagram. Another way each city got votes was when people bought their city themed "Best Bar Town" clothing and merchandise from Barstool.

According to Syracuse.com, the competition was a hard one for Syracuse to win:
Syracuse started as a No. 5-seed in the Northeast region, facing well-known college towns like State College, Pennsylvania, and Morgantown, West Virginia. The Salt City beat Greenville, North Carolina, in the Final Four and then triumphed over Washington State University's Pullman, Washington, in the championship on Saturday."

 
Summer Of 2022, Dave Portnoy Invaded Syracuse And Utica
Dave is pretty famous on social media for his pizza reviews. Over the summer of 2022, he made the trip to Syracuse and Utica. In Syracuse he made pit stops at Apizza Regionale, Francesca's Pizza and Italian Kitchen and Varsity Pizza. Varsity Pizza got a 6.5 rating out of 10, where Dave actually called it "typical college pizza." Portnoy also stopped at Purple Banana, rating their smoothie bowls 10 out of 10.
In Utica he visited O'scugnizzo and gave our classic upside-down pizza a 8.1 rating and a thumbs up. You can read about the rest of his summer trip online here.
Read On! These Upstate Bars are 100, 150, and More Than 200 Years Old!
I like a bar or a tavern as much as the next person. But my enjoyment of the outing is heightened greatly if the pub has some interesting history to it. And it you are a century old, or even two centuries old, well, that bar will definitely have some great DNA behind it. Here is a list of a 14 great taverns, scattered all over Upstate New York, that have been serving up cold brews for a very long time, some more than 200 years. Obviously this list could be a lot longer, and we will revisit it in the future, but this list should adequately "wet your whistle." Have you been to any of these historic places?
Do You Remember These 44 Central New York Classic Bars And Nightclubs?
Do any of these spots ring a bell for you? Bring back any great memories? Let us know inside our station app.
23 Places To Order The Best Steak In Utica, Rome, and Syracuse New York
Are you looking to buy or order some of the most delicious steak in the Utica, Rome, and Syracuse areas of New York? Where are you going for dinner?
We asked all over social media where to order. Here's our list of 23 places to order steak. If you have any suggestions text us on our app.
More From Hudson Valley Post