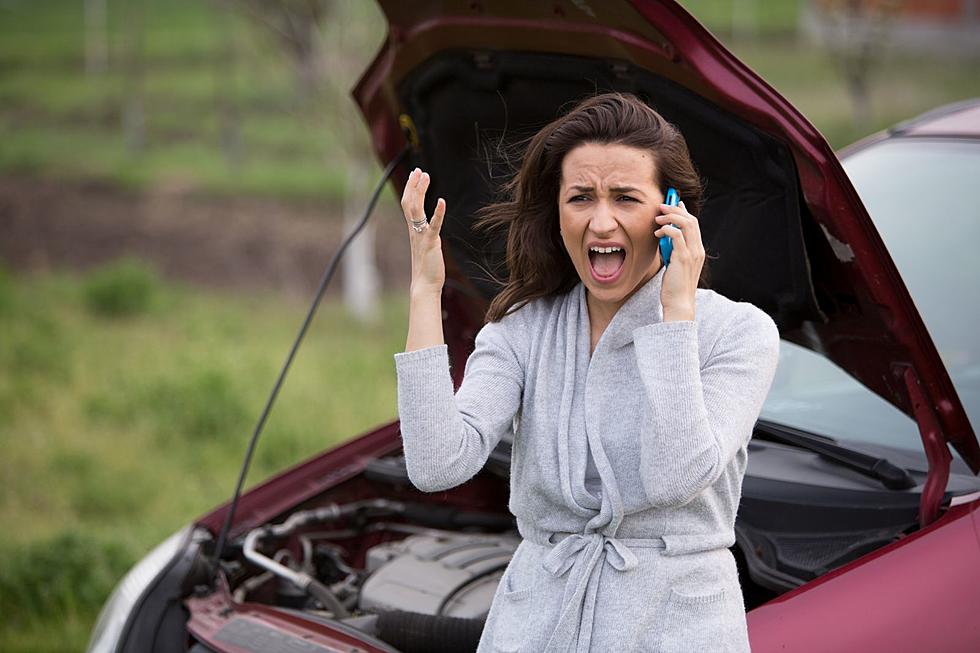 SECRET TIP If You Break Down on the NYS Thruway
Canva, freemixer from Getty Images Signature
I bought a new car last December. It's a gorgeous car, it is a 2018 model, and it's been driving like a dream. I bought it because my previous car was about 20 years old and was getting way too expensive to keep up with all the maintenance. I figured getting this new car I wouldn't have to worry about any major maintenance issues for a while. I was wrong.
My Car Broke Down on the I-87
I was visiting my friend for his birthday this weekend up in Albany. On my way back home Saturday morning, I got onto I-87. I was hardly outside of the city when a message popped up on my screen that read, "Engine Power Reduced." All of a sudden, my Check Engine Light started blinking, and I went from 65 mph to 30 mph.
Thank goodness that there were signs for a Text Stop just a mile ahead of me, so I stayed on the shoulder, put my blinkers on, and "limped" to the Text Stop.

Once I was there, I was calling my parents asking for advice. They were calling shops in and around Poughkeepsie while I was calling shops in the Albany area. Most places we called were either closed or couldn't take me in. Alright, I'm thinking, that's great, but how am I going to get home?
After several phone calls that spanned about 45 minutes, someone recommended to me that I call the Thruway Department for immediate help. It sounds so simple, but I sure didn't think of that. Neither did my folks or any of the other auto body shops or dealerships.
You would think that being on the thruway might prompt someone to readily think of the Thruway Authority, but it certainly wasn't the first thing that came to my mind.
According to the Thruway Authority website, the Thruway has continuously been recognized as one of the safest superhighways in the nation. The fatality rate along the Thruway remains significantly below the national average as calculated by the National Center for Statistics and Analysis (NCSA) of the National Highway Traffic Safety Administration.
The Thruway Authority urges disabled vehicles to not stop in the travel lanes. They say to move well off the roadway if possible. Exits, text stops, rest stops and other safe locations are highly recommended. Tie a white cloth to the left door handle or radio antennae and wait for help to arrive. For your own safety, stay with your vehicle.
According to the NYS Thruway Authority website, they say in the event of an accident or breakdown:
Do not stop in the travel lanes. If possible, move well off the roadway or to the next exit, or nearest safe location.
New York State law permits motorists to move vehicles to a safe spot following an accident.
Activate emergency flashers.
Place flares or reflectors on the shoulder to alert oncoming motorists of your situation.
Do not walk along the Thruway.
Stay with your vehicle and wait for help to arrive.
If you make your own repairs, keep yourself, tools and parts well off the travel lane.
Only authorized Thruway garages are allowed to service disabled vehicles on the Thruway for minor repairs (tire changes, battery boosts, supplying fuel, and similar issues).
Authorized off-Thruway garages handle towing and major repairs that cannot be done along the Thruway. The garages also provide both roadside and major repairs on the Niagara, New England and Berkshire sections and I-287.
To contact a garage closest to you, call 1-800-842-2233.
A standard roadside service charge prevails 24 hours a day on the Thruway. Labor and materials are additional. These rates are comparable to off-Thruway rates.
Charges by authorized garages for towing are based on initial hook-up and subsequent miles towed and are competitive with off-Thruway prices.
For more information, please call 518-436-3079.
7 Top Rated Auto Mechanics in Poughkeepsie, New York
When You Borrow a Car, Should You Refill the Gas Tank Upon Return?
More From Hudson Valley Post