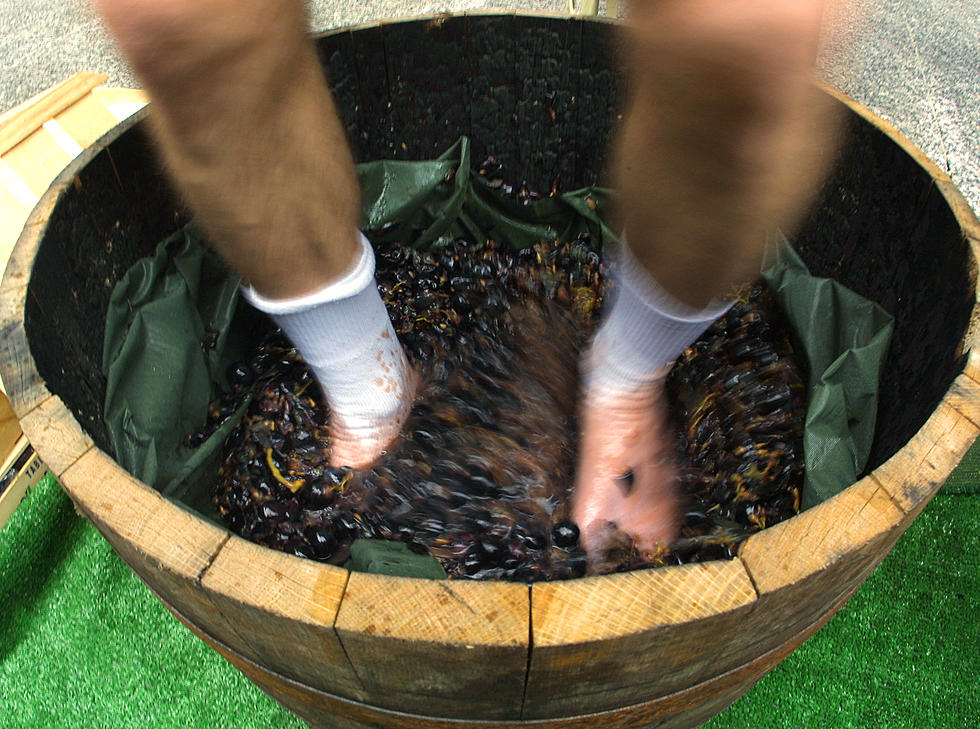 Grape Stomping Returns To Hudson Valley Wineries For 2023
Getty Images, Photo by Tim Boyle/Newsmakers
As we inch closer and closer to what seems like the Hudson Valley's favorite season (leaf-peeping anyone) - all sorts of festivals, carnivals, and fall-themed activities are beginning to pop up in the area.
One event in particular, that has certainly gained popularity throughout the years is a fun activity that is sure to put a smile on your face, and also get your feet a bit dirty...
Grape Stomping Across The Hudson Valley
If you've never had the opportunity to roll up your pants, hop into a barrel, and go to town squishing grapes with your toes, well have you really even lived?
Many years ago, I used to DJ for a local company and we'd be there for the Sunday grape stomping, and it was always a riot to watch stompers, young and old, having a ball ankle-deep in grape mush.

I remember doing games with the kids, think a combo of freeze-dance and musical chairs, where I'd play music and they'd stomp until the music stopped.
Here's your chance to get your feet dirty, literally, at some local wineries this fall with grape stomping events.
Hudson Valley Wineries Announce Grape Stomping Events For 2023
Beginning this Saturday, September 9th, and running every weekend through October 15th, America's Oldest Winery, Brotherhood in Washingtonville, will host their grape stomping events Saturdays 1-5pm, Sundays 12-4pm.
With their self-proclaimed 'Instagram worthy stage' with modified wooden barrels, and a new format for their timed competitions, stompers and mucker (in teams of two) can expect raffles, foods, drinks and family-oriented fun.
For additional information about dates and specifics, check out their Facebook post.
Benmarl Winery in Marlboro is making a weekend of stomping for Columbus Day with their Harvest Grape Stomping Festival on October 7th and 8th from 11am until 8pm. Admission is broken down between drinkers and non-drinkers, and pricing includes tastings with a souvenir glass and stomping for those 21+, bottled water and stomping for 16+, stomping, live music, and hayrides for all attendees.
More information for Benmarl's Harvest Grape Stomping Festival, along with ticketing, can be found here.
25 Wineries and Breweries to Visit in the Hudson Valley
The Hudson Valley is known for its amazing wineries and breweries. Here is a list of 25 worth checking out!
10 Best Ulster County Wineries According to Google
These Ulster County wineries are some of the best places to unwind and take in some of the best views that the Hudson Valley has to offer!
More From Hudson Valley Post