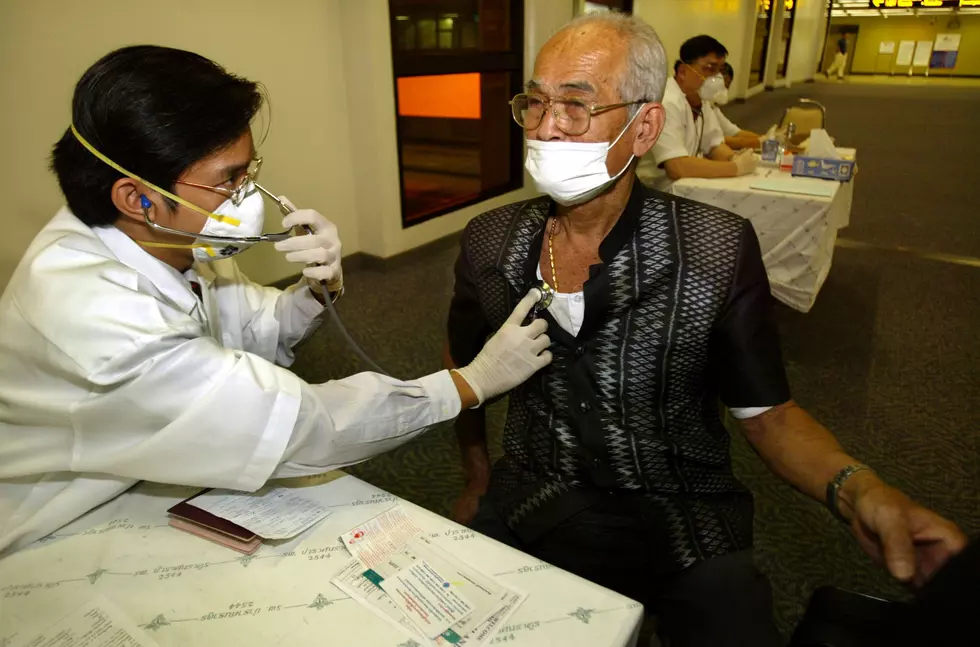 Doctor, Teacher Among New Coronavirus Cases in New York
Getty Images
The number of confirmed cases of the coronavirus in New York State has doubled in the past day, including a doctor and teacher from the Lower Hudson Valley.

Enter your number to get our free mobile app
On Thursday, Cuomo confirmed 11 additional cases of novel coronavirus, bringing the total to 22 confirmed cases in New York State. Of the 22 individuals who tested positive for the virus, 18 are from Westchester, 3 reside in New York City and one is from Long Island.
The new confirmed cases include a doctor at Maple Medical Group in White Plains and the rabbi at Young Israel of New Rochelle who teaches at Yeshiva University, WCBS 880 reports. The medical office is closed for cleaning and patients are being notified.
Among the news cases, eight in Westchester have mild or no symptoms, two from New York City are hospitalized and a 42-year-old man from Nassau County is also hospitalized, according to the governor's office.
The 20-year-old attends Yeshiva University. The 14-year-old goes to a school in the Bronx. Both are closed until next week.
Cuomo confirmed the New Rochelle man was initially treated at Lawrence Hospital in Bronxville before being transferred to New York-Presbyterian Hospital.
Later on Wednesday, Cuomo provided an update and said a close friend of the New Rochelle man, as well as his wife and three of their children all have the coronavirus.
The children attend Westchester Torah Academy which will be closed until at least Friday.
Two Westchester County school districts announced they will be closed until next week due to the outbreak. The Hastings-on-Hudson Union Free School District and the Mount Vernon City School District are both closed.
Hastings-on-Hudson is closed because a parent was present in a location that is closed due to a confirmed case of the coronavirus, according to school officials. The New York Daily News reports two students, one who goes to Columbus School and the other Rebecca Turner Elementary School, have been quarantined over possible exposure to the virus.
According to Westchester County Health Commissioner Dr. Sherlita Amler, the man attended services on Feb. 22, at Young Israel of New Rochelle. Officials told the temple to stop services immediately and for the foreseeable future due to potential COVID-19 exposure. Congregants who attended services at the temple on Feb. 22, and a funeral and a bat mitzvah the next day have been told to self-quarantine until at the very earliest March 8.
Those who do not self-quarantine will be mandated by the Westchester County Department of Health to do so, officials say. Over 600 have been told to self-quarantine, the Brooklyn Daily Eagle reports.
Signs and symptoms of this illness include fever, cough, pneumonia and difficulty breathing. It has the potential to cause severe disease and death, officials say. The CDC believes at this time that symptoms may appear in as few as 2 days or as long as 14 days after exposure to the virus.
While there is currently no vaccine to prevent this virus, these simple steps can help stop the spread of this and other respiratory viruses:
Wash your hands often with soap and water for at least 20 seconds. If soap and water are not available, use an alcohol-based hand sanitizer.
Avoid touching your eyes, nose and mouth with unwashed hands.
Avoid close contact with people who are sick.
Stay home when you are sick.
Cover your cough or sneeze with a tissue, then throw the tissue in the trash.
Clean and disinfect frequently touched objects and surfaces.
More From Hudson Valley Post