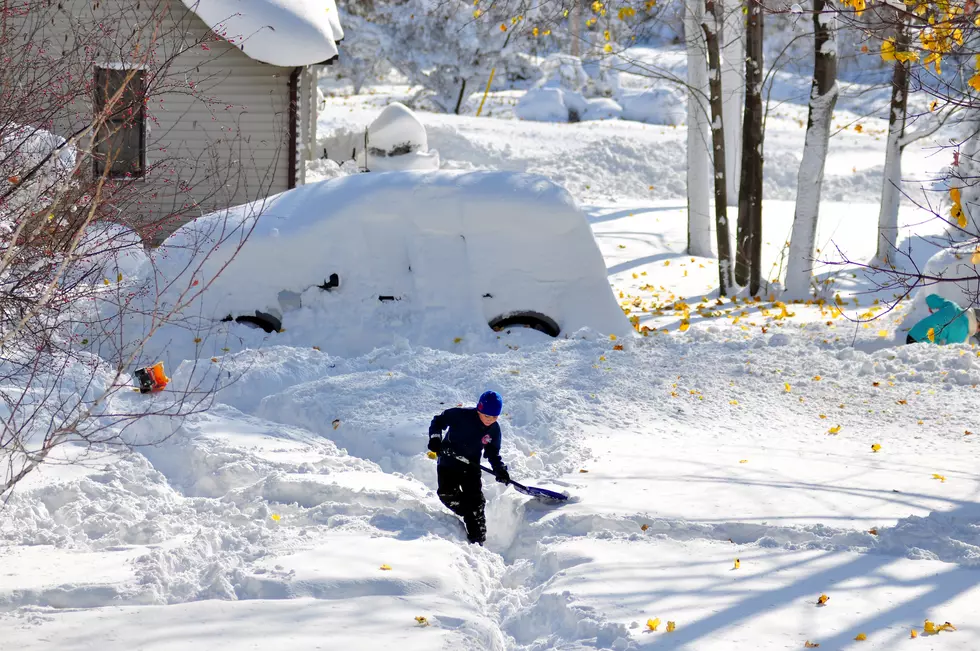 Popular New York Store Saves 30 Lives During Generational Storm
Getty Images
During a "life-and-death-situation" a popular store with countless New York locations went above and beyond to save lives.
What's been called the "strongest storm in a generation" killed around 30 people in Western New York around Christmas. The storm that lasted for many days left Buffalo with 100 inches of snow!
It's likely many more would have died in the storm if not for the help of a popular department store.
Jessica Sypniewski and her boyfriend were driving during the start of the snowstorm on Friday. They were with their two kids trying to make it back home to West Seneca.
"It came sooner and heavier than we thought it would," she told the Buffalo News. "Being Buffalonians, we had thought, 'Oh, this is just another storm.'"
For all the news that the Hudson Valley is sharing make sure to follow Hudson Valley Post on Facebook, download the Hudson Valley Post Mobile App and sign up for the Hudson Valley Post Newsletter.
The family was driving in white-out conditions with little hope of making it home. First, they sought safety at a grocery store but store employees turned them away.
Then they went to a nearby Target, on Walden Avenue in Cheektowaga.
Western New York Family Seeks Shelter At Target
Not only did Target workers let them inside but the family was given warm drinks, blankets, seats, space heaters and more.
"I got so emotional, I just sat down and started crying," Sypniewski said to the Buffalo News. "You never know. People could have died. I truly believe they saved lives."
The Sypniewski family wasn't alone. Around 30 people were all stranded at Target. Over two dozen people along with seven Target employees.
New York Target Workers Go Above And Beyond
These seven Target workers spent the weekend helping out everyone else.
"They said, 'Anything you need, it's on us,' " Sypniewski said. "'Just let us scan it first.'"
Target provided snacks, water, clothing, phone chargers, mattress, sheets, pillows, blankets, hygiene items and more.
"I have never felt so scared in my life but we are safe and warm!! I cannot say enough to the target employees who opened their doors to us and have provided everything we have needed, you guys are literally life savers!! We have made a sh***y situation OKAY," Jessica wrote on Facebook about the situation.
Families were stuck there on Chrismas Eve when the Buffalo Bills were playing. So Target workers rolled out a TV and allowed all to watch the Bills game.
On Christmas, before everyone was able to safely leave the store, Target made a Christmas meal for all.
15 Iconic Retail Stores That Don't Exist Anymore (But We Totally Miss Shopping At)
KEEP READING: See the richest person in every state
Did You Know? Over 100 Fun Facts About the Hudson Valley
Did you know that Lucille Ball made her stage debut in the Hudson Valley? How about Philadelphia Cream Cheese wasn't invented in Philadelphia, but in Orange County? Or that a mansion in Dutchess County inspired the expression "keeping up with the Joneses?" Find out about those and over 100 other fun facts about the Hudson Valley.
Gypsy Moth 'Accidentally' Released Causing 'Nightmares' in New York
After 10 to 15 years a gypsy moth that was once "accidentally" released has returned and is causing "nightmares" in New York.
Award-Winning Actor Selling Hudson Valley Mountaintop Masterpiece
An award-winning actor is selling "mountaintop masterpiece" in Napanoch, Ulster County. Check out all of the photos of this impressive "mountaintop masterpiece" below:
More From Hudson Valley Post