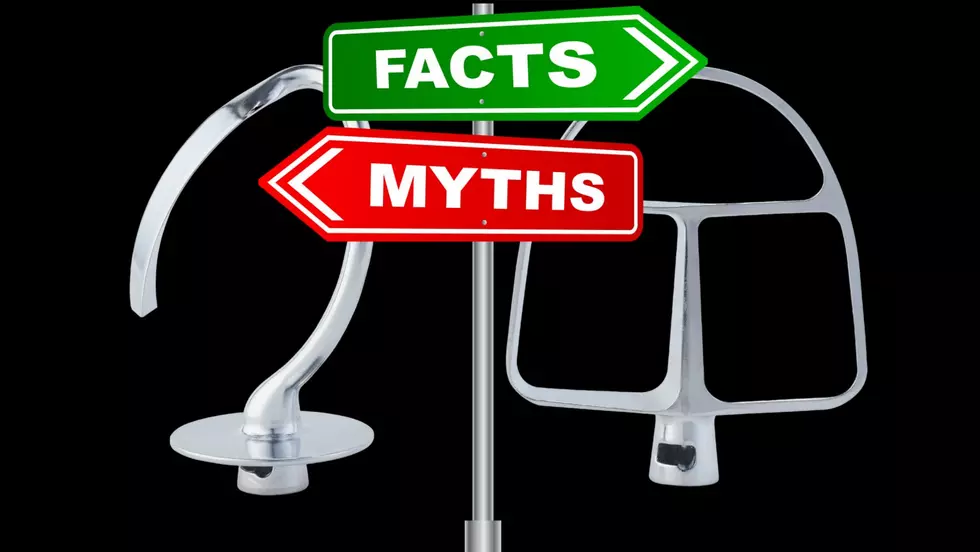 No, Your KitchenAid Mixer Doesn't Contain "Extreme" Amounts of Lead
Canva
Before you go tossing your favorite kitchen mixer, make sure you do a little research.
I love baking, especially this time of year. Cold, snowy days pair perfectly with cookies and hot cocoa right? However, I thought my baking days were numbered after I saw a now-viral recall post.
KitchenAid Mixer Recall?
On January 22nd, 2023, a man named Joshua C Dotson made a Facebook post with photos of the white paddle and hook attachment for the super popular KitchenAid Mixer.

Along with the photos he wrote:
ATTENTION: Anyone who has a Kitchenaid Mixer with a white paddle and hook attachments. Stop using it immediately! It contains extreme amounts of lead!! The Stainless Steel is ok. You can call the Kitchen Aid number and they will replace it with a metal ones for free. 1-800-541-6390 or 1-800-474-8007. I did it it was super easy! Give them the code on your mixer and they replace them. The calls takes less then 5 minutes!
Obviously, the urgency in the statement above and the fact that Dotson exclaimed that the popular white paddle contains "extreme amounts" of lead caught the attention of many on social media. Including me!
I own a KitchenAid Mixer and use it often:
When I saw the post was shared over 33,000 times, I had to look into it.
Does Your KitchenAid Mixer Contain an Extreme Amount of Lead?
KitchenAid is a product of Whirlpool Corporation. If you take a quick peek at the Whirlpool website, you'll see they actually have a page dedicated to Quality Campaigns and Product Recall. I clicked through the Product Recall tab and saw nothing regarding the KitchenAid Mixer paddles.
For something as important as "extreme lead levels" you would think it would be the first thing on the website, right? Another sign that this so-called recall is probably fake.
Just to make sure, I went to the infamous fact-checking website Snopes. On January 24th, 2023, Snopes wrote:
The KitchenAid Stand Mixer Recall Rumor Is False

Much like the email forwards of the late 1990s and early 2000s, we don't recommend placing blind trust in social media posts.
KitchenAid Tweets Statement in Regard to "Lead" Accusation
Bakers have been reaching out to KitchenAid on social media because that's what we do in 2023. Here's the official KitchenAid response:
Glad we cleared that up!
Take a look below at some of the bigger recalls in the last few years below:
LOOK: The 10 largest product recalls of the last decade
Estey & Bomberger, LLP compiled a list of the top 10 product recalls since 2007, ranked based on the number of product units recalled in the U.S.
The Five Largest Food Recalls in History That Shocked Americans
Some recalls stand out above the rest because of their magnitude. These are five food recalls that were so serious that they caught the collective attention of the nation.
See How The Girl Scout Cookie Options Have Changed Since 1912
Can You Remember Your Favorite Girl Scout Cookie growing up?
As much as we enjoy Girl Scout Cookies in 2023, we often miss the ones that we used to love growing up. Have you heard of my personal favorite Girl Scout Cookies that are now retired?
Thanks-A-Lots
Shortbread cookies are always a win. This Girl Scout Cookie was dipped in chocolate and it also had a friendly message on it. It had the words "Thank You" on it.
Ole Oles
These powdered sugar cookies were delicious. They also had pecans and coconut mixed in and were reduced fat.
Lemon Chalet Creme
This was one of my favorite lemon cookies to ever exist. How could a lemon sandwich cookie ever go wrong? The added cinnamon and ginger made it one of a kind.
Juliettes,
I remember that these cookies were named after the founder of The Girl Scouts, Juliette Low. It reminded me of a chocolate turtle with its being covered in caramel, pecans and milk chocolate.
Ra Ra Raisens
This was unlike your ordinary raisin cookie. This Girl Scout Cookie brought in oatmeal and yogurt chips with the raisins.
Savannah Smiles
This Girl Scout Cookie knew how to put a smile on your face. They were lemon wedge cookies with powdered sugar.
Which Girl Scout Cookies Are Your Favorite?
I loved the Girl Scout Cookies that were discontinued but also enjoy the present day one as well.
More From Hudson Valley Post