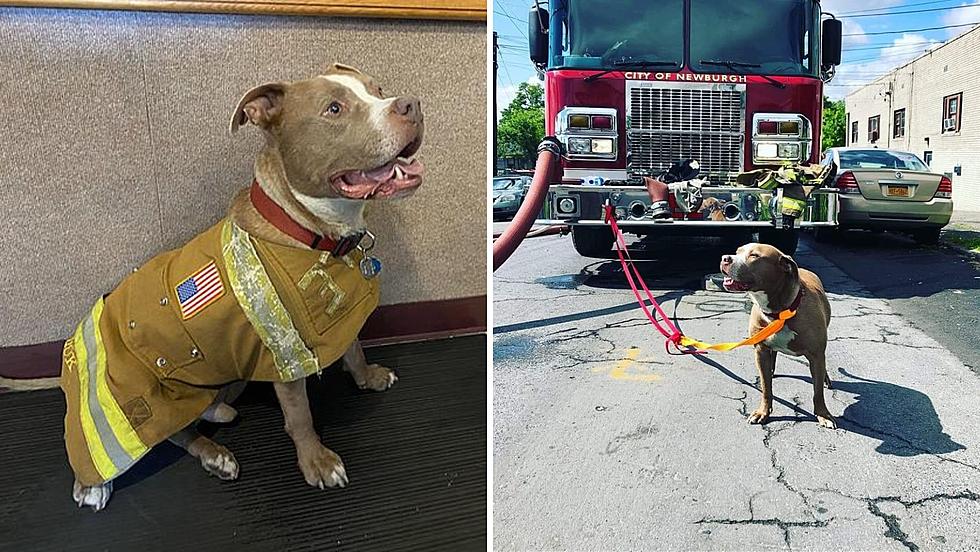 Renowned Newburgh, NY Fire Dog to Begin Well-Deserved Retirement This Week
Jbuono/ Nick The Fire Dog Facebook
A fire department in Newburgh, New York is celebrating the retirement of one of their own. This firefighter happens to have 4 legs and is famous on social media.
For the last 5 years, Nick the Fire Dog has been a staple at the City of Newburgh Fire Department. Years ago, we chatted with Assistant Chief of the City of Newburgh FD, Timothy Dexter, who shared Nick the Fire Dog's origin story.
In 2017, the fire department received a bunch of calls about a dog who was left outside and tied up to a fire hydrant. Dexter knew they had to do something to help. Then in February 2020, Assistant Chief Dexter shared Nick the Fire Dogs story on TikTok, and the pitbull pup rose to fame.
Since the video was released, it has garnered over 20,000 likes and 88,000 views. One of those viewers suggested that Dexter write a children's book about Nick and his story. Dexter got to work and the book The True Story of Nick The Fire Dog which "Shows how what may look like the worst day can turn out to be a blessing in disguise" is
available for purchase and digital download on Amazon.
Nick the Fire Dog is Set to Retire in May 2023
Earlier this week on Nick The Fire Dogs' official Facebook page they announced that Nick is hanging up his fire duties writing:
Friday, May 26th, Nick the Fire Dog will be walking out of the firehouse one last time. He will be going home for good and retiring with Christopher O'Dell at 5pm

We asked how Assistant Chief Dexter feels about Nick retiring and he told us:
I'd say it's a little bittersweet. He will be greatly missed, but also the concrete floors and constant bells ringing can be tough on Nick. We at least get a couple days breaks, but he is constantly there. I think retirement will be good for him and give him the chance to live a normal dog life.
You can keep up with Nick the Fire Dog on Facebook and hopefully, we'll be able to watch the pup enjoy a nice relaxing retirement with treats and belly rubs! Congratulations, Nick!
City of Newburgh Firefighters Save Dog on Frozen Hudson River
Lilly, the dog needed a little help from Truck 1 and the City of Newburgh Fire Department back on February 11th. Thankfully, she was returned to her owners without injury. Round of ap-PAWS for the City of Newburgh Fire Department for their quick response and heroic efforts.
TLC show 'American Chopper' Orange County Choppers Headquarters in Newburgh Abandoned & For Sale
WARNING: Under no circumstances should you enter this property. By doing so you risk bodily harm and/or prosecution for trespassing on private property.
In 2003, a father-son business reality show hit the Discovery Channel. It was called American Chopper and it followed the custom motorcycle building business of the Teutul family out of Newburgh, NY. Paul Sr. owned the shop with sons Paul Jr and Mikey working in the business. There was a slew of cast and characters. The center of the show wasn't just the amazing custom motorcycles built for celebrities and others, it was the volatile relationship between Sr. and Jr. The show ran for 12 seasons before the two could no longer get along. It ended up in lawsuits and the two not talking for ten plus years. In the past few years, the business moved to Florida. This left the 61,000-square-foot headquarters for sale and abandoned. Take a look at what remains of Ocean County Choppers.
7 Of the Most Unsafe Streets in Newburgh, New York
There are the 7 Most unsafe streets in Newburgh according to Crime Grade.
More From Hudson Valley Post