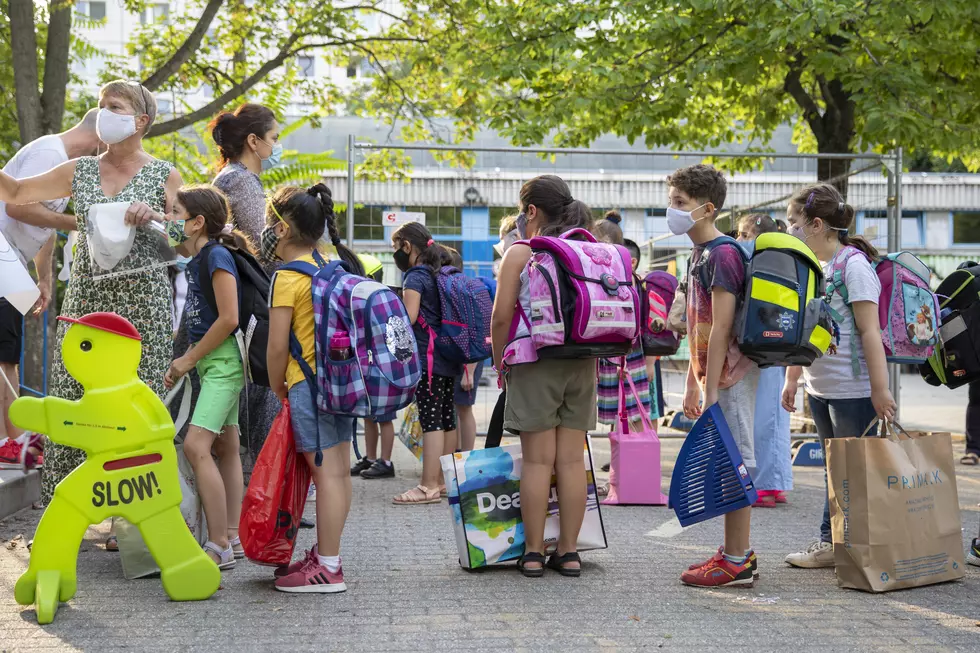 New Rules New Yorkers Must Follow at New York Schools
Getty Images
State officials released updated guidelines for New York schools.
For all the news that the Hudson Valley is sharing make sure to follow Hudson Valley Post on Facebook, download the Hudson Valley Post Mobile App and sign up for the Hudson Valley Post Newsletter.
Vaccines:
All public school districts and non-public schools should support opportunities for students and staff to access COVID-19 vaccination clinics in collaboration with local health partners as needed
Masks:
All students, personnel, teachers, administrators, contractors, and
visitors must wear masks at all times indoors, regardless of vaccination status.
People with medical or developmental conditions that prevent them from wearing
a mask may be exempted from mask requirements, as documented by a medical
provider.
People do not need to wear masks when eating, drinking, singing, or playing a
wind instrument; when masks are removed for these purposes, individuals must
be spaced six feet apart. This may mean that meals cannot be eaten in
classrooms that have been arranged to accommodate shorter distances between
students during instruction time. Students should not be excluded from in-person
learning in order to meet a minimum distance requirement.
Sick/Testing: 
All schools must have policies in place that clearly explain what students,
teachers and personnel with new or worsening symptoms must do. See section on
All schools must have the capacity to offer COVID-19 testing to teachers, students, and
staff
Physical Distancing:
Because of the importance of in-person learning, schools should
implement physical distancing to the extent possible within their structures

(a) A distance of at least 3 feet is strongly recommended between all students.
(b) A distance of at least 6 feet is recommended between students and teachers/staff, and between teachers/staff who are not fully vaccinated.
(c) Universal masking is required according to the Commissioner's masking
determination issued pursuant to 10 NYCRR 2.60 for indoor settings. Should there be a time when the determination for universal masking in schools is lifted, masking must occur when physical distance cannot be maintained.
(d) Maximize physical distance as much as possible when moving through the food service line and while eating (especially indoors). Using additional spaces outside of the cafeteria for mealtime seating such as the gymnasium or outdoor seating can help facilitate distancing.
Transportation:
Masking is required on public transportation
Passengers and drivers must wear a mask on school buses, including on buses operated by public and private school systems, regardless of vaccination status, subject to applicable exclusions and exemptions.
Sports:
The Commissioner's determination for masking in schools applies to indoor settings, including for sports and extracurricular activities.
For indoor sports and extracurricular activities in which masking is not possible (e.g., swimming), a minimum distance of 6 feet must be maintained
To facilitate safe participation in sports, extracurricular activities, and other activities with elevated risk (such as activities that involve singing, shouting, band, and exercise that could lead to increased exhalation), schools should consider implementing and requiring screening testing for participants who are not fully
vaccinated.
Schools can routinely test student-athletes, participants, coaches,
conductors/directors, trainers, and other people (such as adult volunteers) who are not fully vaccinated and could come into close contact with others during these activities.
Schools should consider implementing screening testing of participants who are not fully vaccinated up to 24 hours before sporting, competition, or extracurricular events.
Schools can use different screening testing strategies for lower-risk sports.
High-risk sports and extracurricular activities should be virtual or canceled in areas of high community transmission unless all participants are fully vaccinated.
Physical Education and Recess:
In general, people do not need to wear masks
when they are outdoors (e.g., participating in outdoor play, recess, and physical
education activities).
The Commissioner's determination for masking in schools applies to indoor settings, including physical education that takes place in a gymnasium or indoor recess (such as takes place during inclement weather).
For indoor physical education activities in which masking is not possible (e.g., swimming), a minimum distance of 6 feet must be maintained
Quarantine and close contact:
Consistent with CDC guidance, all "close contacts" with someone with COVID must quarantine unless they are fully vaccinated.
People who are fully vaccinated do not need to quarantine after contact with someone who is suspected or confirmed to have COVID-19 unless they also present possible symptoms of infection; however, they should be tested 3-5 days after exposure and must wear a mask indoors for 14 days or until they receive a negative diagnostic test result.
In general, a "close contact" is anyone who was within 6 feet of an infected
person for a cumulative total of 15 minutes or more over a 24-hour period
However, in the P-12 indoor classroom setting, the CDC specifies that students who were within 3 to 6 feet of an infected student where both students were engaged in consistent and correct use of well-fitting masks are not considered close contacts.
Health Screenings
Daily health screenings and temperature checks of all students, faculty, staff,
visitors, and contractors are an additional option schools may use to increase
protections against transmission of COVID-19.
Return to School for Individuals Displaying Symptoms of COVID-19
All school students, teachers, and staff with new or worsening
symptoms of COVID-19 must be excluded from school, regardless of vaccination
status, and either (a) provide a negative COVID test result, or (b) remain excluded
from school for a minimum of 10 calendar days from symptom onset, prior to
returning to school.
If student, teacher, or staff symptoms are improving AND they
are fever-free for at least 24 hours without the use of fever-reducing medicines, they may return to school with either a note from the healthcare provider indicating the test was negative OR a copy of the negative test result.
Given the growing prevalence of breakthrough infections among vaccinated populations nationwide, there is no recommended exemption for symptomatic vaccinated people.
COVID-19 Testing
Schools must have the capacity (either directly on-site or via referral) to provide diagnostic testing for any students, teachers, and staff
Ventilation and Filtration in Schools
Indoor air quality can be improved by increasing outdoor air delivery to the building (ventilation) and removing particulates/viral particles from the air (air filtration) to the greatest extent possible. Ventilation and filtration together can reduce the risk of COVID-19 transmission.
Portable air cleaners are a type of filtration device and may supplement other preventive measures to decrease the risk of COVID-19 spread. These are designed to remove particles. However, they are limited in the amount of air they filter per hour and so they may reduce, but may not eliminate, particles, viruses, and/or microbes in the air.
The selection, installation, and maintenance of portable filtration devices should be made in consultation with an indoor air quality professional.
The use of portable filtration devices does not decrease the need for mask wearing, physical distancing, sanitation practices, or adequate ventilation.
Portable air cleaners are particularly relevant for rooms without natural ventilation
(openable windows) and for higher risk environments (e.g., nurses' station, isolation rooms) but can be considered for any other areas where there is heightened concern.
In addition to reducing risk of COVID-19, improved ventilation can make classrooms more comfortable for students wearing masks.
Air-Breathing Fish That Eats Animals Found in Hudson Valley, New York
An invasive fish from Asia that can live on land for days and uses its sharp teeth to eat animals has been spotted in the Hudson Valley and other parts of New York State.
Look Inside: Aston Martin Designs First Hudson Valley Home
Luxury carmaker Aston Martin has designed an insane home in the Hudson Valley that's now on the market. The home is called one of the "most exciting and sophisticated to be built in the Hudson Valley."
Shocking Photos Show Ida's Devastation in New York, Hudson Valley
Images of the Hudson Valley, mostly under water, after Tropical Depression Ida
Peek Inside Banned NFL Owner's $60 Million Yacht Docked in Hudson Valley
Take a look at an amazing $60 million yacht that's owned by an NFL owner that's been docked for weeks in the Hudson Valley.
More From Hudson Valley Post