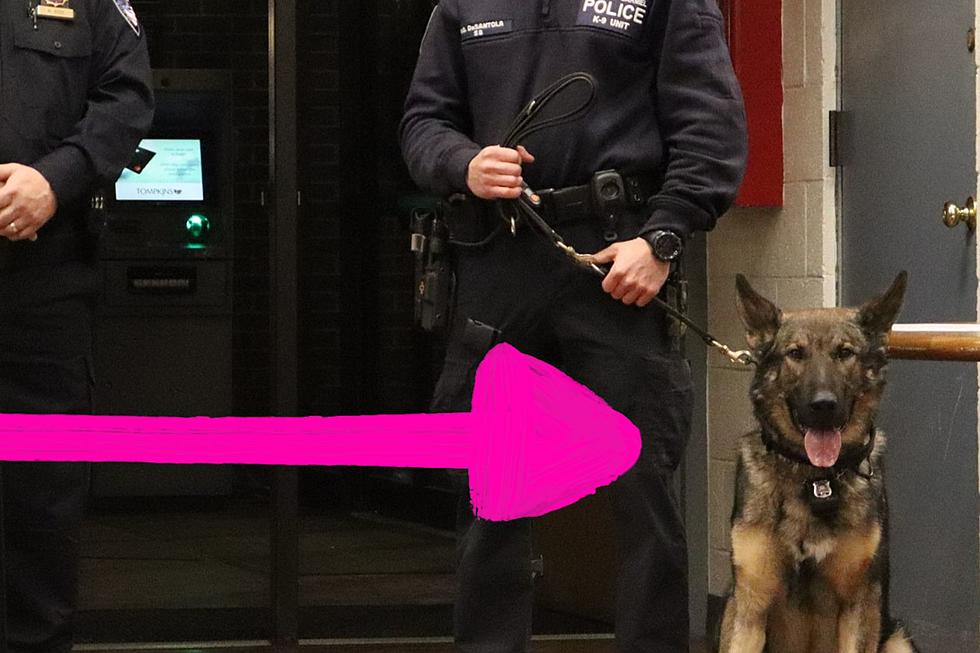 Hudson Valley Police K-9 Helps Find Missing Man
Carmel Police Department/Facebook
One of the Hudson Valley's favorite police K-9s is back in the news after finding a missing man.
Back in January, we told you about how the Carmel Police Department came up with an amazing way to honor an officer's memory by bringing back the department's K-9 patrol and that patrol is now being credited for finding a missing man.
K-9 Pietro
Pietro joined the re-established K-9 Patrol in Carmel back in December of 2022 and is now being celebrated along with his handler Officer Vincent DeSantola after they answered a call to assist in tracking down a missing 63-year-old man over the weekend.
Here's What Happened
It was around 3:30 pm on Sunday, March 26th when police were contacted to help locate a vulnerable man that had allegedly wandered off into the woods according to ABC 7. Officer DeSDantola and K-9 Pietro responded to the call which stated that the man had wandered off between the homes of two family members who live next to each other. People at the scene told police that the man had been missing for more than an hour and had a cell phone but the battery had died so they couldn't contact him.
Pietro Finds the Scent
As police arrived DeSantola and Pietro (who can zero in on one specific scent to track) stepped in to assist in locating the man with DeSantola telling ABC,
"The guy was carrying a canvas bag earlier in the day so I used that canvas bag to get that specific person's odor from those items and now he's directly focused on that odor and no one else".
Once Pietro had the scent he and DeSantola began to track the man along roadways, through several backyards, and after nearly a mile they wound up in a wooded area where they located the missing man just before 4 p.m. Thankfully the man was OK after being evaluated by EMS. He was returned safely to the care of his family and to show their appreciation the man's family recently dropped off treats for the officers and Pietro.
This isn't the first time K-9 Pietro has made the news...
Carmel Police Remember Officer Gary Pietropaolo
It was June 7, 2018, when the Carmel Police Department announced that Officer Gary Pietropaolo was killed in a tragic off-duty motorcycle accident. It was a day the Carmel community will never forget and years after Gary's passing his department announced they were going to restart the K9 patrol with one of the dogs being given a special name. Once the pup completed training at the K9 Police Academy in Yonkers, NY, the Carmel Police Department announced that its newest rookie, PIETRO is officially on the job. The K9's name "Pietro" was given in memory of Gary Pietropaolo. Pietro joined his squad officially on December 14th.
10 PAWSOME HUDSON VALLEY PUPPY PROM-POSALS
Prom is for the dogs. Literally! Pawfect Pupps Pet Care Service is hosting its very own Puppy Prom this week. Check out how these pups asked their crushes to the big dance!
Meet The Pups Who Have Been at the Dutchess County SPCA for Over 400 Days
Looking to add a furry friend to your family? Meet these adorable rescues who are looking for their FURever home.
More From Hudson Valley Post