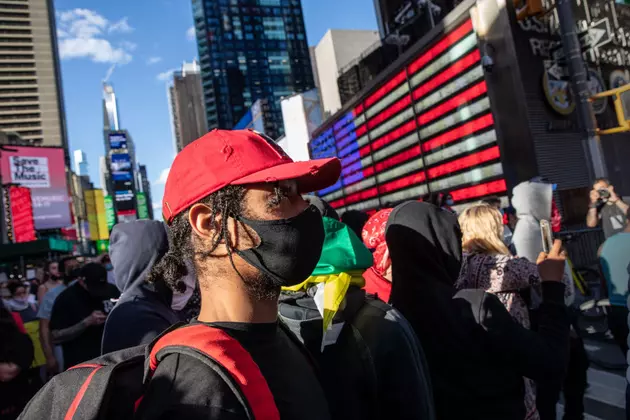 Don't Forget to Wear a Mask When Protesting in the Hudson Valley
Getty Images
If you're out protesting in the Hudson Valley, please remember to wear a mask to stop the spread of COVID-19.
There's a lot that should be on your mind right now. The death of George Floyd is likely one of those things. If you're a supporter of the Black Lives Matter movement, like myself, you're probably looking for ways to help the cause. Some people are donating to charitable causes like the ACLU or Black Lives Matter, but others are participating in protests. If you have decided to protest, please remember to wear a mask to help yourself and others.
With something as cruel and significant as the death of George Floyd, it's really easy to forget that we are still in the middle of the COVID-19 pandemic. But COVID-19 is as real as the police brutality that killed George Floyd. According to CNN, experts are stressing the need to wear a mask at protests because they are large gatherings of people with little social distancing.
CNN reports that experts are warning that these protests across the U.S., including the Hudson Valley, could worsen the pandemic. This could happen just as we were seeing a drop in cases and deaths in the Mid-Hudson Valley region. The CNN medical analyst, Dr. James Phillips, noted how important it is for protesters to protect themselves. Dr. James Phillips said that shouting and cheering loudly produces a lot of moisture droplets and aerosolization that can spread COVID-19 to people.
COVID-19 has disproportionately impacted communities of color, according to NPR. NPR reports that African-American deaths from COVID-19 are nearly two times greater nationally than would be expected, based on their share of the U.S. population. In New York State, black people makeup under 20% of the population but have 25% of COVID-10 deaths.
So, if you're participating in one of the protests planned in our community, please wear a mask. I know it will be hard to breathe in, but George Floyd wasn't able to breathe at all.

Enter your number to get our free mobile app
Read more:
Hudson Valley Reopening Tops This Week's Hudson Valley News
More From Hudson Valley Post