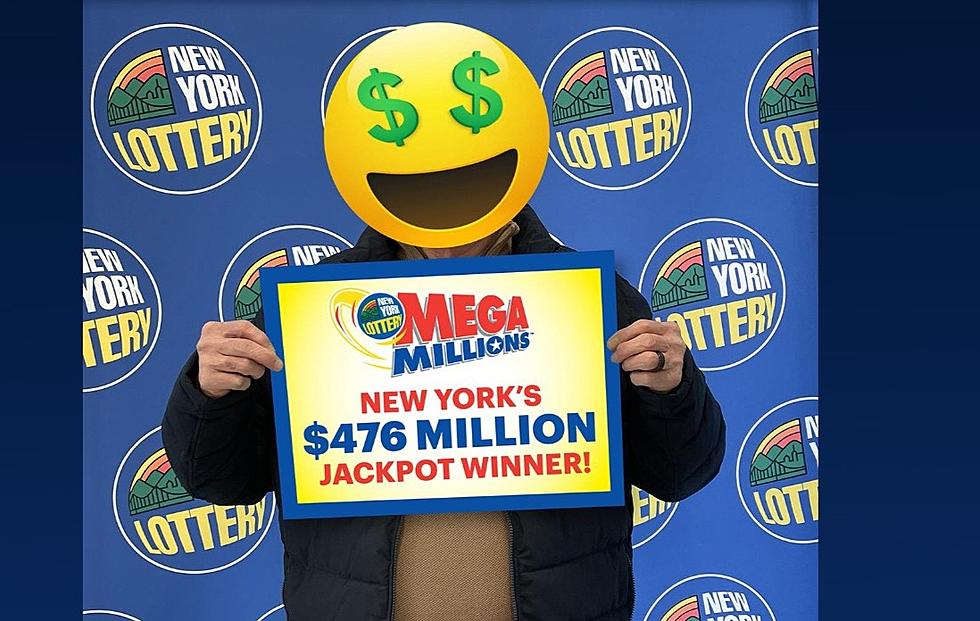 Record: New York State Handyman Wins Nearly Half-Billion Dollars
NYSL
We now know who won the New York State record $476 Million Mega Millions jackpot.
Mega Millions excitement was growing across the nation in April. The April 14 drawing was worth an estimated $476 million, which was the largest Mega Millions jackpot ever offered during the month of April and the 13th largest jackpot in Mega Millions history.
Mega Millions Winning Jackpot Ticket Sold In Queens, New York
The winning numbers for the drawing were 23, 27, 41, 48, 51 and the Mega number was 22.
The jackpot-winning ticket was sold in New York State.
For all the news that the Hudson Valley is sharing make sure to follow Hudson Valley Post on Facebook, download the Hudson Valley Post Mobile App and sign up for the Hudson Valley Post Newsletter.
On Monday, the New York State Lottery announced who claimed the $476 million prize. The $476 million prize is the largest Mega Millions win in New York State History.
The previous New York State record Mega Millions win was a $437 million jackpot sold in Huntington in 2019.
Howard Beach Man Claims New York Record $476 Million Mega Millions Jackpot
Johnnie Taylor, 71, of Howard Beach in Queens, won the record-setting $476 million Mega Millions jackpot, according to the New York State Lottery.
"It still doesn't feel real," Taylor told lottery officials while accepting his prize.
Taylor said his wife didn't believe him when he told her that he knew who won the jackpot. She had to go online to prove her husband really won the top prize.
Plans For Money
Taylor recently retired from his job as a building handyman in Manhattan. He opted to take the cash value of the annuitized prize, a lump sum payment totaling $157,288,402 after required state and federal withholding.
He plans to travel, buy a new home, and replace his 2012 Prius with a newer model hybrid vehicle. He also plans to donate to his local church.
10 Best Scratch-Offs To Buy This Month In New York State
Based on odds of winning, here are the best lottery scratch-off games to purchase right now in New York State to score some cash.
Top 10 Most Stolen Vehicles In New York State
Vehicles from 2016 and earlier were the most stolen vehicles in New York State.
Chick-Fil-A Opens Surprise Free Pop-Up In Mid-Hudson Valley
Where The Hudson Valley Is Gaining, Losing Residents
Most of the Hudson Valley is gaining new residents. How many residents has your county gained or lost?
More From Hudson Valley Post