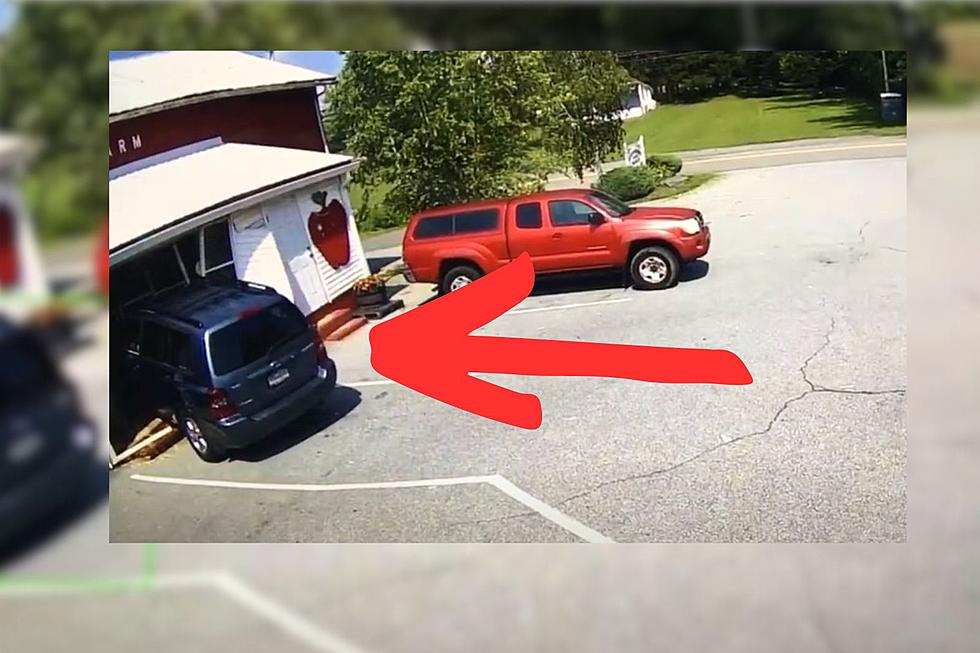 WATCH: New York Man Drives Car Into Wappingers Falls Building (VIDEO)
Meadowbrook Farm/CJ
Caught on video!! Man drives his car into a Wappingers Falls, New York farm stand building and then proceeds to back up and take out the farm's roadside sign.
Most drivers are well aware that driving comes with many challenges and responsibilities. We must always stay mindful of our surroundings, watch out for other drivers, never drive distracted, and most important, never confuse the gas and brake pedals because if you do this could happen and you could wind up diving into a building.
Man Drives Car Into Wappingers Falls, New York Farm Stand Building
A scary situation involving an elderly driver and his SUV unfolded Wednesday afternoon at around 3 p.m. when he pulled his SUV into the parking lot of Meadowbrook Farm located at 29 Old Myers Corners Rd, Wappingers Falls, NY. As you can see in the video below, the man pulled his SUV into the parking lot of the farm and as he made a wide turn to get his car into a parking spot instead of stopping the car in the spot, he paused and then hit the gas pedal and wound up diving into the building.

Once the man realized that he drove into the building instead of stopping, it appears that he puts the car into reverse and floored it causing the car to go backward at a high rate of speed back through the parking lot the same way he came in. The car continues to fly through the lot in reverse until it slams into the farm's sign which was located at the front of the farm.
The Aftermath
Once the man's car came to a stop farm employees rushed out to help and called 911. As soon as first responders arrived on the scene the unidentified driver was checked for injuries and thankfully nobody was injured in the accident. The SUV was taken away by a tow truck and the driver of the car was taken away in a police car. No word if any charges were filed against the driver or not according to a farm employee.
Car Slams Into Wappingers Falls Building (VIDEO)
Meadowbrook Farm in Wappingers Falls is OPEN
The Wappingers Falls farm is owned and operated by the Diesing's and according to a farm employee who was working at the time of the accident, the building did receive extensive damage BUT they will remain open during normal business hours while the building and sign undergo repairs so if you are in need of fresh farm products stop into to Meadowbrook and support a local farm going through a rough patch.
New York Man Trapped on Top of Car in Hudson Valley Stream
SUV stuck in a flooded stream in Dutchess County.
New York's New License Plates
New York's newest custom license plates celebrate various regions of New York.
More From Hudson Valley Post