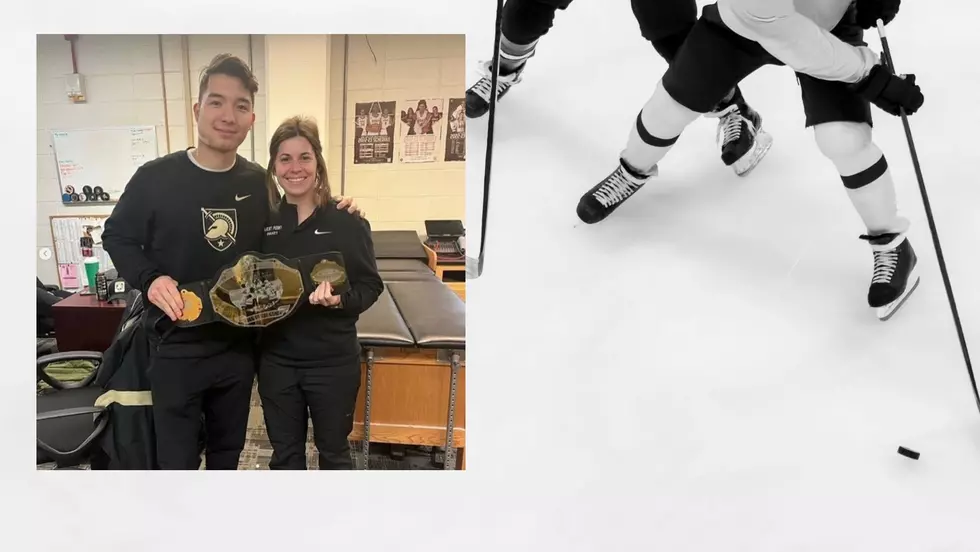 Ketcham Grad, West Point Athletic Trainer Saves Hockey Player's Life
Army West Point Hockey, Instagram
A West Point Cadet is healing after avoiding a tragic accident on the ice last week.
Army Hockey Ice Skate Injury
Sports related injuries and life saving measures have been front and center the last few weeks in New York. On the heels of the Buffalo Bills Safety Damar Hamlin's cardiac arrest accident on the field in Cincinnati 2 weeks ago, spectators are realizing just how important having first responders on hand is.
Terrible Tragedy Avoided Thanks to Ketchum Grad
Last week, a West Point Army hockey player avoided what could have been a "terrible tragedy" thanks to the quick action of an Athletic Trainer.

West Point Hockey's head coach Brain Rile wrote on Twitter:
In an Instagram post, Army West Point Hockey explained what happened writing that on Thursday, January 5th 2023, junior forward Eric Huss took a skate to the neck. Thankfully, Senior Associate Athletic Trainer Rachel Leahy and medical personnel were quick to respond. They write:
Huss suffered an injury from an inadvertent skate to his neck. He was transported after a pivotal response from Leahy. Eric underwent successful surgery to repair a severe laceration to his neck and will return to West Point on Friday!
We have been informed that Rachel Leahy graduated from Roy C. Ketcham high school back in 2011. Leahy is a real hometown hero!
During Army Hockey's first game back after Huss' accident, they honored Leahy whose quick response caught the attention of huge media outlets like ESPN. Army Hockey shared the following from the game:
Great job Rachel!
28 Distinguished Historic Figures Buried at West Point Cemetery
New York State is rich in history. West Point Cemetery acts as a national historic landmark and the final resting place for 28 historic figures. From Medal of Honor recipients and Military leaders to astronauts and other Military heroes, their final resting place can be found right here in the Hudson Valley.
Bills Mafia Show Love For Damar Hamlin Before Game [PHOTOS]
Bills Mafia came out in amazing support of Bills Safety Damar Hamlin before Sunday's home game.
Have You Seen the Military Memorial on this Hudson Valley Hiking Trail?
At the top of the Popolopen Torne trail, in Orange County, you'll be greeted with a breathtaking military memorial.
More From Hudson Valley Post