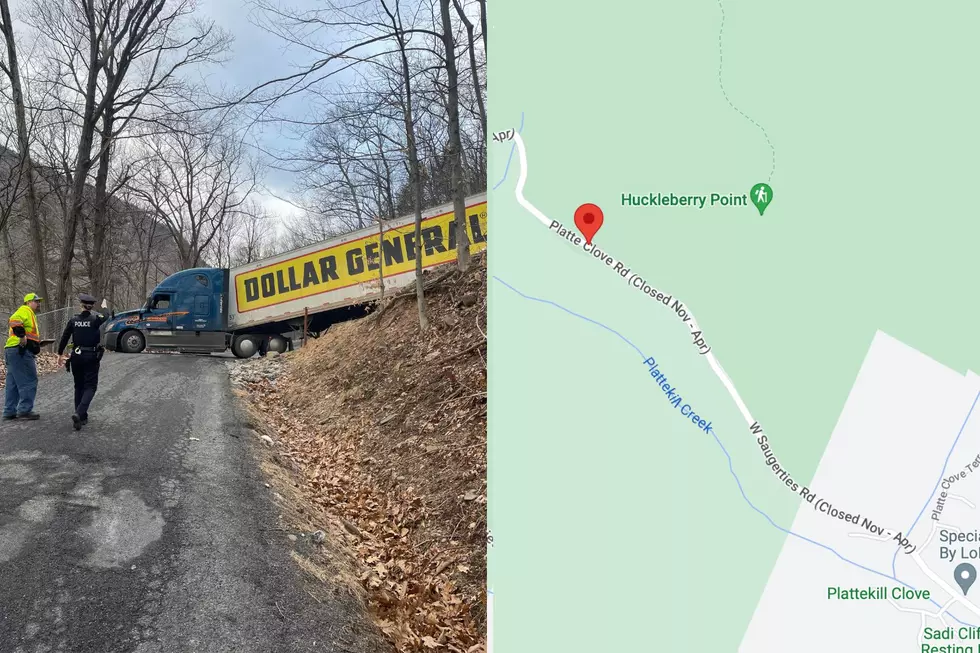 Tractor Trailer Wedged Across Closed Saugerties Roadway For 24 Hours
GoogleMaps, Saugerties Police Department
A tractor-trailer was stuck across a roadway that was closed for the season in the Town of Saugerties on Monday into Tuesday, requiring police and special tow services for removal.
Tractor Trailer Stuck Across Saugerties Roadway For 24 Hours
Around 3:30pm on Monday, February 6th, Saugerties Police responded to an emergency call reporting a disabled tractor-trailer on Platte Clove Road in the Town of Saugerties.
Reports indicate that upon arrival, Saugerties Officers found a 2019 FRG Semi which was pulling a 2007 53 Foot Stoughton trailer with the 'Dollar General' logo branded on it, stuck on the roadway.  That portion of Platte Clove Road was actually closed for the season, as it closes from November to April.

The operator of the vehicle, Joseph James Brooks, a 48-year-old from Johnstown, NY reportedly 'failed to abide by the warning signs and several road closure signs that Platte Clove Mountain was closed for the season.'
According to the police report, Brooks continued to drive the truck and trailer partially up the mountain, only then realizing that due to the road conditions, he could no longer continue. In an attempt to turn the tractor-trailer around, he ended up wedging both the semi and trailer completely across Platte Clove Road.
When he realized he was unable to get the truck out of the roadway, Brooks himself called 911 to report.
Heavy Tow Service and Police Assistance Dislodge Truck Stuck Across Saugerties Roadway
After the 911 call from Brooks, Saugerties Police contacted a heavy tow for a consultation of the tractor-trailer lodged across the roadway. A company called Steyer's Towing, upon consultation, reported that the trailer would only be able to move over to one side of the road, but due to icy road conditions, this prevented the company from removing the trailer on  Monday.
24 hours after the incident, on Tuesday, February 7th, the semi and tractor-trailer were finally able to be removed from the roadway by Steyer's Towing.
Police report that Brooks received four traffic tickets for failing to abide by the posted traffic control devices that informed him of the road closures and conditions on Platte Clove Road.
Photos: Mustang Pinned Under Tractor-Trailer Near I-84 in Hudson Valley
A Mustang crashed into a tractor-trailer near I-84 in the Hudson Valley.
'Unacceptable' New York Roads Costing Drivers Insane Amount of Money
A study found a shocking amount of "unacceptable" roads in New York are costing residents a ton of money each year. The good news, that may change. Here's why.
More From Hudson Valley Post