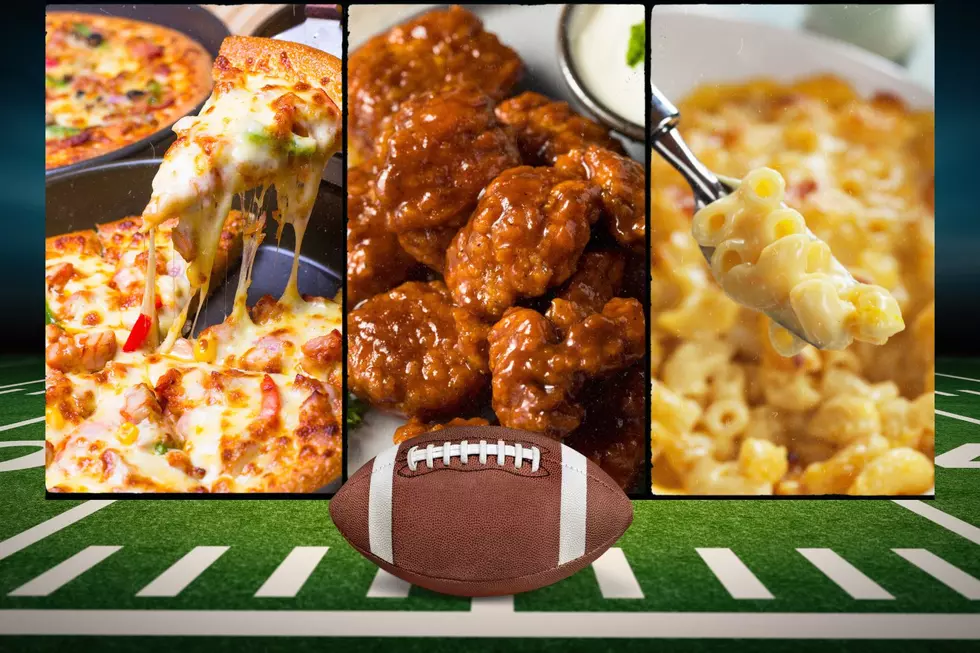 Ultimate Guide for Super Bowl Comfort Food in Poughkeepsie, NY
Canva, Billion Photos, bhofack2 from Getty Images, IgorDutina from Getty Images, pengpeng from Getty Images
The Super Bowl is this weekend! Sunday, February 12th at 6:30 PM, we get to watch all the best commercials and movie trailers that will help dictate media for the rest of 2023, spawning potentially dozens of memes. Oh, and the Kansas City Chiefs and the Philadelphia Eagles will be playing, of course.
The Super Bowl is one of the most watched television events of the year. Is it because of the game? Nope. Is it because of the commercials? Uh uh. What about Rihanna performing at this year's half time show? That's not it either.
The whole reason why the Super Bowl has become such a staple to families and friend groups all across the nation is because of the food. Yes, Super Bowl Sunday is the shining light in a season darkness and gloom. You finish the holidays by January 1st, and you are left in a cold, wet, dismal month. What a way to start the year.
But then, in mid-February, we gave ourselves a weekend to cheat on all the New Year's Resolution diets that we had already given up on by Week 3 of January, and allow ourselves to go crazy with the best comfort food imaginable.

Whether you like football, the commercials, the music, and the people around you or not, we can all agree that we are here for the comfort food. So put on the stretchy pants that you haven't washed since Thanksgiving, wear that oversized jersey that hides your gut, and chow down!
When it comes to comfort food, what is better than:
PIZZA
MAC & CHEESE
CHICKEN WINGS
Ultimate Guide for Pizza for the Super Bowl in Poughkeepsie
We have assembled the ultimate guide for those around Poughkeepsie to indulge in the best Super Bowl Meal of their life. First, let's start off with a staple of any good Super Bowl party, the pizza.
10 of the Best Pizzerias in Poughkeepsie According to Google
February 9th is National Pizza Day! Just in time for the Super Bowl this weekend, here's a list of Poughkeepsie pizzerias that you need to celebrate with.
Ultimate Guide for Mac & Cheese for the Super Bowl in Poughkeepsie
I'm not sure if this is a staple at everyone's Super Bowl Party, but it sure was for us in college. A friend of mine always made a giant tray of Mac & Cheese. She would start off with boxes of Kraft, but then add more cheese and cream as she went on for a comfort food concoction to soothe anyone's tastebuds. Let's just face it, Mac & Cheese is the king of comfort food, and we are here to celebrate it.
5 Best Places for Mac & Cheese In and Near Poughkeepsie, NY
According to Google Reviews, these Mid-Hudson restaurants in and around Poughkeepsie have the best mac and cheese in the area. Would you agree?
Ultimate Guide for Chicken Wings for the Super Bowl in Poughkeepsie
Now, for the piece de resistance: the chicken wings. There are eating competitions in honor of this fine dish. Pizza may be the bedrock of all Super Bowl Parties, but the chicken wings are the crowning jewels. Your chicken wing selection can truly make or break your party. Fortunately, we are not messing around, because we have over 20 incredible options for you to consider here in Poughkeepsie!
20+ Best Hudson Valley Restaurants for Chicken Wings
With the Super Bowl coming up, get your wing order ready! These Hudson Valley restaurants have a rating of no less than 4-stars on
Tripadvisor
.
More From Hudson Valley Post