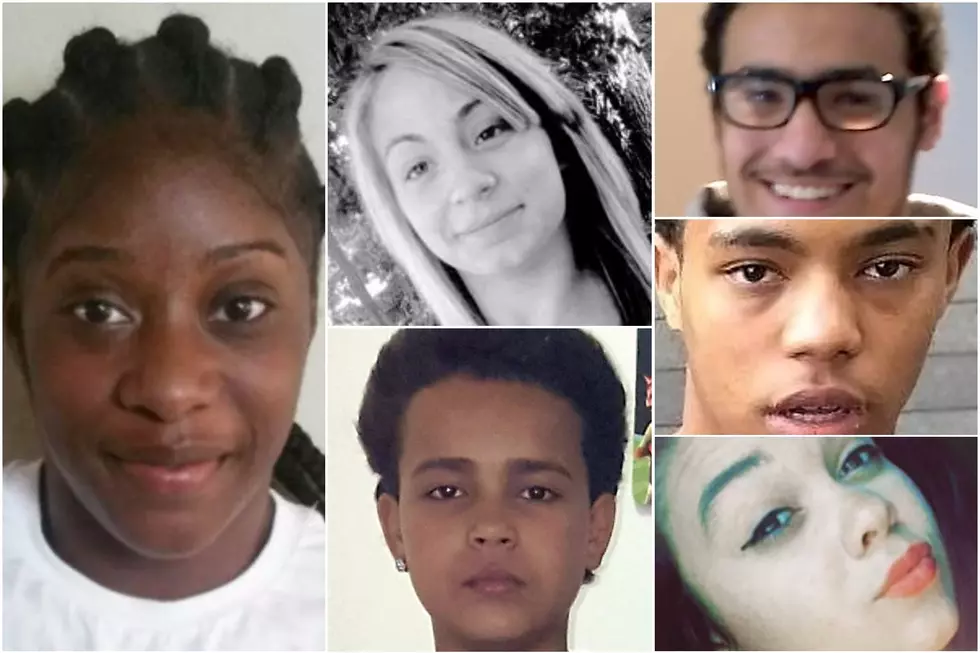 18 Teens or Children Currently Missing From Hudson Valley
National Center For Missing And Exploited Children
Your help could reunite 18 currently missing Hudson Valley teens or children with their families.
If you have information about a missing person call 1-800-THE-LOST (1-800-843-5678).
1

Aatiyah Abdul-Wali, 15, of Poughkeepsie was last seen on April 14.

2

Fernando Montero-Boyle, 16, was last seen in Middletown on July 15.

3

Mickayla Davis has been missing since July 21. It's believed the 16-year-old from Cornwall traveled to Sullivan County.

4

13-year-old Celine Atelek went missing on August 9. The tips of her hair were dyed dark red when last seen.

5

Tevon Dickey went missing on June 21. The 17-year-old from Newburgh has tattoos on both forearms, one of the word "Essence."

6

Jennifer Harshman, 18, of Port Jervis is described as a chronic runaway. She has been previously located in unknown areas of New Jersey and Pennsylvania. She has been missing since June 7, 2015.

7

Ronald Bastista, 12, was last week in Hastings on August 5.

8

Kessiah Anderson, 16, went missing from Pleasantville on April 26.

9

17-year-old Shavonte Bibbins of Yonkers was last seen on January 24.

10

Angel Moran, 15, went missing from Yonkers on April 3.

11

14-year-old Jazimer Deas was last seen in Hawthorne on August 12.

12

Princess Bakayoko, 14, of Pleasantville is described as a runaway. It's believed she is in the Bronx.

13

16-year-old Shilah Carter has been missing from Pleasantville since July 21.

14

Tony Strayhorn, 16, went missing from Pleasantville on February 7, 2016. He may have traveled to Mount Vernon.

15

14-year-old Orbriany Turner was last seen in Hastings on July 10.

16

Lizzie Grant was last seen in Pleasantville on May 20. It's believed the 17-year-old is with an adult woman.

17

Jayson Franco, 16, has been missing from Yonkers since July 3.

18

Gloriana Goines ran from her Pleasantville home on August 7. The 14-year-old may have traveled to New York City.
More From Hudson Valley Post